[bsa_pro_ad_space id=4]
Outstanding Ancient and World Coins at CNG's Fall Sale
Classical Numismatic Group, LLC presents CNG Feature Auction 115, a Live Online Sale closing Wednesday & Thursday, 16-17 September 2020, from their Lancaster, Pennsylvania office. This sale offers 1235 lots with a presale estimate of $1.83 million.
CNG's annual fall sale features Greek, Celtic, Oriental Greek, Central Asian, Roman Provincial, Roman Republican and Imperatorial, Roman Imperial coinage, and Romano-Byzantine Weights. Additionally, there are featured selections of Byzantine, Early Medieval and Islamic, World coinage and medals, British coinage and medals, Electrotypes & Reproductions, and Antiquities.
CNG 115 is highlighted by a number of collections and individual rarities, which make up the majority of coins on offer:
A Diverse Offering of Coins from the El Medina Collection
Ancient Coins from the Batory, James Barry, Toliver Besson, Grand Haven, Jonathan P. Rosen, & Weise Collections
Syracuse Dekadrachms of the Masters Kimon and Euainetos
Further Selections of Electrum of Kyzikos from the Siren Collection
Seleukid Rarities from the MNL Collection
Extremely Rare Tetradrachm of Pantaleon Soter
Alexandrian Coins from the Rocky Mountain and Stein A. Evensen Collections
The Enigmatic Crawford 482/1 Denarius of Octavian
An Exceptional "Eyes to God" Solidus of Constantine I
Byzantine Coins from the Simon Bendall Collection and the Gasvoda Duplicates
Knights of Malta Coinage from the El Medina Collection
British Coins from the Todd Hansen, Maxwell, and James & Martha Robertson Collections
The Finest Known Sceatt of Eardwulf
A Pleasing Anglo-Viking St. Peter Sword-and-Hammer Penny
Catalogs for CNG 115 have been mailed and bidding is open on the site. Some of the individual highlights from CNG 115 are: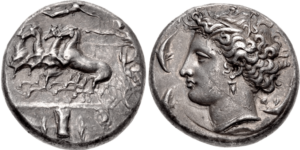 Unsigned Euainetos Dekadrachm
Lot 56 – Sicily, Syracuse. Dionysios I. 405-367 BC. AR Dekadrachm (32mm, 43.34 g, 2h). Unsigned dies in the style of Euainetos. Struck circa 405-380/67 BC. Charioteer, holding kentron in extended right hand and reins in left, driving fast quadriga left; above, Nike flying right, crowning charioteer with wreath held in her extended hands; below heavy exergual line, [military harness, shield], greaves, cuirass, and crested Attic helmet, all connected by a horizontal spear; [AΘΛA below] / Head of Arethousa left, wearing wreath of grain ears, triple-pendant earring, and pearl necklace; ΣΥ-ΡΑ-[Κ-Ο-ΣΙΩΝ] above, scallop shell behind neck, four dolphins swimming around. Gallatin dies R.XVIII/F.VIII; Scavino 53 (D16/R27); HGC 2, 1299; SNG Copenhagen 693 (same dies); SNG Fitzwilliam 1279 (same rev. die); SNG Lockett 991 (same rev. die); de Luynes 1247 (same rev. die). Toned, compact flan, minor die shift, flan flaws on reverse. NGC photo certified. Lot includes an NGC Photo Certificate, 4684186-001, grading the coin Ch XF, Strike: 4/5, Surface: 4/5, Fine Style, die shift. Estimated at $25,000
From the Grand Haven Collection. Ex Pegasi X (5 May 2004), lot 96.
The engraver Euainetos seems to have begun his series of signed dekadrachm dies a few years after Kimon; perhaps he began as an apprentice and "graduated" to master status. His dekadrachm design superseded that of Kimon and became a paradigm for coinage throughout the classical world. His Arethousa is less human and more divine than his predecessor's vision. The wreath of grain ears woven into her hair symbolizes the agricultural bounty of Sicily. His racing chariot is the essence of action, almost photographically frozen in time, with the charging, rearing horses appearing to levitate above the ground line. The design was widely copied on later coinage of Syracuse, as well as by the Carthaginian forces in Sicily.

Trite of Phanes
Lot 215 – Ionia, Ephesos. Phanes. Circa 625-600 BC. EL Trite – Third Stater (14mm, 4.71 g). Stag grazing right, its dappled coat indicated by indentations on the body; ΦANEO[S] (retrograde) above / Two incuse squares flanking central incuse rectangle, each with raised intersecting lines within. Fischer-Bossert, Phanes 11b (O8/R20S&20L – this coin); Weidauer 40; SNG München 14; ACGC 54; GPCG p. 98, 3 = Kraay & Hirmer 585; Zhuyuetang 8. Lightly toned. Good VF. Well struck with a particularly clear inscription and stag. Very rare, with fewer than twenty trites of Phanes known. Estimated at $30,000.
From the M.J.W. Collection. Ex Berk BBS 159 (28 April 2008), lot 1.
The celebrated coins of Phanes – the first coins on which a legend appears – are known to be among the earliest of Greek coins, as a hemihekte (twelfth stater) of the issue was found in the famous foundation deposit of the temple of Artemis at  Ephesos, built circa 550 BC. It is this find spot, along with the design of the grazing stag, that suggests Ephesos as the mint. If indeed a person, the mysterious "Phanes" named on this piece was likely an Ephesian treasury minister or a private individual wealthy enough to strike his own coinage. An alternative reading of the legend as "Phaneos" (light-bringer) has also been proposed, perhaps referring to an aspect of Artemis or her brother, Apollo.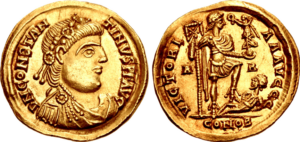 Very Rare Constantine III Solidus – Pedigreed to 1924
Lot 744 – Constantine III. AD 407-411. AV Solidus (21.5mm, 4.44 g, 6h). Arelate (Arles) mint. D N CONSTAN TINVS P F AVG, rosette-diademed, draped, and cuirassed bust right / VICTORI A AAVGGG, Constantine III, laureate and in military attire, standing right, holding vexillum in right hand and Victory on globe in left hand, with his left foot he treads down a seated captive; A|R//CONOB. RIC X 1519; Ferrando p. 343, 1701 (this coin illustrated); Depeyrot –; Biaggi –. Lustrous, traces of earthen deposits. EF. Very rare. Estimated at $15,000
Ex Numismatica Ars Classica 52 (7 October 2009), lot 653 (hammer 18,000 CHF); Property of an European Nobleman (Numismatica Ars Classica 24, 5 December 2002), lot 334; Superior (11 December 1992), lot 2553; Clarence S. Bement Collection (Ars Classica VIII, 25 June 1924), lot 1581.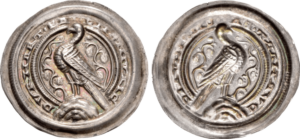 Choice Falkenstein Bracteate
Lot 861 – Germany, Falkenstein (Grafschaft). Burkhard II. 1142-1174. AR Bracteate (29mm, 0.81 g). Ermsleben mint. DVRHΛRT • FΛ • • LNSNIVΛC, eagle standing left on rock / Incuse of obverse. Kestner 1445; Bonhoff –; Löbbecke 231. Wonderful cabinet toning. Choice EF. Very rare. Estimated at $10,000
From the Dr. William J. Conte Collection of Bracteates. Ex Dr. Helmut Hahn Collection (Künker 301, 1 February 2018), lot 545.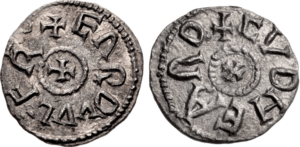 Finest Known Eardwulf Sceatt
Lot 1005 – Anglo-Saxon, Kings of Northumbria. Eardwulf. First reign, 796-806. AR Sceatt (13mm, 0.99 g, 3h). York mint; Cuthheard, moneyer. + EΛRDVVL·F R, cross pattée in dotted circle / + CVDHEARD, cross pattée in dotted circle. Pirie, Guide 3.2a var. = E.J.E. Pirie, "Earduulf: a significant addition to the coinage of Northumbria" in BNJ 65 (1995), pl. 2, 12 var. (no circle on rev.; same obv. die as illustration); Sceatta List 86-10 (same dies as illustration); North –; SCBC 858. Near EF. Struck on a full flan in unusually good metal. The finest known example of this great Northumbrian rarity. Estimated at $10,000.
Eardwulf acceded to the Northumbrian throne in the tumultuous period following the assassination of Aethelred I in 796. Eardwulf had helped organize the murder of Aethelred in revenge for Aethelred's earlier, nearly successful, attempt on Eardwulf's life. Eardwulf's reign was characterized by conflict with Coenwulf of Mercia who gave asylum to his enemies. In the late eighth century, close ties existed between the Northumbrian and Frankish courts and it may have been that Eardwulf married an illegitimate daughter of Charlemagne. Eardwulf was deposed in 806 by the shadowy Aelfwald II and went on pilgrimage to Rome and visited the Emperor's court in Nijmegen. Frankish sources suggest he may have reclaimed his kingdom in circa 808 before being succeeded by his son Eanred, possibly around 810. No coins were known of Eardwulf before the Burton Fleming find in 1994 (EMC 1995.6001; Pirie, BNJ 1995, pp. 20-31). This is the only second coin of Eardwulf to be offered for sale in a public auction (the first was in CNG 114, lot 1245 [hammer $9500]).
In addition to CNG Feature Auction 115, CNG will also feature over 900 lots from many of the same collections listed above in their Electronic Auction 477, closing one week later on Wednesday, 23 September 2020, from 10AM ET (U.S.). Bidding for CNG Electronic Auction 477 will begin on 9 September 2020.
Printed catalogs for CNG 115 are now available. To order the catalog, you can call the CNG U.S. office at (717) 390-9194.
Prospective bidders may also view the virtual catalog online. The sale can be viewed online at the CNG website, Sixbid, and Numisbids.