[bsa_pro_ad_space id=4]
French and British Coins Dominate MDC Auction 7
MDC Monnaies de Collection's numismatic auction 7 on 12th June 2021 presented 827 rare and prestigious coins and medals. Here are some of the highlights of the sale: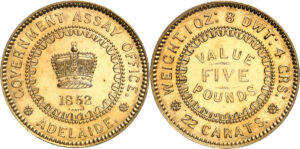 The Rarest 5 Pounds Type
Lot 104. Australia, Victoria (1837-1901). 5 pounds essai, by Joshua Payne 1852 (1921), Melbourne. Top Pop: it is the only one graded! PCGS SP66+. Fleur de coin. An exceptional coin, the rarest type of 5 pounds! Work by Joshua Payne. Special strike of 7 minted only, by the Melbourne mint in 1921 on the original die. This is the finest known specimen.
Auctioned for 992,000 EUR fees included, an exceptional five pounds, the rarest type of the 5 pounds special strike of only seven, by the Melbourne Mint in 1921 with the original dies.
South Australia was officially established as a British colony on the 28th December 1836 (known and commemorated as Proclamation Day). It became an autonomous colony in 1856 with the ratification of a new constitution by the British parliament, with secret ballot and a two-chamber parliament. In 1857, there are 109 917 inhabitants. The city of Adelaide owes its name to the queen Consort, wife of king William IV. It was founded in 1836 to welcome free British people. In 1851, the discovery of gold sparked a gold rush and about 8 000 men left Adelaide hoping to make fortune. The gold nuggets they found helped reduce the economic crisis. An analysis office is founded in 1852 manufacturing ingots and then choosing to do this mint which met the need to convert the gold nuggets, without royal approval. It was a local engraver, Joshua Payne, using local equipment, who produced these gold coins with this first legal tender in the country for the Government Assay Office in Adelaide. Coins of 10 shillings, 1 pound and 5 pounds were planned but only the one-pound coin is minted and used. On our extremely rare pattern, weight and alloy are indicated as on the one-pound coin. For the Five pounds coin, it is 1 ounce, 8 pennyweights, and 4 grains (44.102 g), as well as the 22-karat fineness. Following this minting first step, a branch of the Royal Mint is established in Sidney and will begin producing gold sovereigns. In 1921, the Melbourne Mint struck seven dies of the five pounds coin, modeled on Joshua Payne's coin from 1852. Another die is known at the Victoria Museum in Melbourne, extremely rare and of the greatest interest.
The Last Royal Franc Struck
Lot 225: France. Charles VII (1422-1461). Franc à cheval, 1422, Toulouse. Top Pop: It is the only one graded. PCGS MS64. This is the last royal franc minted! A coin of the greatest rarity, which deserves a place of honor in an exceptional collection. Slightly irregular, very fresh strike, Superb-Fleur de coin.
Auction record beaten by a French gold medieval coin auctioned for 279,000 EUR fees included. It is the last royal franc struck, a coin of the greatest rarity. This is the second known along with the one kept in the Cabinet des Médailles of the National Library of France.
This Toulouse strike is attested by the Archives, while the one of Montpellier is missing. It was struck between the 8th July and the 21st August 1424, in 24 carats (1000/1000). Were used 13.76 kilograms of fine gold to strike 4500 coins, as indicated in the register of the National Archives Z1b 992 in old French: "C'est le compte d'une boueste de la Monnoye de Tholose de deniers d'or fin appelez frans à cheval qui ont cours pour XX sols tournois la pièce, à XXIIII caraz et à demi-carat de remède, de IIIIxx de poys au marc de Paris, fait en achat par Jehan de Veyrières pour lequel Jobert Vidal a tenu le compte du VIIIe jour de juillet inclus mil IIIIcXXIIII que la première délivrance fu faicte jusques au XXIIe jour d'aoust exclus ensuivant oud. an, en laquelle avoit XV deniers d'or qui font IIIImVc deniers d'or, poisent LVI mars II onces d'or". Besides according to Jean Duplessy, 200 copies were also minted in Romans in Drôme department on the 1st July 1424.
The Rarest Millesime of the Sovereigns series
Lot 123: Australia. Georges V (1910-1936). Sovereign private strike in SPECIMEN, 1920 (or 1926) Sydney. Top pop: this is the only graded coin and the most beautiful of the 4 minted known! From the Quartermaster collection, Monetarium (Australia) Pty. Ltd., 4th June 2009, No. 196 (AU$ 800 000 + fees) and previously Paul Terry and R. Jaggard collection in 1989. PCGS SP66. Fleur de coin. Unique. This is the only Specimen strike known. There are just three other coins known of normal striking. It is the greatest rarity of the Sovereign series.
Auctioned for 942,400 EUR fees included for the rarest millesime of the Sovereigns series. Minted in Australia, it is the only graded and the finest of the 4 known coins.
This is the rarest mint of the Sovereign series, even rarer than the London 1819 sovereign, of which ten to twelve coins are listed. Our coin, which comes from the 2009 Quartermaster collection, is the finest known one, in a SPECIMEN strike, a hypothesis indicating that it may have been minted in 1926 in London from Australian dyes. 1920 Sidney strike is not official, gold price following the end of the first world war led to the end of sovereign production in London in 1917, in Ottawa in 1919, in Bombay in 1918 then in 1920 in South Africa and in Australia. The figure of 360 000 coins minted in Sidney in January 1920 is in fact for the 1919 edition. This series is in fact the result of a private commission from Jacob Garrard (1846-1931) for his wedding anniversary the 15th April 1920. With his seven children, his wife and him, we can assume that nine coins were minted, each having received a coin and only four coins are known to exist today, this one being the most beautiful.
1861 Pattern Piefort 100 Francs
Lot 385: France, Second Empire. Napoleon III (1852-1870). 100 francs laureate head piefort, PROOF ULTRA CAMEO, 1861, A, Paris. NGC PF 65 ULTRA CAMEO. PROOF with ULTRA CAMEO effect. Piefort of the utmost rarity. Fleur de coin.
The incredibly rare France 1861 Piefort Gold 100 Francs graded NGC PF 65 Ultra Cameo was sold at 719,200 EUR fees included, far above its starting price. It bears the likeness of Napoleon III, who was halfway through his 17-year reign as emperor at the time. Though the design was adopted for circulation starting in 1862, the 1861 coins exist only as patterns. This example is a piefort, meaning it is extraordinarily thick. Within a decade of this coin's striking, Napoleon III was captured during the Battle of Sedan in the Franco- Prussian War, ending his reign.
The pattern for this type is identical to the common strike, except for the privy mark since there is a small star under the truncation and a star and an anchor on the reverse around the year. We must note a very interesting detail: the 6 of the year is inscribed on an underlying 5! This coin is a proof, struck in piefort, with a plain edge.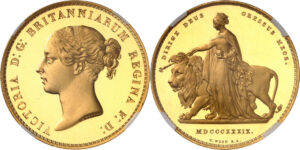 Ultra Cameo "Una and the Lion" 5 Sovereign
Lot 495. Great Britain, Victoria (1837-1901). Five pounds "Una and the lion" PROOF, 1839, London. NGC PF 64 ULTRA CAMEO. Inscribed edge: DECUS ET TUTAMEN ANNO REGNI TERTIO. Exceptional coin, under-graded according to us. Proof and Fleur de coin.
Meanwhile, a coin struck for Queen Victoria, a contemporary of Napoleon III, realized 620,000 EUR fees included. Graded NGC PF 64 Ultra Cameo, the 1839 "Una and the Lion" 5 Sovereign celebrates the queen with a youthful portrait on the obverse and a scene from Edmund Spenser's 1590 poem "The Faerie Queene" on the reverse. In that scene, Victoria is seen as the character Lady Una, directing a lion, a symbol of England.
Designed by William Wyon (1795-1851) in 1839 to celebrate queen Victoria's reign start (in 1837), "Una and the lion" five pounds coin is known as one of the finest British coins. Victoria, accompanied by a lion, walks left, with the motto "May God lead my steps". The young queen, then aged twenty, is portrayed as Lady Una from a character in the poem The Faerie Queene by Edmund Spencer in 1590. This daring design is the first depiction of a British monarch as a fictional character: the lion embodying England is directed by queen Victoria, as Una, who guides it with her scepter.
A Rare "Fine Work" 5 Guineas
Lot 478: Great Britain. William III (1694-1702). Fine-work Five-Guineas 2nd bust 1701, London. Top Pop: this is the finest graded one! NGC MS 64+. "Fine-work", large wig and full scepters. Inscribed edge: + DECVS. ET. TVTAMEN. ANNO. REGNI. DECIMO. TERTIO +. Magnificent patina. Exceptional brilliance strike! Fleur de coin, this is the finest known specimen.
Another great rarity from England, a 1701 Plain Sceptres 5 Guineas graded NGC MS 64+ realized 372,000 EUR fees included. This coin is called a "Fine Work" 5 Guineas because its well-executed portrait of William III showcased the revitalization of the Royal Mint under the skilled leadership of scientist Isaac Newton.
This remarkable portrait of William III is a creation of the renowned mint master named in 1696: Isaac Newton. He takes his role earnestly and has numerous counterfeiters investigated and convicted, also thanks to his talents in mechanics, he supervises the engraving of a new portrait of the king. This fine-work depiction was of a never reached before level of realism by the British mint. This realistic portrait of William III is a detailed depiction of the wig locks and the bust deep reliefs.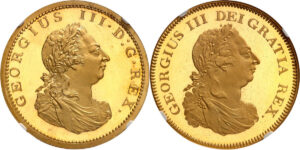 Undated England Double Obverse Pattern
Lot 489: Great Britain. George III (1760-1820). Gold pattern of the dollar with double obverse, PROOF ND (1804), London. Top Pop: this is the finest graded one! NGC PF 66* ULTRA CAMEO. With the two obverse dies signed K and CHK. Proof essai of the utmost rarity. This is the finest known specimen!
Also realizing 372,000 EUR fees included was an undated England Double Obverse Pattern graded NGC PF 66 Ultra Cameo (lot 489). Each side shows a slightly different portrait of King George III, who ruled from 1760 until 1820. At the bottom left of George's figure, the coin bears either the initials "CHK" or "K" – believed to represent Conrad Heinrich Kuchler, who designed several British coins before he died in 1810.
Conrad Heinrich Küchler was born in Flanders circa 1740. He worked in Darmstadt, Mannheim, Frankfurt from around 1760 to 1775, then in France and later in England from 1793, especially for Matthew Boulton at the Soho workshop where he is the author of numerous works for many countries such as Ireland, Denmark, Germany, Russia, France. For England, he created several portraits of George III, of which these patterns for the dollar: devise is short on the obverse and long on the reverse and just a lock of hair below the shoulder truncature for the portrait. He dies in Handsworsth in 1810.
All lots of MDC's auction can be viewed on the MDC website.