[bsa_pro_ad_space id=4]
It's common knowledge that a dog can enrich the life of its owner. With a little luck, this can also apply to the owner's financial situation – two numismatically-minded dogs proved this in recent weeks. Without the help of metal detectors, they sniffed out buried coin hoards. So, does this mean that a dog would be a worthwhile investment for detectorists?
Hoard No. 1: Ollie, the Truffle-Hunting Puppy with a Taste for Gold
The first case takes us to Blackpool in Lancashire, a town on the English coast. There, a man recently gave Ollie, a cute little puppy, to his nine-year-old daughter as a present. Little Ollie is a lagotto romagnolo, an Italian breed that is often used to track down and dig up truffles. It appears that Ollie was born with this talent for sniffing as well – although his nose seems to be rather attracted by gold, as he proved on 30 March 2022. After just 10 minutes (!) on his very first walk (!!) in the park with his family, Ollie suddenly started digging. His owners were amazed when the puppy unearthed something with a golden shimmer: Ollie had found no less than 15 sovereign coins from the 19th and 20th centuries. We don't know much more about the case, including whether Ollie's owners can keep the coins for themselves. A gold dealer is said to have estimated the value of the coins at 6,000 pounds (about 7,150 euros). This means that the puppy already tripled its purchase price of 2,000 pounds (approx. 2,300 euros) – so Ollie certainly was a good investment! The owner told the press that he couldn't wait to go stalking with his little gold hunter again. But he pointed out that Ollie himself certainly is the real treasure for him. Isn't that sweet? We are curious to see if Ollie will sniff out more gold for his family.
Hoard No. 2: Kajtuś and His Extraordinary Excavation Find
From the numismatic point of view, the second find is much more interesting. The four-legged hero of this story is named Kajtuś. On 7 April 2022, his owner was walking Kajtuś near the Polish town of Wałbrzych in Lower Silesia. Suddenly, the dog started digging and soon uncovered a broken clay vessel filled with coins. The owner contacted the Wałbrzych branch of the Lower Silesian Office for the Preservation of Monuments. The archaeologists who were consulted identified the coins as bracteates – wafer-thin, single-sided silver coins from the Middle Ages. In this case, the majority of them is believed to stem from the first half of the 13th century, and they were minted in Silesia, Saxony and Brandenburg. There is no information about the exact number of coins, according to the pictures there are probably at least about 100 specimens. The find is said to be anything but commonplace: the Lower Silesian Office for the Preservation of Monuments announced that – according to initial statements by the archaeologists – no such find has been reported for at least 100 years. However, it's not known whether this refers to Lower Silesia or Poland as a whole.
Due to their poor durability, among other things, bracteates were often declared invalid after a short period of time. This means that they were withdrawn from circulation after only a few years, melted down and replaced by new types. Due to their short life, there are many types of bracteates of which only a few specimens have survived. Therefore, there is hope that new types might be identified in the hoard. In any case, the Wrocław Office for the Preservation of Monuments stated that the coins are of exceptionally good quality and barely damaged, which can also be seen on the pictures.
The bracteates will now be examined in detail, preserved and hopefully published, provided that the required funds can be raised. Once they have been thoroughly examined, the coins will be on display in a museum.
Ultimately, it is to be hoped that Kajtuś was rewarded for his outstanding find with an appropriate number of treats. The Lower Silesian Office for the Preservation of Monuments announced on Facebook – in a perhaps not perfectly serious statement – that the dog is now a sought-after expert in Polish archaeology: "Given his skills, archaeologists have already requested him to participate in ongoing excavation projects."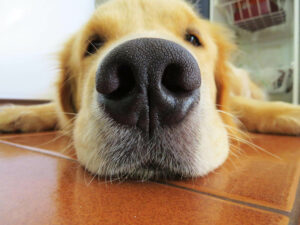 Money Does Not Stink?
Joking aside: whether dogs can actually sniff out buried gold and silver is a rather controversial topic. Detectorists have vivid discussions about the subject in various Internet forums. Dogs can perceive scents to a degree that we can hardly imagine, allegedly even those whose sources are up to 12 meters below the ground. But there's one catch: Gold and silver don't have a smell. However, chemical reactions between metal and soil could well lead to an odour that can be perceived by dogs. Did Ollie and Kajtuś sniffed something of this kind? Or perhaps an inconspicuous by-product of the treasure? Or were these finds just a double happy coincidence after all? It is assumed that there are 900 million dogs in the world, and digging is one of their favourite pastimes. So, inevitably, a treasure must be lifted from time to time!
It's hard to say. If you have a dog, I'd let him follow his nose from time to time while walking. You never know…
Pictures of the English puppy and his find can be seen, for example, on the website of the Daily Mail – but beware! Your screen will be seriously flooded with ads!
Pictures of the Polish coin hoard can be found on the Facebook page of the Lower Silesian Office for the Preservation of Monuments.
From coin-hunting dogs to coins featuring dogs: recently, Croatia dedicated its first colour coin to the Dalmatian.