[bsa_pro_ad_space id=4]
The Eesti Pank Museum in Tallinn (Estonia) is hosting a mini-display of euro coins with animal images until the end of 2021 to mark the launch into circulation of the 2 euro coin dedicated to the Estonian national animal, the wolf. The display has a collection of euro coins from different countries, all featuring animals or birds.
Siiri Ries, the curator of the Eesti Pank Museum, said the temporary exhibition is intended to present the newly launched 2 euro commemorative coin for the wolf. "The inspiring texts in the exhibition help explain why it was the wolf that became the Estonian national animal. The first Estonian euro coin with an animal design is shown in the exhibition alongside coins featuring animals and birds from Finland, Latvia, Slovenia, Cyprus and Andorra", she explained.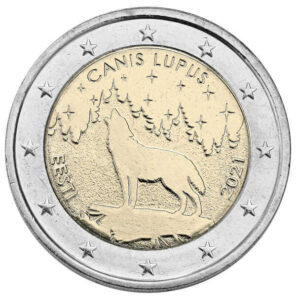 The exhibition has 2 euro coins from Estonia's northern neighbor Finland featuring the Finnish national bird, the whooper swan. The old Finnish 100-mark note featured four whooper swans, and two of them remained on the one-euro circulation coin. The neighbors to the south in Latvia have minted coins with the very rare black stork, and with a cow image that is well-known in Estonia from packaging on sweets.
The exhibition is made more dramatic by a wall made of pine needles and a stuffed wolf borrowed from the Estonian Museum of Natural History. Eesti Pank's partners in preparing the exhibition were Laika, Belka & Strelka design office, the Estonian Museum of Natural History, Okkastyle OÜ, Kastivabrik OÜ, and the ERR archives. The texts for the exhibition on the national animal, the wolf, were written by the nature journalist Kristel Vilbaste.
The Eesti Pank Museum and museum shop are open from Tuesdays to Fridays 12:00-17:00 and on Saturdays at 11:00-16:00. Entrance is free.
For further information visit the website of the Eesti Pank Museum.
Find more Estonian Euro coins at Cosmos of Collectibles.
Read this article about the rare Estonian 2 Euro Commemorative Coins.