[bsa_pro_ad_space id=4]
Ethnographic Money at Stephen Album
Stephen Album Rare Coins will hold its auction 41 from 16th to 19th September 2021 at its offices in Santa Rosa, California. The Auction is made up of 3,150 lots of Ancient, Islamic, Chinese, Indian, and General World Coins. Also featured in this sale is The Charles Opitz Collection of Ethnographic Money, Part II. The final two days of the auction are internet-only sessions of lesser-priced material. Photos of all lots are published in high resolution on the firm's website.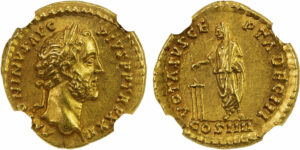 The coin featured on the cover of the printed catalog has a fascinating and important history. It is a gold dinar dating to 1920 from The Arab Kingdom of Syria. The self-proclaimed kingdom existed only a little over four months, from 8th March to 25th July 1920. During its brief existence the kingdom was led by Sharif Hussein bin Ali's son Faisal bin Hussein. Despite its claims to the territory of Greater Syria, Faisal's government controlled a limited area and was dependent on Britain which, along with France, generally opposed the idea of a Greater Syria and refused to recognize the kingdom. The kingdom surrendered to French forces on 25th July 1920. Faisal then lived in exile in England for about one year before being proclaimed King of Iraq.
A wide variety of coins can be found throughout the sale, and an additional runoff internet sale of 1,000+ lots will take place in October (to be published at a later date). If the results from the firm's prior auctions in 2021 are any indication this sale should see a continuation of strong prices and very active participation from bidders.
Some highlights from the sale follow:
Lot 78: Ancient. Roman Empire. Antoninus Pius (138-161 AD). Aureus, 158-159 AD, Rome mint. Laureate bust right, ANTONINVS AVG PIVS P P TR P XXII // emperor standing left, togate and veiled, dropping incense onto lighted tripod with his right hand, VOTA SVSCE-PTA DEC III / COS IIII, fantastic strike with lovely highlights, Strike 5/5, Surface 5/5, NGC graded choice AU. Estimate: $5,500-6,500.
Lot 513: Islamic. Assassins At Alamut (Batinid): Muhammad I (1138-1162). Fractional dinar, AH557, A-1918A, Kursi al-Daylam mint. Without his personal name Muhammad b. Buzurgumid, struck only in AH557, briefly resumed by his successor al-Hasan II in 560-561, some weakness but bold mint & date, with the phrase baldat al-iqbal ("the city of prosperity"). Very fine. Very rare. Estimate: $3,000-4,000.
Lot 896: India. British India. Queen Victoria (1837-1876). 8-coin proof set, 1862, Bombay mint restrike proof set includes bronze 1/12 anna, 1⁄2 pice, 1⁄4 anna, 1⁄2 anna, and silver 2 annas, 1⁄4 rupee, 1⁄2 rupee and rupee, a lovely well-matched set all housed in a custom-made Capitol Plastics holder, a rarely encountered set! set of 8 coins. Estimate: $7,500-10,000.
Lot 951: China. Warring States. State of Chu (400-200 BC). Block money. Ying yuan in archaic script stamped on cut section of two pieces. Extremely fine. Rare. Estimate: $8,000-12,000.
Lot 1057: China. Qing. Jia Qing (1796-1820). AE cash coin tree, Xi'an mint, Shaanxi Province. 47cm-long cast tree of 24 coins (1 loose and attached with string) and 1 charm (50mm, fú shòu kang níng // bâo quán, dragon and phoenix). Extremely fine. Rare. Ex Charles Opitz Collection. Estimate: $8,000-10,000.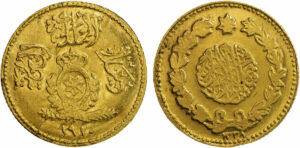 Lot 1503: World: Syria: Faisal I (1920). Dinar, 1920/AH1338. Crowned royal coat of arms with Arabic legend, dinar al-mamlakat al-suriyat (dinar of the Kingdom of Syria) around, date below // faysal al-awwal (Faisal the First) tughra in Arabic within floral wreath, voided heptagram above, date below; a superb lustrous specimen and the finest- graded example by either NGC or PCGS; an estimated mintage of only 12 pieces, a coin of tremendous rarity and great historical significance! PCGS graded MS64 (Secure Holder / Gold Shield). Very rare. Estimate: $30,000-40,000.
Lot 1656: World. Aragon. René of Anjou, claimant (1466-1472). Pacífic, Barcelona. Facing crowned bust within multifoil, holding lis-tipped scepter on the left and globe on the right, + RENAT9 PRIM DEI GRA REX ARAGO // crowned coat-of-arms of Aragon within multifoil, strong very fine. Rare. Estimate: $4,000-5,000.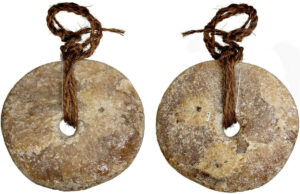 Lot 1862: Ethnographic. Micronesia. Yap, rai stone money, ca. 1871-1931. 130 x 117 x 28mm (1.25 lb), made from crystalline calcite (aragonite per Opitz) and translucent under bright light, holed in the center and attached with plant fiber rope for carrying, a lovely and portable example of this famous ethnographic currency. Very fine. Rare. Ex Charles Opitz Collection. Estimate: $1,500-2,000.
View all lots of the auction in the online catalog.
The firm is now taking consignments for its Auction 42, which will be held from 20th to 22nd January 2022. More information can be found on the website of Stephen Album Rare Coins.