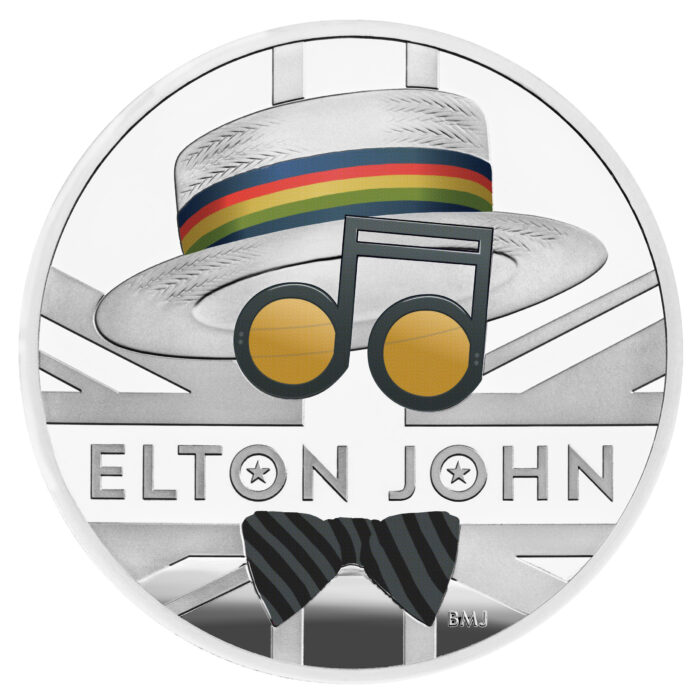 [bsa_pro_ad_space id=4]
The Royal Mint has announced that Elton John, one of the most successful and enduring artists of all time will be celebrated on a new commemorative coin. The design is the latest addition to The Royal Mint's new Music Legends series.
Commemorative Coin Collection
With a career spanning more than 50 years, the new coin to celebrate Elton John's legacy has been designed by artist Bradley Morgan Johnson. Featuring unmistakable Elton John iconography, Bradley has used musical notes to create an image of glasses and a straw boater's hat, inspired by one of Elton John's most iconic looks, and a Union Jack flag background punctuates the design.
The commemorative coins will be available to purchase in Gold proof, Silver proof and Brilliant Uncirculated editions. The Royal Mint has developed advanced striking and tooling techniques for the high end, premium coins in this collection. These designs feature a pulsating star pattern in the glasses' lenses and a high relief finish on the hat, glasses and bow tie that further enhance the appearance of each coin.
The commemorative coin collection comprises:
£5 Brilliant uncirculated coin cover Rocket Man
£5 Brilliant uncirculated coin cover Dodgers Stadium
£5 Brilliant uncirculated coin cover Illustration
£5 Brilliant uncirculated coin cover The Very Best Of
Half Ounce Silver Proof Coin
One Ounce Silver Proof Coin
Two Ounce Silver Proof Coin
Five Ounce Silver Proof Coin
Quarter-Ounce Gold Proof Coin
One Ounce Gold Proof Coin
Two-Ounce Gold Proof Coin
Five-Ounce Gold Proof Coin
Kilo Gold Proof Coin
Elton John said of the design: "It really is a fabulous honour to be recognised in this way. The last few years have contained some of the most memorable moments of my career, and this is another truly humbling milestone on my journey."
Clare Maclennan, Divisional Director of Commemorative Coin and The Royal Mint Experience, commented: "Elton John is without a doubt a British music legend and is recognised as one of the most successful singer-songwriters of his generation. We are delighted to honour Elton's significant contribution to British music on a UK coin. This is the second coin in The Royal Mint's new Music Legends series, marking the work of our exceptional British musicians."
In addition to the coin collection, The Royal Mint and Elton John are also working together to create a special one-off collector's piece, which will be auctioned later this year. The unique coin will help raise vital funds for the Elton John Charitable Trust at a time when the wider charity sector has been hit with a reduction in donations. The collaboration was brought together and facilitated by Bravado, Universal Music Group's leading merchandise and brand management company.
For more information, visit the Royal Mint's website.
And if you're here for the music, you can find Elton John's greatest hits, such as Rocket Man, on his YouTube channel.
Currently, the Royal Mint is contributing a great deal to the fight against the coronavirus: the mint manufactures safety visors for the National Health Service.
If you want to check for interesting coins of your collecting field, you can find many new issues in our Cosmos of Collectibles database.