[bsa_pro_ad_space id=4]
The Greek Ministry of Finance has presented its Numismatic Program for 2021. As 2021 marks 200 years after the Greek Revolution of 1821 took place, the program is extensive.
"Greece 2021" Numismatic Program
The "Greece 2021" Committee's Numismatic Program was launched by decision of the Ministry of Finance and was generously sponsored by the Bank of Greece. Conceived as a celebration of the bicentennial of the Greek Revolution, this Program features 14 coins of great collectible value, masterfully designed by acclaimed artists at the Greek Mint.
The Committee's Numismatic Program comprises:
Two bimetallic coins, which replicate the first two coins put into circulation by the Greek State:
the Phoenix of 1828; and
the first one-drachma coin of 1833.
A series of eight silver coins, marking the successive stages of Greece's territorial expansion and portraying a leading personality associated with each region:
the first Greek State, with Theodoros Kolokotronis;
the Ionian Islands, with Ioannis Kapodistrias;
Thessaly and Arta, with Rigas Feraios-Velestinlis;
Epirus, with Athanasios Tsakalof;
Macedonia, with Pavlos Melas;
Crete, with Eleftherios Venizelos;
Thrace, with Georgios Vizyinos; and
the Dodecanese, with the Lady of Ro.
And a series of four gold coins tracing the evolution of the Greek flag over the past two centuries:
the flag of the Friendly Society;
the Greek flag of 1821;
the Greek flag of 1822; and
the contemporary Greek flag.
All 14 coins have been minted in limited numbers.
Numismatic Program 2021
In parallel with the special commemorative coin series to mark the 200 years since the Greek Revolution of 1821, Greece's regular numismatic program for 2021 features products on the following themes:
the 2021 Population – Housing Census, a landmark event that coincides with the bicentennial;
Aphrodite, goddess of love and one of the most popular Olympian deities (in Greece's Olympian Gods series);
the enchanting island of Naxos (in the Greek Tourism series);

the Portara, the trademark monument of Naxos (in the Cultural Heritage series);

Campanula saxatilis, an endemic wildflower of Crete (in the Endemic flora of Greece series);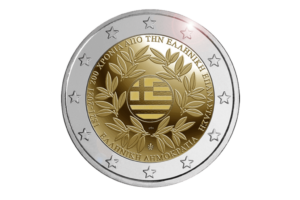 and a commemorative €2 coin honouring the bicentennial of the Greek Revolution of 1821.
On the site of the Bank of Greece you can find more information of the Numismatic Programme 2021 and the Committee's "Greece 2021" Numismatic Program.
Last year's coins from Greece are in our database Cosmos of Collectibles.