[bsa_pro_ad_space id=4]
CoinsWeekly made it its mission to visit some central coin fairs each year and to support them with a CoinsWeekly Special Issue. Coinex is one of these fairs and there are good reasons for that. Although the fair is not a place where hundreds of visitors come together, it has another key function: In autumn, it is the most important meeting place for coins dealers and auction houses from the UK, Europe and the US. Anyone who plays or wants to play a role in the international numismatic market comes to this event.
A Brief Typology of Coin Fairs
If a typology of coin fairs was to be formulated, it would have to distinguish between three different kinds of fairs:
There are coin fairs that are mass events. They attract a huge number of visitors, but most of them are not interested in buying coins but are looking for small chocolate bars, catalogues and free pens instead.
Then there are coin fairs that are attractive to serious collectors. Usually, there are not a lot of visitors at these fairs, but every visitor brings money to the fair and plans on spending all of it.
And then there are coin fairs that have become sort of a family meeting for coin dealers. Usually, there are a lot of auctions taking place around or on the days of the fair. Actually, it is a total package: Coin dealers come to the auctions, place bids for their clients and also make use of the coin fair to have numerous further talks, to make various deals or to promote their own auctions.
Coinex belongs to the last category. There are numerous high-quality auctions taking place in the context of this fair. The interlocutors one encounters at Coinex are of the highest calibre. However, a visitor that does not belong to the numismatic world would probably not even notice how many important deals have been and are set up here.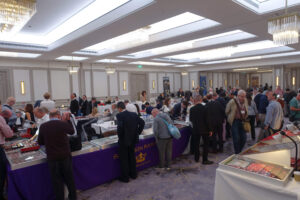 A Fair for Advanced Collectors
Obviously, most coin fairs are of a mixed type, and therefore Coinex is also an event for the public. However, it reveals a lot that it is the only coin fair I know that starts with an elegant party for all exhibitors. As I said, Coinex focuses on the dealers even though, of course, also numerous collectors are present, especially those that are well-known internationally. Coinex does not want to be a mass event but to demonstrate its excellence by means of the quality of the exhibitors and the offered goods. Therefore, it is a fair for advanced collectors, who usually complain about the fact that it is no longer possible to purchase high-quality objects at a fixed price and that one has to buy them at auctions instead. At Coinex, you can find high-quality material at each table if you are prepared to pay its price.
Some Facts About the Exhibition
Coinex is organised by the BNTA (= British Numismatic Trade Association). The latter has set up the rule that only BNTA members and dealers from other countries are allowed to attend the small but distinguished event. Only once, on the occasion of the 40th Coinex last year, this rule did not apply. Now, the event takes place as it was usual before: a small circle of attendees at the noble Grosvenor Square. The American and the Canadian embassies are located here, and here one can reside in the distinguished Biltmore Mayfair Hotel as the renovated Millennium Hotel is called now. And Coinex took place in this very Biltmore Mayfair Hotel.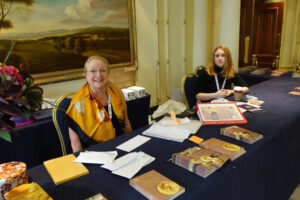 The Venue
The five-star hotel opened just a few days before the event took place on 27 and 28 September 2019. And, of course, the otherwise very friendly staff had to make some "numismatic experiences" in situations they had not been familiar with before. The concept of a "private function" previous to the actual opening of the coin fair was completely new to them. Without even thinking about it, they moved through the hall wearing a dark suit and a tie in muted colours in order to make final preparations. They were not aware of the fact that a potential thief only needed to put on a dark suit and a tie in order to sneak into the hall without raising suspicion.
Also the security guards did not use name tags or other identifying features. (However, if you looked closely, you could spot the earphones they needed for communication.)
We can assume that both things will be handled differently in future events.
A Moment of Shock
That a coin fair is not an event like any other became evident when the fire alarm suddenly was set off. It actually smelled like smoke, and therefore, it was unlikely that it was a false alarm. However, the smoke came from the outside and not from the inside of the hall where the fair took place.
The staff tried to evacuate the room and was surprised that not a single coin dealer was willing to leave his table unsecured. The dealers calmly packed their things – and unpacked them again because the fire was extinguished before it had been possible to evacuate the hall completely.
On these images, you can see coin dealers from nine different nations. Photos: UK.
Satisfied Participants
With the exception of such short moments of shock, the general ambiance was relaxed, casual and friendly. Most of the participants were very satisfied with their sales or the talks they had. And everyone is already looking forward to participating again next year.
Over the decades of its existence, Coinex has become a constant and it is impossible to image the numismatic year without this fair. If you want to put it meanly, you can say that too many visitors would not do anything but disturb the event. Quality instead of quantity – this concept has been working for decades. And the issues of supporting young collectors and dealers as well as of attracting new collectors do not necessarily have to be dealt with in the context of Coinex…
Coinex opts for British understatement, also on the internet. Here you can access the Coinex website.
You can find further information and, most importantly, a schedule of all auctions that take place in the context of Coinex in our CoinsWeekly Special Issue, which is available for free download on our website.