[bsa_pro_ad_space id=4]
By Leonie Schulze
October 11, 2018 – Up until a little while ago, coins were just coins for me. A means of payment, something I was looking for in-between sofa cushions and in the bottomless pit that is my handbag. And then they became my job. After having read and written about numismatics for a few months, I was unleashed on the international numismatic community at the 40th Coinex in London organized by the British Numismatic Trade Association (BNTA) on September 28 to 29, 2018.
The famous London Eye is located right next to County Hall. Photo: UK.
Coinex 2018 was held at County Hall, located in central London right next to Westminster Bridge on the South Bank of the Thames. This truly is an incredibly beautiful venue offering a fantastic view of the City of Westminster, the Houses of Parliament, and Elizabeth Tower (Big Ben) – alas, hidden under renovation scaffolding at the moment.
The way to anyone's heart is through their stomach, right? Photo: UK.
One might have gotten a bit lost (or was it just me?) trying to find the correct entrance to the massive building as well as the correct floor and rooms of the reception held on the evening before the convention. But luckily, there were plenty of people around eager to help. At the reception, I quickly realized coin dealers, managers of auction houses, and others working in this field don't just know a lot about grading, selling, storing, and collecting metals disks. They also have great taste in confections, champagne, and music. In a relaxed but cheerful atmosphere, I got a chance to overcome the first of some of my expectations and prejudices. Suffice it to say that, contrary to popular belief, I wasn't the only attendee under the age of 60.
My new numismatic journalist colleagues Jeff Stark, Sebastian Wieschowksi, Michael Alexander (f.l.t.r.) and me. Photo: UK.
Unlike most other coin conventions, Coinex 2018 was not held in one big room or exhibition hall, but instead booths and tables were spread across numerous smaller and bigger rooms. Despite the large number of attendees and the resulting busyness, the entire event was thus fairly calm and relaxed. The layout nevertheless constituted somewhat of a labyrinth which resulted in some exhibitors getting a bit neglected in some of the side rooms.
Mathias and Giovanni Paoletti of Paoletti S.r.l came all the way from Italy to London. Photo: UK.
As this was the 40th anniversary of Coinex, the BNTA had not just invited its own members but also numerous international dealers, auction houses, grading services, and publishing companies. Any wish a rookie, fervent collector, and expert might have had surely was fulfilled and no question remained unanswered. Advice was offered at every table not only regarding what coins to collect, but also what books to read, what issues to research, and what articles to write.
Carol Hartmann and John Mussell of Token Publishing of course knew what numismatic literature to recommend. Photo: UK.
I knew the world of coins was a very passionate one. And everyone I was introduced to was very keen to share this enthusiasm and their expertise in the field. To my surprise, I was included in many more discussions than I imagined previously. These conversations were unexpectedly honest. They didn't just include praise and joy. Attendees also expressed blunt criticism of recent developments in the field and annoyance regarding the never-ending weighing up of the value (numerically and figuratively) of ancient coins and modern or, Heaven forbid, contemporary coins.
The organization team, led by Christel Swan and her daughter Romina, coordinated the event perfectly. Photo: UK.
Christel Swan and her organization team did an amazing job and Coinex 2018 was thus another success in the popular coin convention's 40-year history. And it surely was a great opportunity for me to dip my toe into coin conventions and get a sense of what this field has to offer. Although I hope that the coffee at other events like this one will be a bit better than what was offered at County Hall, rest assured I will attend another convention in the near future.
More images from Coinex 2018 in London: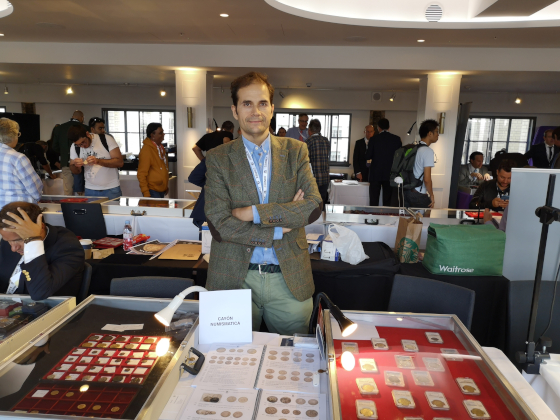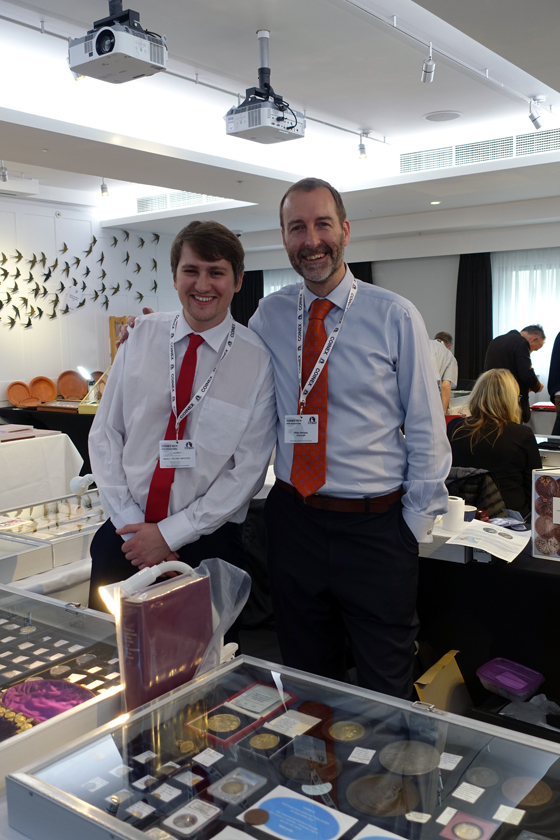 More information on Coinex is available on the BNTA website.