[bsa_pro_ad_space id=4]
We all know that the beloved coins in our collection aren't all mint state. Everyone probably has some older coins, too, which have traces of corrosion or dirt that we didn't really dare touching yet. We want to investigate the question of whether and how such pieces can be made more "presentable".
At the same time, we must be aware that careful cleaning will only improve the visual appearance of a coin by softening and removing adhering dirt, however, this procedure will definitely not improve the piece's grade. Even the most sophisticated chemical baths and methods won't be able to achieve that.
Therefore – and to say it right away – this won't be a chemistry lecture peppered with a lot of technical terms. I rather want to provide you with tips and recommendations that you can safely carry out in your kitchen at home – no need for a lab. These methods lead to acceptable results without damaging the piece or taking health risks. In addition, I will discuss suitable places to store your numismatic treasures.
So, follow me into the world of coin care that can be done by anybody. My guiding principle: if it is safe to touch a cleaning and maintenance product with your hands, it won't damage your coins either as long as you proceed carefully. As almost always: the proof of the pudding is in the eating!
Please allow me to point out that neither the author nor CoinsWeekly are liable for failed coin care and cleaning attempts.
Which Coins and Medals Should Be Cleaned at All?
Which coins and medals can be cleaned? A coin's grade plays a major role when it comes to answering this question. However, terms like proof quality (PR) or brilliant uncirculated (BU) don't refer to the quality of a coin but to the production method. The grading of PR pieces with traces of use, for example, is usually very difficult and often a tightrope act.
Moreover, we should know exactly what metal or alloy the piece we want to clean is made of. In general, you should know as much as possible about your coins to avoid a nasty surprise. For this purpose, you need an appropriate catalogue. Even though it might be an outdated one, it can still provide you with important information.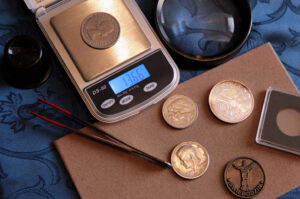 Coin Care Starts with the Basic Equipment
In general, you need the right equipment for your hobby – no matter how small your collection is. The common cigar box with a mishmash of more or less useful utensils will certainly not be enough. It might already be a problem that different metals lie right next to each other in these boxes.
You should always make sure that there is enough light when you examine the coins. A rather warm light that illuminates the coin in an optimal way is the best choice. Try different types of lighting until you've found your favourite one.
A x2.0 magnifying glass is all you need to get started. Over time you will purchase several magnifying glasses anyway. By now, I have a small assortment of them myself. Furthermore, I recommend coin tweezers with curved tips. Make sure both ends are plastic-coated to avoid damaging your pieces and causing scratches. A pair of cotton gloves is also advisable, even if you are only dealing with circulation coins. Personally, I always have my gloves at hand.
I also recommend having a suitable pad on the table in order to protect the pieces and prevent them from sliding. For this purpose, I made two pads myself for little money. All you need is a stable 3 mm thin chipboard and self-adhesive velours. The remains of a former wardrobe back panel, for example, can easily be cut to the desired size and then covered with the film. And voilà, you have a coin pad. Please remember to get a suitable coin catalogue for your collecting field. As already mentioned, the catalogue does not necessarily have to be new. Used coin catalogues can be bought at flea markets for little money.
An Album, a Tray or Even a Cabinet?
There are many different ways to store your collection and the manufacturers offer a wide range of options. You have to decide for yourself what fits best for you. It's also a question of space because not every wife will cheer with joy when you commandeer the best sections of her wardrobe in order to store your coin collection there. My wife didn't cheer either, by the way, so don't even try it. However, collecting coins is often a family matter.
Choose a place in a room without major temperature fluctuations and high humidity. A living room or an office is usually well suited. However, you should avoid the area directly next to the room's heat source, i.e. choose a place that isn't too close to the stove or the modern heating element.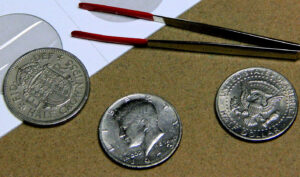 If you decide to store your pieces in a coin album, you should definitely know that such albums were made of cheap PVC not long ago. However, the "plasticizers" used at that time attacked most coin metals over time and damaged them considerably. There were actual signs of dissolution on the coins.
This is no longer the case today, because the industry has taken up this challenge and reacted. Although the individual pages are no longer soft and flexible, they are much safer for coins. So please remember to store your coins exclusively in albums that you bought from a professional coin and stamp accessories dealer. If you possess older albums with coins – after all, inherited coins are often the basis of a new collection – please make sure to save the coins from the harmful environment. It is generally advisable to take a close look at your coins from time to time. This will hopefully prevent you from nasty surprises since you won't get a guarantee for your coins anywhere.
Many collectors have already asked me whether it is advisable to store coin sets in card folders (for example Vatican euro coin sets). I took all coins out of the folder and stored them separately in coin capsules. The empty card folder got a special place, too. Just in case. Coin capsules are a very safe storage method and if you additionally use standard coin trays, the situation is almost ideal.
Do-it-yourself enthusiasts have even built suitable coin cabinets and thus created a safe place for their collection. Once again, I have to repeat that you don't necessarily need to spend a lot of money. There are certainly some things that you already have at home and most craft and DIY stores offer a broad variety of suitable products.
It is also advisable to consult your coin dealer regarding these questions. Coin dealers are usually long-time troupers in the field of numismatics and have many tips to share with you free of charge. Where can you find something like that online? If possible, you should also visit coin fairs, coin shows and even barter markets – that's the right place for you! Talk to like-minded people and critically examine new accessories offered at coin fairs. But also take the time to scroll through online coin magazines from time to time, you will find many useful tips for your collection there. These magazines are usually free of charge and there's no need for a subscription. In addition, this way you are always up to date.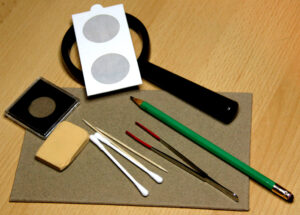 With Soap, Baking Soda and Washing Soda
Let's get the proper coin care started. However, before things get "serious" I want to emphasise once again that it's absolutely sufficient for us to approach various dirt problems of coins with classic and mostly harmless methods. Everything we need can be bought at the supermarket and safely applied in your kitchen. We won't use steaming acids or toxic substances. Nevertheless, you should always be sufficiently protected and thus have disposable gloves and safety glasses at hand. Always remember: even common lemon juice, curd soap or soda can be very dangerous if they get into your eyes!
As already mentioned, dirty pieces should not get more than basic cleaning – if any. But take enough time for this task, especially rinsing with fresh water should never be neglected. The subsequent drying process should also take place slowly and, if possible, without intense rubbing with microfibre cloths. At most, careful dabbing is allowed, everything else should be left to mother nature. Blow-dryers and too hot radiators are forbidden, too. You should rather put your pieces on paper towels and turn them while they are drying. Only touch the coins at the edge when turning them! In my opinion, PR and BU coins shouldn't be cleaned at all. The risk of additional damage is too high.
The Equipment for a Numismatic Washing Day
For a coin washing day you need: a kettle, water, aluminium foil, table salt, curd soap or soft soap (for soapy water), washing-up liquid (without aromatic substances if possible), baking soda (sodium bicarbonate), 10% vinegar solution (no cider vinegar!), rubber, washing soda (sodium carbonate), toothpicks, cotton swabs and lemon juice.
For special cases, you can also use penetrating oil (as spray or in a bottle) from the hardware store and some petroleum ether from the pharmacy. And that's all you need!
Do!
Pay attention to any alterations or discolorations of your coins.
Store your coins in a suitable storage facility from specialist stores.
You can build equipment by yourself for little money.
Buy your coin accessories from a specialist dealer and get detailed advice there.
Always use harmless household cleaners first when cleaning coins.
Information is key, also regarding numismatics. Learn as much as you can about your coins.
If cleaning is necessary, only use products that can be bought in a common supermarket. Any exceptions should be carefully considered.
Don't!
Cleaning products must not come into direct contact with your eyes (not even diluted).
Leave strong acids, toxic substances and other corrosive chemicals alone.
Don't use old coin albums with PVC plasticizers, they damage your coins.
Never try to clean PR or BU coins.
Don't rub the cleaned pieces strongly or try to polish them until they shine.
Don't start cleaning all pieces immediately, instead try the cleaning methods with less well-preserved pieces first.
Finally, you will learn what to use when, how much, against what and why in part 2 of this series.
Find out more about our author in Reiner Graff's who's who.
You can find numerous popular articles by numiscontrol on zero euro banknotes, euro coins, the treasures in our wallets and much more in our archive.