[bsa_pro_ad_space id=4]
Cleopatra & Mark Antony Coin Highlight at CNG 121
A remarkable double-portrait coin of the famous lovers Cleopatra and Mark Antony, a spectacular gold stater of Pantikapion, and a splendid gold Triple Unite of King Charles I of England are among the highlights of Classical Numismatic Group's Feature Auction 121, closing October 6-8 on the firm's website.
With 1,441 Ancient Greek, Roman, Byzantine, World and British coins at estimates totaling nearly $3.5 million, Feature Auction 121 is one of the CNG's impressive offerings ever, according to Michael Gasvoda, Managing Director. "Aside from our annual Triton auctions held in conjunction with the January New York International Numismatic Convention, this is the strongest Feature Auction we've had in CNG's nearly five-decade history," Gasvoda said. "We are very thankful to our consignors for making CNG 121 such an outstanding auction. With the market for exceptional coins running strong, I am sure the response from our bidding clientele will be as fantastic as the offering."
The Cleopatra and Mark Antony coin, a silver tetradrachm minted in 36 BC at the city of Antioch in Syria, bears two astonishingly lifelike portraits of the famous couple on opposite sides. Every detail of Cleopatra's elaborate hairdo, her jewelry, the determined look in her eye – all are sharply rendered. Antony has a prizefighter's profile and a surprisingly modern-looking haircut. The coin, lot 696, carries an estimate of $50,000.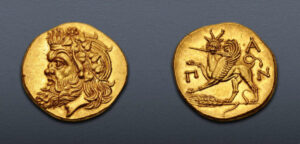 The Pantikapaion gold stater, minted circa 340-325 BC at a Greek trading city on the Black Sea, boasts a stunning portrait of the god Pan wearing a wreath of ivy on the obverse and a winged griffin bearing a spear in its mouth on the reverse. Widely regarded as one of the most beautiful Greek gold coins ever struck, the stater is graded Mint State 5/5 Strike, 4/5 Surface by Numismatic Guaranty Corporation and carries an estimate of $75,000.
The Triple Unite of Charles I, minted in Oxford in 1643 at the height of the English Civil War, is an impressively large gold piece 44 millimeters in diameter and weighing 26.62 grams. The obverse bears a crowned half-length bust bearing a sword and a laurel branch, while the reverse bears a Latin legend declaring the king's support for "the Protestant religion, the laws of England and the liberty of Parliament." Graded AU 50 by NGC, the Triple Unite boasts a long auction pedigree back to the D. Mitchell Collection auction by Glendinings in 1949. It carries an estimate of $50,000.
Other auction highlights in CNG Feature Auction 121 include:
Beautiful silver decadrachm of Syracuse signed by Euainetos.
Striking gold trihemistater of Carthage.
Rare gold mnaieion of the Egyptian King Ptolemy IV.
Rare gold aureus of the short-reigning Roman Emperor Galba, minted in Spain.
Attractive gold aureus of the Roman Emperor Maximian.
Rare silver penny of the Anglo-Saxon Queen Cynethryth, wife of Offa.
Exquisite and extremely rare 1951 "VIP" Crown of George V, one of many choice British Crowns from The Gainsborough Collection.
Pre-bids on all coins in CNG 121 may be placed via the company's website.
For further inforamtion about the auction house, visit the CNG website.