[bsa_pro_ad_space id=4]
The next AINA (American Israel Numismatic Association) forum will feature Dr. David Jacobson, Associate of the Faculty of Oriental Studies Faculty, University of Oxford, and winner of AINA's 2021 Shekel Prize Medal. The forum will be held jointly with the Anglo-Israel Archaeological Society. Jacobson's talk will be about "Antioch and Jerusalem, the Seleucids and Maccabees in Coins," the subject of his book with the same title. The zoom talk will take place on 22nd August 2021 at 7.00 PM in England, corresponding to 2.00 PM EST, 11.00 AM PST, and 9.00 PM in Israel.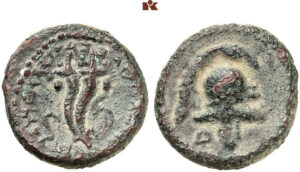 Jacobson's work recounts the heroic story of the Maccabees and explains how they successfully took on the might of the Seleucid realm, illustrated by the coins issued by the main protagonists. The author writes: "What was an epic struggle of an oppressed people to win their national and religious freedom has provided much inspiration through the ages and continues to strike a strong resonance in our own times. However, the historical drama, as recorded in 1 and 2 Maccabees, with its unfamiliar rollcall of major players and place names, has acquired a considerable mystique. The coins put faces to many of these seemingly obscure names and help bring those stirring events back to life."
David Jacobson will show how, "after the Maccabean leadership under Jonathan became accepted as part of the power structure of the Near East by his Seleucid rivals, he assimilated many of their political practices and cultural norms. This process is reflected in the Hasmonaean coinage from the time of John Hyrcanus I, which uses several of the same motifs and the identical denominational system." Mel Wacks, President Emeritus of AINA, indicates "David's talk should be of great interest whether or not you collect ancient Judaean coins."
For further information about AINA, visit their website.
To receive an invitation to the forum, email Simcha Kuritzky, President of AINA.
Read the article about David Jacobson winning the shekel prize.
Ursula Kampmann reviewed the book the talk will be about.