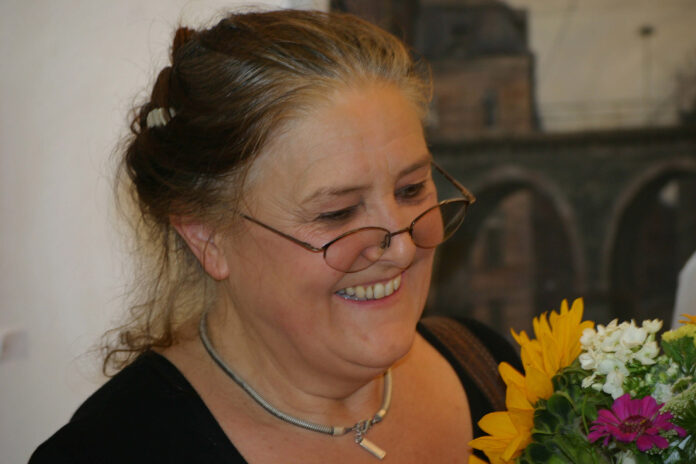 [bsa_pro_ad_space id=4]
The American Numismatic Society announced the winner of the 2020 J. Sanford Saltus Award for Outstanding Achievement in the Art of the Medal. It was awarded to the German artist Anna Franziska Schwarzbach at a ceremony in Berlin, Germany, on Thursday, 3rd December.
Anna Franziska Schwarzbach was born in 1949 in Saxonia, Germany, into an artist's household. Her father, Hans Brockhage, was himself a well-known sculptor in East Germany. Ms. Schwarzbach studied architecture and later art. Since the 1970s, she has worked as a sculptor and medallist in Berlin, where since 1990 her sculptures have been displayed in many public places. Her significant oeuvre as a medallist delves at times deep into German history, but ultimately her main focus is on portraiture, in particular of subjects who were often ignored in more official medallic art. Unusual too is her preferred medium of cast iron, which since the 19thcentury has been used as an artistic medium in Germany especially in Berlin where it was promoted by Karl Friedrich Schinkel.
The J. Sanford Saltus Award has been awarded on a regular basis since 1913, and Schwarzbach is one of eleven women who have received this prestigious award in the field of medallic sculpture. Other female recipients were Laura G. Fraser (USA, 1926), Gertrude G. Lathrop (USA, 1950), Karen Worth (USA, 1979), Ewa Olszewska-Borys (Poland, 1993), Marianne Letterie (Netherlands, 1994), Nicola Moss (UK, 1996), Leonda Finke (USA, 1997), Jeanne Stevens-Sollman (USA, 1999), Dora de Pédery-Hunt (Canada, 2003); Mashiko (USA, 2019). Schwarzbach, after Bernd Göbel (2000), is the second German sculptor to receive the internationally renowned prize.
Anna Franziska Schwarzbach received the Saltus Medal on Thursday, 3 December. The program included presentations by Dr. Ute Wartenberg, ANS President and member of the Saltus Award committee, Professor Dr. Bernhard Weisser, Coin Cabinet, Berlin, a member of the Saltus Award Advisory Committee and Mr. Thomas Bauer-Friedrich, director of the Kunstmuseum Moritzburg Halle (Saale) where a large solo exhibition of Anna Franziska Schwarzbach's oeuvre will be shown in 2021.
For more information visit the website of the American Numismatic Society.
Here you can find a list of all winners of the Saltus Award.
And this is the website of Anna Franziska Schwarzbach.