[bsa_pro_ad_space id=4]
Ancient Coins at Solidus
In the current auction 97, Solidus is presenting 580 ancient coins. The auction will be held as live auction on the auction platform "biddr" on Tuesday, April 19th, 2022 from 4:00 p.m. CEST. In order to participate at the auction, you have to register at the platform "biddr". Pre-bids can already be submitted.
The auction begins with coinage of the Gallic Bituriges. Following is a broad range of silver and bronze coins from the Greek world. Among the early Italic coinage are some interesting cast coins. An especially nice piece is a stater from Aigina with a land turtle (lot 37). A tetradrachm of the Seleucid sovereign Antiochos X. Eusebes is characterized by a beautiful portrait (lot 82). The Greek coinage is concluded with issues of the Parthians and the Sasanids as well as North African coins of the Ptolemaic dynasty and Carthage.
Roman Provincial Bronzes and Tetradrachms lead on to coins of the Roman world: Numerous denarii of the Roman Republic and the Empire as well as many nice Antoniniani are supplemented by some attractive Bronze coins. A rare denarius of Traianus displaying the emperor with his adoptive parent Nerva on the reverse is interesting (lot 273).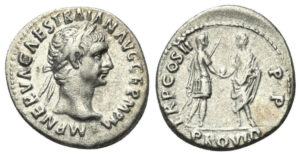 The auction ends with coins of the late antiquity and Byzantium. Special attention deserves an extremely rare half follis of Tiberius III. Apsimarus (698 – 705). The piece offered is probably the third specimen that has occurred in the coin trade (lot 566).
You can submit your bids before the auction – or during the live auction, where you can bid on the lots in real time, similar to a floor auction, and thus actively influence the auction process. The live auction starts Tuesday, 19 April 2021, at 4 p.m. CEST.
You can access the auction catalog via the platform biddr.
For further information, visit the website of Solidus Numismatik.