[bsa_pro_ad_space id=4]
Rarities From Antiquity and Middle Ages at Solidus
In the current Auction 86, Solidus is presenting 820 selected coins from Antiquity to Modern Times, including some rarities and examples of outstanding quality. The Greek and Roman coins include some items of the collection Prof. Dr. Peter Robert Franke.
The auction will be held as live auction on the auction platform AUEX on Tuesday, October 12th, 2021 from 4:00 p.m. CEST. Pre-bids can already be submitted.
Customers with a Sixbid account can also participate in the auction live via Sixbid.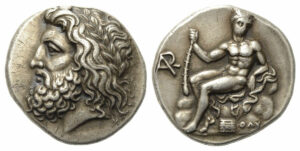 The auction begins with coinage of the Western and Eastern Celts. There is a broad range of silver coins from ancient Greece, e. g. from Magna Graecia, Thrace, Macedonia, the Greek motherland and Asia Minor. A Stater of the Arcadian Leage with an exceptional beautiful portrait of Zeus and the young Pan on the reverse is an extreme rarity that deserves to be highlighted. Representative for some other rarities is a stater of Wekshsere from Lycia. There are also nice bronze coins from Asia Minor, furthermore Parthian, Sasanid and Hephtalid issues.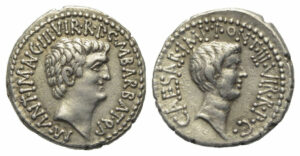 A variety of provincial Roman Bronzes and Tetradrachms lead on to coins of the Roman world: some coins of the Roman Republic (several items from the collection of Prof. Franke), Denarii , Antoniniani and some bronzes from the Imperial period. Especially attractive is a Denarius of Marc Antony and Octavian with beautiful portraits (Lot 1364). A representative selection of Late Roman and Byzantine coins made of bronze and gold complete the section with ancient coins.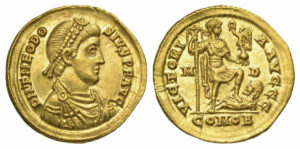 There is a considerable series of partly rare and high quality coins from the Middle Ages. The broad spectrum includes coins from Germany and Europe. Among these many issues from south-eastern Europe (Serbia, Bulgaria, Principality Moldova) and of the Crusaders from Greece and the Levant.
Modern coins are from Germany and the territories ruled by the Habsburgs. Other European countries are represented with coins from the 17th to 20th centuries. A very rare 8 Reales piece from the mint of Segovia from 1589 deserves to be mentioned (Lot 1815).
You can submit your bids before the auction – or during the live auction, where you can bid on the lots in real time, similar to a floor auction, and thus actively influence the auction process. The live auction starts Tuesday, May 11th 2021, at 4 p.m. CEST.
You can access the auction via AUEX.
The auction is also available on Sixbid.
And this is the website of Solidus Numismatik.