[bsa_pro_ad_space id=4]
In 2015, the first CoinsWeekly Special Issue was published for the Munich Numismata. Since then, the small but stimulating A5 booklets have been part of the numismatic press landscape. Thousands of them were given for free to visitors of important coin fairs in Berlin, London, Munich, New York and Prague. Unlike traditional coin magazines, they focus on one key topic that is of particular interest to people attending that specific fair. Now the concept was applied to a different problem: how can we attract people to become coin collectors?
How Do You Become a Coin Collector?
If you ask a person why they collect coins, they usually don't limit their answer to the "why" but also tell you who introduced them to coin collecting. Often, the crucial factor determining whether a person collects coins or not is another human being – the human being through whom a potential collector learned that coins are something that can be purchased. Some children learn this from their grandfather. Others have to wait many years before they stumble upon this fact. Still others never find out about it and spend their lives thinking that old coins can only be found in coin cabinets and museums.
The CoinsWeekly Special Issue fills this gap. It makes people aware of the fact that coins can indeed be collected. Moreover, the issue gives practical advice on how to collect coins.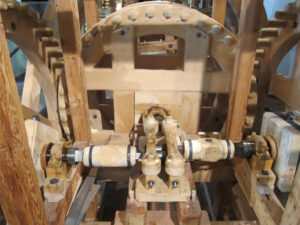 Hasegg Castle / Hall Mint in Tyrol
So, what is the best place to get people interested in collecting? That's simple: you go where people are enthusiastic about coins anyway. And there are only a few museums that generate this enthusiasm as effectively as the Hall Mint in Hasegg Castle, Tyrol. Tens of thousands of vacationers from all over the world visit the museums every year together with the beautiful old town of Hall.
After all, Hall is the birthplace of the taler. This is where Sigismund called "rich in coins" had heavy silver coins minted in 1486 that had the value of one gulden. The "guldiner" was soon minted throughout Europe and received its final name from the Joachimsthal guldiner, which soon flooded the European market.
The minting presses and machines used to produce talers and later coins are the centrepiece of the museum of Hasegg Castle. Probably the most popular exhibit is the working replica of a rolling mill, which is set in motion every now and then in front of astonished visitors to turn simple metal strips into minted semi-finished products, from which coins are punched out.
The Hall Mint and the CoinsWeekly Special Issue
This makes Hasegg Castle the perfect place to draw the attention of potential collectors to the possibility of buying coins. Therefore, the CoinsWeekly Special Issue Hall is not only about the taler and its origins, above all, it's an introduction to collecting. Several pages teach laypeople the basics: how to start collecting, and what you need to do it. Those who are enthusiastic about the exhibition will take home a CoinsWeekly Special Issue with a guide that explains in simple terms how to build up a profitable numismatic collection – and this is certainly not only meant in the financial sense of the word.
CoinsWeekly Is Looking for More Partners
The CoinsWeekly Special Issue Hall is just the beginning. We also want to be present in other places where people might be inspired to collect coins – at home and abroad. Are you in contact with a numismatic sight that is frequented by many non-collectors? Contact us and we will see whether it's possible to produce a CoinsWeekly Special Issue for "your" museum.
Without the help of our advertisers, the CoinsWeekly Special Issue would have never come about! Therefore, we would like to take this opportunity to thank all auction houses and coin dealers whose advertisements made it possible to attract new collectors.
Here you can take a look at the German CoinsWeekly Special Issue Hall.
Here you can find out more about the city of Hall and Hasegg Castle.
Of course, Hasegg Castle has its own website.
Here you can find out what the people of Zurich had to do with the Tyrolean rolling mill.
If you live in Tyrol and are interested in coins, become a member of the Tiroler Numismatische Gesellschaft.