[bsa_pro_ad_space id=4]
Recently, a British coin listed on an online auction hit the headlines, both in mainstream media and of course, in the publications dedicated to numismatics. News emerged that a seemingly common – though commemorative 50 pence coin issued in the United Kingdom realised a staggering price of £63,000 (€69,700) when bidding ended. During the unprecedented pandemic and subsequent lockdown experienced in almost every country, many of us – this collector included increased their online numismatic / collector activity. While looking to fill the endless hours of isolation and being house-bound, we looked through online coin listings on many auction sites, still trying to find that elusive item or at least hoping to find a bargain.
During the worldwide pandemic, this activity was something which really came into its own for many collectors with a lot of time on their hands but perhaps not a lot of money. No one is yet alluding to the possibility that this stir-crazy atmosphere of self-imposed isolation is why a bidder chose to ostensibly part with a significant amount of money for a coin described as "circulated" in its listing and essentially common in terms of its overall rarity. But – the bidder could be forgiven if they were to ultimately cite this as an explanation or reason as to why their level of rationale failed them just at that split-second when they clicked on the "place bid" box.
…When Duke William Became King of England, and 'Arold Got Shot in the Eye
While scrolling through the millions of items listed, it is almost certain you'll find a particular coin which includes a "buy" or a start price that is well above any reasonable or market value. This was the case for a curious 50 pence coin minted in the United Kingdom in 2016 which commemorated the 950th anniversary of the Battle of Hastings. The charming design, created by John Bergdahl is based on the historic Bayeux Tapestries – the only surviving record of the events during the time of the battle. A poignant scene was featured on the reverse side that depicted the last Anglo-Saxon King Harald on the battlefield the moment he caught an arrow in the eye and was killed while fighting. In total, the mintage was recorded as 6,700,000 pieces and they were indeed spotted in circulation nationally.
This listing was simply one of those instances where the coin and starting price of £1500 just made no sense. The simple base metal coin, struck for general circulation and believed to not include any mistakes or errors in its minting was listed in June with the heading and description "*VERY RARE AND CIRCULATED* Collectable 2016 Battle of Hastings 1066 50p Coin" and with a starting price of £1,500.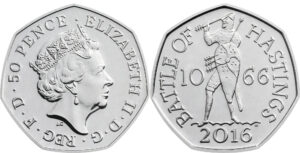 Confused Collectors
Admitting that the coin was a circulated example in the description, and despite this the bids quickly rose to over £60,000 during the week it was listed. In total – there were inexplicably 41 bids for the coin, which before the end of the listing reached a price of 126,000 times its face value. With a final price of £63,000 the bidding ended and the coin's purchase made the headlines. Plenty of collectors were scratching their heads – believing perhaps they missed something – and checking their calendars to make sure this wasn't an April fool's Day joke. What also resulted were many collectors inquiring to their local coin dealers, other auction sites, catalogues and even the Royal Mint for a reasonable explanation as to why this ordinary coin fetched so much. In response to this baffling online occurrence, the Royal Mint, who also seemed extremely surprised with such an astounding auction price, responded to this incident. They, through a spokesperson advised potential coin collectors and/or investors to "Do your homework" to ensure you as a collector pay a fair price for items in auctions or in any transaction.
A Fool and His Money are Soon Parted
Now, despite the copious levels of media attention this listing received, there is no concrete proof that the sale was actually finalised and that any money changed hands in the end. The listing seems to have been removed either by the online auction site or the vendor but, one thing is certain, the other bidders who took part must now be greatly relieved in the wake of the abundant criticism and attention this fateful listing received. However, it can also be succinctly argued that this blunder is in fact a classic case of the old saying "buyer beware" and a deal is a deal no matter how painful – or perhaps embarrassing. Anyone willing to carry out just a bit of due diligence will find these over-the-top bids and prices are by no means an isolated incident though this listing perhaps hit the headlines due to the exorbitant price realised. With this coin or any kind of property which is meant to be exchanged, the price is always determined by what the buyer is prepared to part with. Unfortunately, these kinds of inexplicable bids only end up distorting the market considerably and of course, hurts the activity as a whole since it lends itself to an undeserving reputation of a bad investment or dishonest sellers. For many, another old saying came to mind, and that was "A fool and his money are soon parted" which is why the advice of the Royal Mint ought to go a long way especially for new coin collectors. If you don't want your online auction purchases or any type of transaction to make the headlines for all the wrong reasons… the lesson is clear, DO YOUR HOMEWORK – and you can easily avoid a costly and headline-making mistake.
The author, Michael Alexander, is president of the London Banknote and Monetary Research Centre.
Part of the homework should be to check Cosmos of Collectibles for the mintage. All new coins issued starting with March 2020 are available in this free catalogue.
Here is our News about the Hastings coins from 2016, when it was first released.
On Youtube, you can watch a short documentary about the Battle of Hastings:
Last November, Michael Alexander reported on the curious case of the elusive 50 pence Brexit coin.
Then, four months later he was wondering: Where have all the Brexit coins gone?