[bsa_pro_ad_space id=4]
September 29, 2016 – On 14 October 2016 Britain will remember the 950th anniversary of The Battle of Hastings. In recognition of this significant moment in British history, The Royal Mint has struck precious metal variants of the 50p coin that marks the occasion, following on from the earlier issue of the Brilliant Uncirculated coin.
The 950th Anniversary of The Battle of Hastings 2016 United Kingdom 50p Silver Proof Coin: Great Britain / 50p / .925 Ag / 8.00g / 27.30mm / Design: Jody Clark (obverse), John Bergdahl (reverse) / Mintage: 6,000.
The 50p coin features a reverse design by sculptor John Bergdahl depicting the famous fate of King Harold, with the all-important date taking centre stage.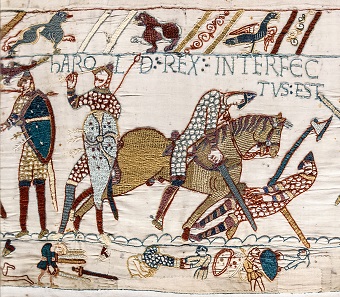 The death of King Harold at the Battle of Hastings as depicted on the Bayeux Tapestry.
Anne Jessopp, The Royal Mint's Director of Commemorative Coin, said: "1066 is arguably one of the most famous dates in English history and one that altered the nation's timeline forever. As we build towards the 950th anniversary of The Battle of Hastings, it is timely that we commemorate this great historical anniversary on a 50p coin."
The coin carries the fifth portrait of Her Majesty The Queen on its obverse, and has now been struck in Limited Edition Presentation Gold Proof (350 coins), Silver Proof (3,000 coins) and Silver Proof Piedfort (1,500 coins) editions. The public can expect to see the circulating version of the design appear in their pocket change later this year.
The designer's inspiration
Seasoned coinage artist John Bergdahl has created a number of designs for The Royal Mint covering a variety of themes: celebrating royal occasions, including the birth of Her Royal Highness Princess Charlotte Elizabeth Diana of Cambridge, commemorating the First World War and recalling important events in our history, such as anniversaries of the launch of the Mary Rose and the creation of the Magna Carta.
For this reverse, artist John Bergdahl looked to the visual account of the battle, the Bayeux Tapestry, for inspiration. The artist explained: "The Bayeux Tapestry formed the basis for this design, as it is so famous and the only real visual record of the battle. The design, much like the reverse for the Magna Carta £2, is inspired by the medieval, it's very much of the period when the battle took place. The figure in the composition is based on images thought to be King Harold, with the famous arrow to the eye. The all-important date is at the centre of the arrangement."
For more information on The Royal Mint and their products go to the official website.
On Youtube you can watch a short BBC Two video on the Battle of Hastings.