[bsa_pro_ad_space id=4]
The Royal Canadian Mint pays tribute to John Lennon's and Yoko Ono's legendary Bed-in for Peace with a pure silver coin. It features the iconic black and white photograph of the couple in a hotel bed taken in 1969.
In 1969, Plastic Ono Band (John Lennon and Yoko Ono) recorded Give Peace A Chance, an anti-war anthem for generations of pacifists and music fans around the world. The song was recorded live from Lennon and Ono's Queen Elizabeth Hotel suite in downtown Montreal, where John and Yoko were holding their famous "Bed-in for Peace" protest. Fifty years later, the Mint has captured that special moment in Canadian and music history with a pure silver coin celebrating Lennon and Ono's artistic talent and social activism, in a deal brokered by Epic Rights, the global licensing agent for John Lennon.
"For generations of Canadians, the music and lyrics of John Lennon and Yoko Ono have been a source of pleasure and inspiration," said Marie Lemay, President and CEO of the Royal Canadian Mint. "We are delighted to have crafted a coin celebrating Canada's special connection to John and Yoko, and their lasting message of peace."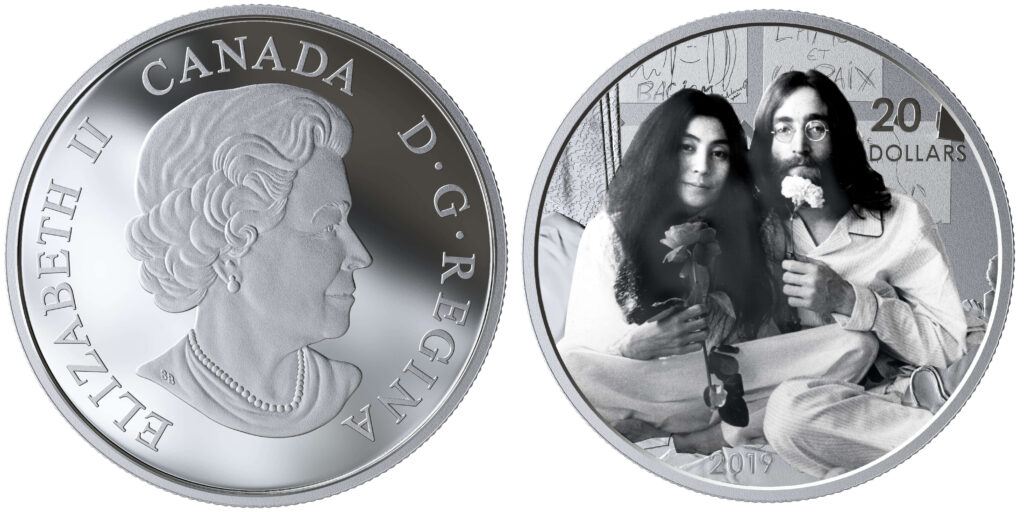 "For the 50th anniversary of the Bed-in for Peace, we are honoured that the Royal Canadian Mint is paying tribute to a marking moment in our hotel and our city's history by issuing a commemorative coin," mentions David Connor, Regional Vice-President and General Manager, Fairmont The Queen Elizabeth. "We hope that it will help promote greater awareness about John and Yoko's message of peace which still has strong resonance and importance today."
The reverse design of this 99.99% pure silver coin features a rendering of Ivor Sharp's famous black and white photograph of John and Yoko at their "Bed-In for Peace," held in Montreal in the late spring of 1969. Dressed in pyjamas and both holding roses, they sit on a bed, with handmade peace posters hanging behind them. The obverse features the effigy of Queen Elizabeth II by Susanna Blunt.
For more information on the coin go to the Royal Canadian Mint's website.
"Everybody's talking about Bagism, Shagism, Dragism, Madism" – watch the music video for Give Peace A Chance here: