[bsa_pro_ad_space id=4]
When three craftsmen were renovating an estate in Plozévet (Brittany), they unexpectedly came across a treasure trove. Hidden in the old building were 239 gold coins, which have now been sold at auction.
On 29 September 2021, the coin find was sold by auction house Deloys in Angers. The circumstances of the discovery had garnered much attention (especially due to the coverage by French media). The result: All coins were sold, and at much higher prices than estimated.
Deloys' total estimate for the French gold coins, all minted between 1638 and 1692, had been 250,000 to 300,000 euros.
The Monnaie de Paris had secured nineteen specimens with the right of first refusal, the auction house announced. During the five-hour long auction, offers had been coming in on all channels: online, on the phone, and from bidders in the room, says auctioneer Florian d'Oysonville.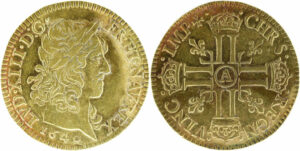 The outcome was not really surprising because the offered coins included rarities like a Louis d'or "à la Croix des Templiers" from Louis XIII. The coin, which was minted in Paris in 1640, had been estimated rather conservatively at 8,000 to 12,000 euros and fetched 46,000 euros. Lot 23 wasn't the only lot to see such a price increase so that the final total was at 830,000 euros, according to the auction house, that is exactly 1 million euros including premiums.
The owners of the estate are not the only ones delighted about this news, the craftsmen are too. After all, both parties will be sharing the proceeds equally.
And if you want to know the details behind this story, why don't you read our article about the discovery which we published prior to the auction.