[bsa_pro_ad_space id=4]
February 9, 2017 – On the occasion of the Year of the Rooster 2017, Coin Invest Trust has designed a commemorative coin for Mongolia in gold and silver. Thanks to HiCarv technology, the relief on the handcrafted, Black Proof Finish silver edition limited to 2017 pieces rises unusually high from the coin field.
Mongolia / 500 Togrog / Silver. 999 / 25g / 38.61mm / Mintage: 2017.
The obverse shows the coat of arms of the issuing nation and the nominal value below. Engraved along the bottom rim are weight and fine content, and, in the silver edition, the name of the issuing nation.
The reverse depicts a standing rooster, minted in high-relief on the silver edition. Next to the year of issue and the inscription YEAR OF THE ROOSTER is the Chinese zodiac sign for the Year of the Rooster.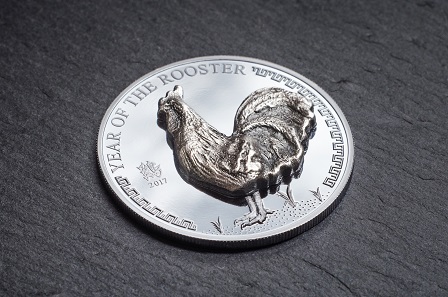 It is impressive to see how high the HiCarv element rises from the silver coin field.
The Year of the Rooster
At the foundation of the horoscope of Chinese astrology, which is widespread throughout Asia, are twelve zodiac signs. Steeped in a 4,500 year-long history it is not based on constellations like the Western one but on specific years. Their beginning is determined by the second new moon after the winter solstice. In 2017 this date will be February 28, the day that the Year of the Rooster takes its beginning. Previous years of the rooster were 1933, 1945, 1957, 1969, 1981, 1993 und 2005.
People born in the Year of the Rooster are said to be persistent and flexible as well as sensitive and pensive. And just like the rooster they can appear with an air of pride. Among the VIPs of the Western world born in the Year of the Rooster are Sophie Scholl, Joseph Beuys, Roman Polanski and Amelia Earhart.
The coin is minted by B. H. Mayer's Kunstprägeanstalt GmbH. Collectors can purchase the issue through specialty dealers.
To watch a film with an impressive demonstration, available on Coin Invest Trust's YouTube channel, please click here.
Further information on the Year of the Rooster coins is available here and here.
This is the Coin Invest Trust website.
And here you can read what the 2017 Year of the Rooster has in store for you.