[bsa_pro_ad_space id=4]
This story could easily be the basis for a novel or a Hollywood film. So, let's begin with the heroine: Laura Young runs an antique shop in Austin, Texas. Sometimes, she goes looking for interesting pieces at Goodwill, a thrift store whose proceeds go to good causes. People just leave their stuff at the back entrance and then drive off again, Young explains. She finds exciting things there all the time. Once, as she told The Art Newspaper, she came across a Chinese painting, which she nabbed for a token price and then resold at Christie's for $63,000.
Our story doesn't go quite as well as that for Young, at least not financially. In 2018, the antiques dealer noticed a marble bust on the floor under a table. It looked pretty old and dirty. Young took it home for $34.99. Well, to be precise, the 23.5-kilo bargain was actually hauled into her car by a Goodwill employee. She then secured it properly and drove it home.
Where Does This Bust Come From?
But before Young sold her find, she wanted to find out what she'd actually bought. She reached out to experts at the University of Texas, as well as various dealers. Specialists at Bonhams authenticated the bust for her, but without provenance, there was nothing more they could do for her. Then, Young came across somebody who solved the mystery: Jörg Deterling, a consultant at Sotheby's, not only identified the marble head as an original portrait bust of Drusus the Elder, brother of Emperor Tiberius (though this identification is not certain); he was also, most importantly, able to clarify its spectacular provenance.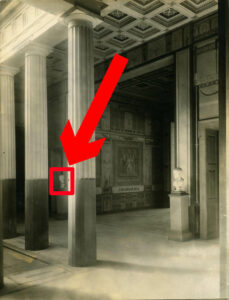 Royal Provenance
This head was purchased by King Louis I of Bavaria sometime before 1833 (though we do not know where or under what circumstances). Shortly afterwards, the monarch forged ahead with a project that was very important to him: during the 1840s, in Aschaffenburg, a city by the river Main, architect Friedrich von Gärtner built something called the "Pompejanum", a full-scale replica of a Pompeiian villa. In the atrium of this villa, the Roman bust found its new home.
Loot is Loot is Loot
During the Second World War, Aschaffenburg and the Pompejanum were bombed in the bombardments of 1944/1945. After that, the marble head was gone, until it reappeared in the USA in 2018. Laura Young took this information to the New York law firm Amineddoleh & Partners, which specialises in the protection of cultural heritage. There, of course, Young was advised not to try to sell an item like this. After all, as the law firm emphasised in a press release, the item is clearly looted art under US law. The Bavarian Administration of State-Owned Palaces, Gardens and Lakes, which is responsible for the Pompejanum, or the Free State of Bavaria, were the owners of the Roman bust in 1945 and never sold it. The artwork was stolen under unclear circumstances.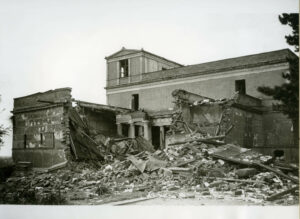 In its press release, Amineddoleh mentions that the Nazis systematically robbed almost 20% of the artwork in Europe; this is what we refer to as "Nazi plunder". On the other hand, looting that is not sanctioned from above is a matter of opportunity, and there were soldiers doing that all over the world – from little things, such as cigarettes, to artwork. This marble bust therefore also sheds light on the art looted by Allied soldiers during the Second World War. (We are reminded here of the "alchemical" gold coin from Weimar.) Many other items disappeared from the Pompejanum alone. Were American soldiers directly helping themselves? Or was it local people, perhaps, trading things on the black market to get what they needed to survive? Or perhaps the descendants of a soldier cleared out their inherited home a few years ago and then unceremoniously dumped the bust at Goodwill? We don't know.
The Return of a Treasure
In any case, Laura Young took her lawyer's advice. The law firm has made a deal: the bust will be displayed at the San Antonio Museum of Art until 2023. After that, it will be returned to the Pompejanum and, in its place, the Texan museum will receive a replica from Bavaria. As the Bavarian Administration of State-Owned Palaces, Gardens and Lakes told CoinsWeekly on request, the department was "absolutely delighted about the rediscovery of a piece of Bavarian history thought to be lost". The honest finder also deserves a proper mention. And she'll also be receiving some compensation, so perhaps the find will pay off financially for Laura Young, after all. Above all else, she is very pleased to have been part of the long history of this bust. Young remembers how great the head looked in her apartment. And how many people can say they had an item of royal provenance in their home?
Numerous media outlets have published reports on this story, including the BBC and The Jerusalem Post.
The law firm Amineddoleh has written a detailed press release.
Here is the website for the San Antonio Museum of Art.
Of course, numismatics know Louis I primarily for his commemorative coins.