[bsa_pro_ad_space id=4]
World-Class Rarities Featured in the Stack's Bowers Galleries ANA Auction
Stack's Bowers Galleries announces their Official Auction for the ANA World's Fair of Money 2021, hosted from Griffin Studios, their state-of-the-art auction venue in Costa Mesa, California. The sale will take place between 16th and 25th August 2021 and the offerings will be remembered as a milestone in United States numismatics, highlighted by the Proof-68 (PCGS) Sultan of Muscat-Childs-Pogue 1804 Class I silver dollar, the single finest example of the "King of American Coins." Since its mysterious appearance in a London auction in 1917, this specimen has sold at auction only once, in their 1999 sale of the Childs Collection, when the Pogue family acquired it for the then world-record price of $4.14 million. Stack's Bowers Galleries presents this magnificent rarity to a new generation of collectors in the August sale, where it will surely find a home in another world-class cabinet.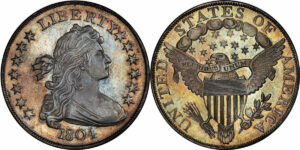 The Sultan of Muscat-Childs-Pogue 1804 Dollar
Stack's Bowers will offer the finest known 1804 silver dollar in the Rarities Night Session at their official auction at the ANA World's Fair of Money in Rosemont, Illinois. The Sultan of Muscat-Childs-Pogue 1804 Class I silver dollar has been graded Proof-68 by PCGS, and is the single finest example of the "King of American Coins." Its provenance began when it was delivered in 1835 as a diplomatic gift from the United States of America to Said bin Sultan Al-Said, the Sultan of Muscat and Oman. In its history, this 1804 dollar has resided in only four private numismatic collections, those of Charles A. Watters, Virgil M. Brand, the Childs family, and the Pogue family. Since its mysterious appearance in a London auction in 1917, this specimen has sold at auction only once, in 1999, when the Pogue family acquired it for the then world-record price of $4.14 million.
No other coin so singularly symbolizes rarity and desirability in American numismatics as does an 1804 silver dollar. Legendary even beyond the world of numismatics, no other American coin has caused as many empty inkwells as the 1804 dollar, inspiring several full length books and countless articles and commentaries. It owes its existence to a single historic instance of the United States government's desire to make a good first impression. It was minted to transcend its basic purpose as an article of money, serving instead as a tool to communicate sophistication and power, peace and strength. From the moment the ingot of silver that would become this coin first felt the tug of the rollers, this coin was produced to be not only an object invested with the hopes of American diplomacy, but also a gift fit for a king.
When it came time to acquire this historic issue, it would have been out of character for the Pogue family to settle for just any 1804 dollar. As with so many of the coins in their collection, they sought out the most beautiful and best preserved example, the first specimen presented, and the one whose provenance is filled with history and mystery. This most exceptional 1804 silver dollar is now poised to be the centerpiece in another world-class numismatic cabinet.
Gold Coins From the Castle Pines Collection
This royal treasure is offered alongside an array of sophisticated collections that include some of the greatest rarities of the Guide Book of United States Coins. Among these, the Castle Pines Collection is one of the most important cabinets of United States gold coins offered in recent years, spanning the earliest issues of 1795 through the final official releases in 1932.
A virtually unprecedented offering of Jefferson nickels is presented from the George "Buddy" Byers Buckeye Collection. Under the Buckeye name, the Byers Collection holds leading rankings in numerous Jefferson nickel categories on the PCGS Set Registry, including #2 All-Time Finest in the category Jefferson Nickels FS with Major Varieties, Circulation Strikes. Bidders will find numerous absolute, strike and condition rarities.
The Silver Springs Collection is a magnificent showcase of the most popular series from the late 19th and early 20th centuries, including Indian cents, Buffalo nickels, Morgan dollars and others. Assembled with a focus on Gem and Superb Gem quality, every coin in the Silver Springs Collection has been graded by PCGS and most rank among the finest graded by that service.
A comprehensive selection of Liberty Seated coins, Barber coins, and early half dollars is presented from the Lincoln Square Collection, encompassing dimes through dollars and including the challenging key dates of each series.
The Collection of a Southern Gentleman offers an incredible parade of Territorial gold coinage issued by the Bechtler family of North Carolina.
Exceptional classic gold and silver commemoratives will be offered from the Fort Lee Collection, the majority of which grade MS-67 or MS-67+. It includes nearly 140 examples from these series and features the most popular issues.
The Oregon Collection presents an expansive selection of California Fractional Gold coins that covers nearly 70 distinct Breen-Gillio varieties. It includes an impressive array of rarities, many of which are among the finest known.
The auction will also feature duplicates from the record setting Lulu Collection of Walking Liberty Half Dollars Short Set that realized nearly $1 million in the firm's June 2021 Auction. This selection of duplicates represents an accomplished collection on its own and includes such rarities as a 1942 half dollar graded MS-68 (PCGS) and a 1943-S graded MS-67+ (PCGS) CAC.
Beyond these cabinets, the Stack's Bowers Galleries event offers numerous individual rarities, including:
A magnificent gold "1818" Congressional medal awarded to Major General William Henry Harrison.
An astounding 55.48 oz Harris, Marchand & Co. gold ingot.
An exceedingly rare EF-40 (PCGS) OGH "1776" Continental dollar in Brass.
An elusive AU-50 (NGC) 1802 half dime.
A Proof-65 Cameo (PCGS) CAC 1827/3 Original quarter pedigreed to the Norweb Collection.
A Proof-65 (NGC) 1827/3 Restrike quarter from their Reed Hawn sale.
A MS-62+ (PCGS) 1796 Small Eagle half dollar from their Norweb sale.
A newly discovered 1794 silver dollar in AU-55 (NGC) CAC condition.
A second 1794 dollar from their 1954 Graves sale graded VF-35 (PCGS).
The finest known BB-66 1796 Draped Bust dollar graded MS-64 (NGC).
An incredible MS-62 (PCGS) 1796 Stars quarter eagle.
The finest certified 1803 Capped Bust Right $10 graded MS-66 (NGC).
An MS-61 (NGC) 1851 Humbert $50 "slug".

U.S. Currency Rarities
The sale represents the firm's first Showcase Auction of U.S. Currency since their record-setting sale in March, and collectors are sure to greet this summer event with tremendous enthusiasm.
The standout highlight of the sale is a Fr. 345d 1880 $500 Silver Certificate graded PMG Fine 15, which is the only privately available example of the catalog number and has been off the market since its last public auction sale in 2006. This treasure is offered alongside an array of sophisticated collections that include some of the greatest rarities of the Friedberg reference.
Part II of the Tarzan Collection features an impressive selection of rare large and small size type notes across the most recognizable design types in the hobby. Among the highlights from this cabinet are a Fr. 187j 1880 $1000 Legal Tender Note graded Very Fine 30 by PMG and a Fr. 2221-E 1934 $5000 Richmond Federal Reserve Note graded AU 58 EPQ by PMG.
The Cape May Collection presents an unprecedented selection of Colonial and National Bank Notes of New Jersey, fittingly highlighted by a Cape May $10 1902 Plain Back graded PCGS Banknote Very Fine 25. Other notable rarities include a Boonton $10 1902 Plain Back graded PCGS Banknote Very Fine 30, an Uncut Sheet of four Woodbridge $5 1902 Plain Back notes graded PCGS Banknote About Uncirculated 50, and a March 25, 1776 6 shillings graded PCGS Currency Superb Gem New 67 PPQ.
An exceptional group of high-end Demand Notes, Legal Tender Notes, and Silver Certificates are offered from the Silver Springs Collection, with such incredible highlights as a Fr. 2 1861 $5 Demand Note graded PMG Extremely Fine 40, a Fr. 119 1901 $10 Legal Tender Note graded PCGS Currency Gem New 66 PPQ, and a Fr. 282 1923 $5 Silver Certificate certified PMG Gem Uncirculated 66 EPQ.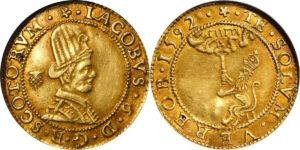 The Loch Ness Collection of Scottish Coins
The Official World Coin Auction features the Loch Ness Collection of Scottish Coins. It is a landmark cabinet that will stand as a reference of quality and rarity for generations to come. It provides a magnificent showcase across six centuries of coinage, spanning from the primitive sterling issues under David I in the 12th century to the final emissions of the Edinburgh Mint under Anne in the beginning of the 18th. This historic tour touches upon some of the most pivotal periods in Scotland and the British Isles, illustrating themes of the Middle Ages, the Renaissance, and the Enlightenment in dazzling gold and silver. Even the most recent of these coinages predate the American and French Revolutions by nearly a century.
This comprehensive offering of types and denominations includes over 100 coins and medals, ranging from the minuscule John Baliol halfpenny to the magnificent gold 20 pound piece of James VI, the largest gold issue of the British Isles. This 20 pound piece, with provenance to the Bridgewater House Collection begun in the 17th century, plays the leading role amid an ensemble of historic treasures, many of which are world-class rarities in their own right.
Other monumental offerings in the Loch Ness cabinet include an exceptional 1555 portrait ryal of Mary, a 1592 gold "hat piece" of James VI, a gold double crown of Charles I, and a 1701 gold pistole of William II. Each of these pieces would, on their own, signify a world-class cabinet. In some cases, it has been decades since collectors have had an opportunity to acquire these types and it is very likely that it could be many more years before they are offered again.
The attention to quality and rarity places the Loch Ness Collection among the most accomplished cabinets of Scottish coins ever formed. It joins the ranks of such landmark collections as Murray, Lockett, Dundee, and LaRiviere, through which many of the present pieces can be traced. Not since the firm's 1976 offering of the Dundee Collection (in association with Spink), has Stack's Bowers Galleries presented such a masterful assemblage. The royal biographies from the Dundee catalog have been reprised, providing the crucial context behind these coinages and bridging the gap between these landmark offerings.
World Paper Money
The paper money sale is anchored by a few named collections, including the Panama Collection that features four lots of Panamanian Banknotes, all of which are the highest graded in uncancelled and issued form (lots 30366, 30668, 30370, and 30371). These notes collectively are estimated to fetch well above $100,000, and are available for the first time to the public. When asked for his comments on the set, Aris Maragoudakis, the firm's Director of World Paper Money, stated, "While we have been fortunate to handle the majority of the higher end Panama notes that have hit the market in recent years, this set stands out as remarkable for its incredible preservation. The 1, 5, and 10 Balboas in gem condition are next to impossible to find, and it's going to be interesting to see the collecting community fight to upgrade their sets. Also, the 20 Balboa in its original state, uncancelled, and with exceptional paper quality, which is virtually unheard of."
The Don Allen Collection offers significant Australian and Western Samoan pieces as well as to some significant pieces from British Guiana, British Honduras, and other areas of the Commonwealth. The Bank of Adelaide 1 Pound in lot 30011, and the Commonwealth of Australia 5 Pounds in lot 30012 are among the more noteworthy items in the collection.
The Sao Miguel Collection offers incredible pieces from Azores, such as the 5 Mil Reis Prata from 1905 in lot 30017, or the 1905 Banco de Portugal 10 Mil Reis Ouro in lot 30019. The 20 Mil Reis Ouro in lot 30020 is an incredible piece that seldom crosses the auction block.
One of the most unique collections to be offered by Stack's Bowers Galleries, is the Ricardo Collection, a privately built collection formed entirely without purchases from dealers, or auction houses. The collection, which took decades to build, was built primarily by dealing directly with banks and governments, or trading with collectors in various countries that were visited by the consignor. Part I of this collection covers the areas of Bolivia, Colombia, Iran, Iraq and Russia. A multitude of additional countries will be offered in future sales. Aris Maragoudakis added, "The fascinating collecting method that built The Ricardo Collection led to a passionately built assortment of paper that spanned the globe, with an astounding focus on organization, quality, and completion."
The entire catalogues will be available on the Stack's Bowers Galleries website for viewing and bidding, featuring high-resolution images, Coins in Motion animations and their user-friendly bidding platform. The Live portions of the sale will be held from 16th August 2021 through the 21st and broadcast in high definition across a number of platforms including their website, Facebook and YouTube. The Internet-Only sessions will take place the next week, from 23rd August 2021 through 25th. For questions about bidding or to request an in-hand inspection from one of their specialists, please contact their auction services department at 800-458-4646 or e-mail.