[bsa_pro_ad_space id=4]
by K. R. J. Tattersall, Marketing Director Austrian Mint, Vienna
Winter Games 2010 – Snowboard and Ski Jumping. Date of Issue: 20th January, 2010. Designs: Thomas Pesendorfer and Helmut Andexlinger. Fineness: 800/1000 Ag. Fine weight: 8 g. Diameter: 28,5 mm. Face Value: 5 Euro. Mintage: 2 x 50,000 in special uncirculated quality. 2 x 225,000 in circulation quality.
January 19, 2010 – In Austria skiing is the King of Sports. Every winter not only Austrians but thousands upon thousands of skiing enthusiasts from other countries flock to the snow covered slopes of the Austrian Alps. It is not surprising that Austria, like neighbouring Switzerland and the Nordic Countries, always does well at winter games and tournaments, no matter where they are held. That, of course, holds particularly true for the Winter Olympics, this year to be held from 12th to 28th February in and around Vancouver on the west coast of Canada's British Columbia.
To celebrate the Winter Games, the Austrian Mint in Vienna is issuing two silver 5 Euro coins on 20th January, 2010. Each displays a winter discipline in which Austria is a worldleading performer. The first has as its theme ski jumping. One sees the helmeted ski-jumper captured in his flight from the end of the steep ramp against a background of trees in an alpine forest.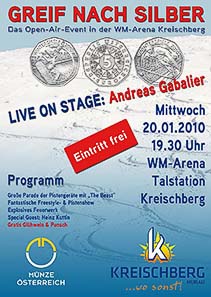 The second design shows a female snow-boarder as she performs a hair-raising air trick, flipping her snowboard up over the rim of the half-pipe in which they perform. The ski jumper was designed by Helmut Andexlinger, while the female snow-boarder is the work of chief engraver, Thomas Pesendorfer. Both coins share common design features and are characterised by dramatic movement. The official side of the nine-sided coins is the standard ring of the shields of the nine federal provinces of the Republic of Austria with the face value "5" in the centre.
A total of 450,000 coins in circulation quality (225,000 per design) are being issued at face value through the banks. A further 50,000 sets of the two coins in special uncirculated quality will be issued in a double blister pack for collectors. The Austrian Mint expects that these two silver 5 Euro coins will be sold out within a matter of weeks, as were indeed their immediate predecessors.