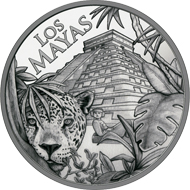 [bsa_pro_ad_space id=4]
April 8, 2014 – Japan Mint has announced the winners of the International Coin Design Competition (ICDC) 2013. Every year Japan Mint holds the ICDC with the objective of encouraging creativity and enhancing the artistry of coin designs. The hope is that this competition will lead to the discovery of many excellent works, looking forward to the artists' creative, artistic and beautiful coin designs.
There are two categories, a general one and one for students only. The prizes range from 500,000 to 100,000 yen in the general category and are of 50,000 in the students category. In addition there is a Jury's Special Award (50,000 yen) open to participants in both categories.
These are the results of the final judgment of the International Coin Design Competition 2013:
General
Most Excellent Work
Ulises Felipe De Jesús Sánchez (Mexico), The Mayas
Excellent Work
Todor Todorov (Bulgaria), The 450th anniversary of William Shakespeare's birth
Fine Works (3 works)
Donna Weaver (USA), Audubon Appreciated
Anyun Wang (China), Floral Whisper
Petri Neuvonen (Finland), Galileo Galilei 1564-1642
Student
Future Designer
Nagisa Aoki (Japan), Fish in a dream
Jury's Special Award (3 Works)
Mária Poldaufová (Slovakia), Howard Carter
Paulina Kotowicz / Robert Kotowicz (Poland), 120th Anniversary of the Birth of Julian Tuwim
Tomoaki Yanagawa (Japan), Striped Patterns
The award ceremony for ICDC 2013 will take place in May. All details about the entry information, prize money and categories are available on the Japan Mint website.