[bsa_pro_ad_space id=4]
December 22, 2011 – Until now it was generally accepted that the Mount Temple complex was nearly finished during the rule of Herod, the notorious king of the Jews. Shortly after his death in 4 BC the monument was completed. The Jewish historian Flavius Josephus however refers that only Herod's great-grandson king Agrippa II accomplished the work. So far there had been no archaeological hints to this allegation. But now it seems proved.
During archaeological excavations four coins were detected, all struck clearly around 17/18 AD and issued by Valerius Gratus the predecessor of Pontius Pilate. The coins were discovered in a ritual bath beneath the 'Wailing Wall', part of the Western wall of the temple. This bath once was filled up with material before the wall – or at least parts of it – was constructed above.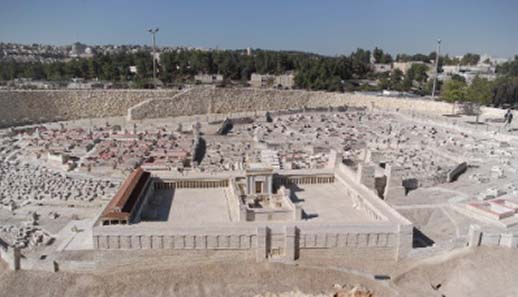 A model of the temple how it was. The Israel Museum / Jerusalem. Source: Berthold Werner / Wikipedia.
Thus the history of this place, holy to both Jews and Muslims, has to be rewritten. The Mount Temple complex is one of the most contentious religious places of the whole world. Until now the 'Wailing Wall' was considered to be the only remaining part of the Western wall built by Herod.
Further information you will find in an article of the Daily Mail Online.