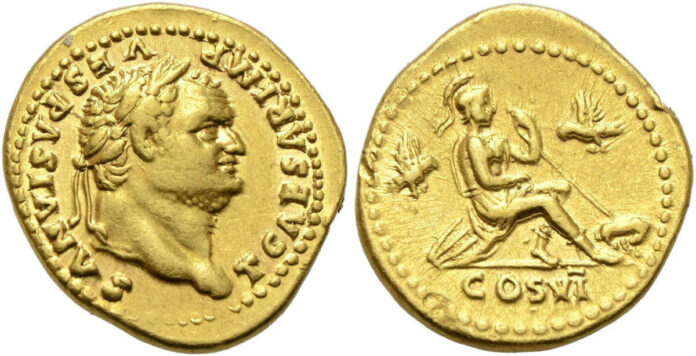 [bsa_pro_ad_space id=4]
VIA Numismatik Auction 2
The 2nd floor auction offers top pieces and rarities of antique coins, from the Middle Ages, modern times, world coins, as well as from the Holy Roman Empire. Particularly noteworthy are the attractive Celtic coins (lots 1-14), the numerous Greek coins (lots 15-74), the pieces from the Roman Republic (lots 75-102) and the Roman Empire (lots 103-203), the large choice of gold coins from the late Roman Empire (lots 183 ff.) and the Byzantine Empire (lots 205-258), as well as some rare coins from the Migration Period (lots 260-263).
Also worth mentioning are the numerous interesting thalers from Germany, the Holy Roman Empire, the secular and ecclesiastic principalities, as well as the extremely rare 18 Ferding from Riga (lot 505), the various attractive French ecu d'ors from the 14th-16th century (lots 361-383), the choice of Napoleonic gold francs (lots 390-394, 396-400), the rare Islamic AV-dinars (lots 432-437, 440-443), as well as a larger choice of remarkable Venetian ducats and zecchinos (lots 450-452, 454-464, 466-474). Particularly interesting is the unedited imitation of a Maravedi Morabitino of the Crusaders (lot 494).
The varied offer also includes many Swiss coins in exceptional condition (lots 551-587), excellent gold coins from the Holy Roman Empire and the Austrian Empire, a remarkable choice of shooting medals from Germany (lots 766-769), France (lots 770-777), Italy (Lot 778), Switzerland (lots 779-799) and Franz Joseph (lots 953 and 964).
Also worth mentioning are the numerous medals from World War One (lots 800-821), including very interesting pieces by Goetz (lots 802 and 804) and Ludwig Gies (lots 807-817), the two interesting seal stamps from Minden (lot 826) and Gurk (lot 832), the replicas of important seals (lots 827-831), the many French medals (lots 848-890) – including remarkable pieces from the series "Histoire Médallique de la ville de Reims sous la République" by F. Baudart (lot 873), as well as the outstanding medals of the Holy Roman Empire (lots 929-968).
In addition to the classic floor auction, the auction will also be available on the Internet for live bidding on the AUEX platform. You can view the lots there.
For more information, visit the VIA Numismatik website.