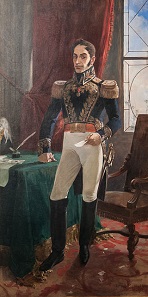 [bsa_pro_ad_space id=4]
by Annika Backe
February 23, 2017 – The situation in Venezuela is desperate. Although the country has the world's biggest oil reserves, it currently fights a galloping inflation. Under Socialist President Nicolás Maduro, the inflation has reached several hundred percent – there are no official figures available – and may even rise to 1,600% in 2017, experts say. The oil prices on the international markets having collapsed, it has become nearly impossible for Venezuela to import much needed goods, foodstuff and medical supplies.
A country in a state of emergence
Long queues in front of and empty shelves inside the shops are thus a common sight. As a result of the inflation, wads of money are needed to pay even very small bills. To save time, shop owners don't count the money anymore but rather weigh it as a whole.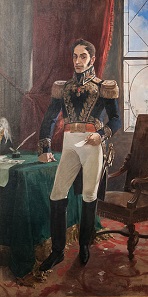 The currency of Venezuela got its name from Simón Bolívar (1783-1830), one of the leaders of the wars of Spanish-American independence.
An international conspiracy?
On the black market, the highest denomination banknote, the 100-bolívar bill, is worth only about 2 US cents. The Venezuelans spend hours queuing up at bank counters and ATMs whose cash withdrawal, however, is limited. President Maduro doesn't consider himself responsible for the current crises but speaks of an international conspiracy. On December 15, 2016 he withdrew the 100-bolívar note from circulation. The citizens of his country were given a 72 hour period to exchange or deposit their relevant notes.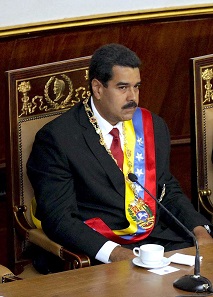 Nicolás Maduro becoming President of Venezuela on April 19, 2013. Photo: Cancillería del Ecuador from Ecuador/ Wikimedia Commons / CC BY-SA 2.0
Maduro's change of course
Only days later, on December 18, 2016 he changed his course. When supplies of new notes, worth 500 bolívar and produced in the UK and the US, weren't delivered, the general frustration erupted in many cases of looting and violent outbreaks, with a number of people killed. Calling it an act of sabotage, Maduro closed the borders with Colombia to stop the alleged mafias hoarding the currency abroad. He declared the 100-bolívar bill legal tender again and, by now, extended their time of validity by a few weeks several times already. It is planned to be replaced by three new denominations, the biggest as high as 20,000 bolívar. It appears highly questionable, though, that this measure will effectively counter inflation in this crisis-stricken country.
For more information on the Venezuelan banknotes, please click here.
CoinsWeekly reported on massive inflation also in Zimbabwe and Argentina.
On its website, the European Central Bank answers the question "What is inflation"?