[bsa_pro_ad_space id=4]
In the 70s and 80s video games where as popular as computer games today. The console and game idea were invented by German-American Ralph Baer. The U.S. Mint now dedicates a coin in the American Innovation $1 Coin Program to Baer. The American Innovation $1 Coin Program is a multi-year series featuring distinctive reverse (tails) designs that pay homage to America's ingenuity and celebrate the pioneering efforts of individuals or groups from all 50 states, the District of Columbia, and the U.S. territories.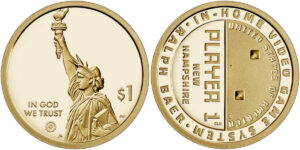 New Hampshire's $1 Coin recognizes Ralph Baer's invention of the first home video game console. The coin's reverse depicts Baer's brown box game "Handball" on the right side of the coin, with the inscription "UNITED STATES OF AMERICA." The left side of the coin features the inscriptions "NEW HAMPSHIRE" and "PLAYER 1" on an incused background. "IN HOME VIDEO GAME SYSTEM" and "RALPH BAER" encircle the outside of the coin in a text that is meant to pay homage to Ralph Baer's Odyssey game. The design is also symbolic of an arcade token.
The obverse (heads) of American Innovation $1 Coins features a dramatic representation of the Statue of Liberty in profile with the inscriptions "IN GOD WE TRUST" and "$1." The obverse also includes a privy mark of a stylized gear, representing industry and innovation.
The year of minting or issuance, the mint mark, and "E PLURIBUS UNUM" are incused on the edge of the coin.
Learn more about the American Innovation™ $1 Coin Program.
Here you can visit the website of the United States Mint.
The coin can also be found on Cosmos of Collectibles.
And if you don't want to miss any more new issues, subscribe to the bi-weekly newsletter of Cosmos of Collectibles.
The Smithsonian presents Ralph Baer in a documentary as the man who invented the world's first video game console:
And here you can watch Ralph Baer and his colleague Bill Harrison play a Ping-Pong video game as early as 1969: