[bsa_pro_ad_space id=4]
January 21, 2014 – At the end of November 2013 a unique technical summit on coin blank surface finishing took place at Spaleck Oberflächentechnik in Bocholt, Germany. Together with the waste water treatment company H2O, Spaleck Oberflächentechnik hosted 18 mint technicians out of four different countries for an exchange of know how about coin blank finishing and waste water handling.
To not only focus on the own business Spaleck invited the people from H2O to give a training to deepen the process of a Vacudest Vacuum Distillation plant including the operating and maintenance actions and finally the assessment about the quality of the distillate water.
The event was structured into two chapters. The first part has been dealing with the key subjects of the VacuDest waste water system and the day two with the business of the mint technology, meaning process reliability and repeatability of finishing quality, as well analyses for surface defects like star bursting and blueing, the influence of different compounds and polishing media on the coin blank quality took place during the presentation.
The idea of the "technician summit" was created during the last MTT Conference by a workgroup of the German mints ,and has had especially the focus on the people in operation, a little bit to be a counter part to the well-known conferences MTT and World Money Fair, where managing people meeting and sharing their experience.
Despite the fact that there have been presentations and it looked like kind of school classes the whole event had the character of a work shop where everybody can participate and broaden the horizon of the other members by sharing his experience.
The presenters from H2O, Jochen Freund and Jörg Kernbach, did the theoretical background but also the practical explanation on the machines in the production hall.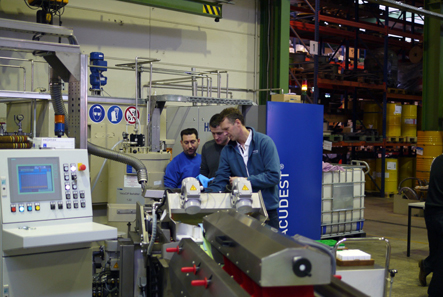 The organization team from Spaleck was Karin Geukes and Thomas Tschirpke who upgrade the given information by practical demonstrations in the Spaleck Demonstration Center as well.
Not all the information have been new to each participant but the complete process few from finishing to water handling draw kind of a frame around all these data and aspects.
Especially the internal discussions during breaks or during the practical days helped to eliminate some dark corners within the coin blank finishing business.
One evening the group has been guided by a "medieval night watchman" giving interesting details about the history of Bocholt , were Spaleck is located.
The final wakeup call from the night watchman …
… made sure that all participants have been on time ready for the joint group picture at the end of the event.
For more information about Spaleck, please refer to its website.
You can find H2O here.
We visited H2O recently. A report is available here.