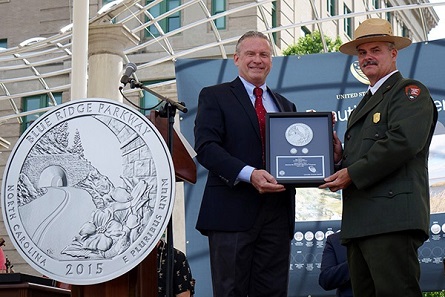 [bsa_pro_ad_space id=4]
February 1, 2018 – David Motl has retired from Federal Service on January 31, 2018, and Dave Croft, previously serving as acting chief administrative officer, has assumed the duties of acting director of the Mint, and senior career official of the Mint.
It's been an honor and a pleasure to lead this historic institution," said Motl. "I am proud to have been given this opportunity and will miss the professional and personal friendships from my time at the Mint. With Dave Croft, I'm pleased to leave the Mint in such capable hands."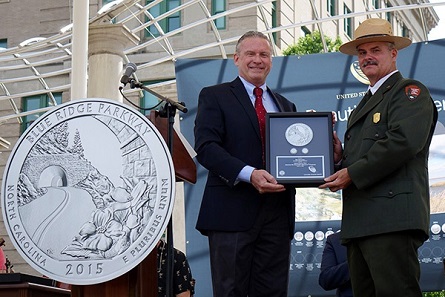 Associate Director David Croft presents coins to Superintendent Mark Woods.
From January 2016 through January 2017, Mr. Motl served as acting deputy director for management. Effective January 20, 2017, Mr. Motl became acting deputy director of the United States Mint and its senior career official.
Mr. Croft joined the Mint in September 2007 as superintendent of the Denver Mint. In 2014, he was selected as associate director of manufacturing for the Mint. In June 2017, he became the Mint's acting chief administrative officer. Prior to joining the Mint, Mr. Croft worked in the automotive industry for 30 years where he was the plant manager at four different facilities. He holds a master of science degree in engineering from Rensselaer Polytechnic Institute and a bachelor's degree in mechanical engineering with a minor in electrical engineering from General Motors Institute.
You can find the web presence of the U.S. Mint here.
David Croft's profile is to be found on Linkedin.