[bsa_pro_ad_space id=4]
Triton XXV Tops $14 Mio Doubling the Estimate
Exuberant bidders sent ancient Greek and Roman masterpieces, Judean rarities, and superb coins of ancient India's Kushan kingdom to record levels as Triton XXV, Classical Numismatic Group's marquis auction held in conjunction with the New York International Numismatic Convention, cleared $14 million, more than double the pre-sale estimate.
"Triton hit the quarter-century mark in terrific style," said Michael Gasvoda, managing director of Classical Numismatic Group LLC. "We are extremely thankful to our bidders and our consignors for this amazing outcome. The market for quality ancient and world coins has never been stronger – the results are right there to read!" Sessions one through four, held 11th-12th January 2022 in a live-streaming format, achieved a total hammer price of $12.8 million; Sessions five and six, which exceeded $1.3 million, took place 25th-26th January 2022 online.
Coins of outstanding artistic quality, rarity, and possessing long pedigrees frequently achieved hammer prices multiple times the presale estimate, including 13 coins that exceeded $100,000, including the following highlights (prices realized include the 20% buyer's premium):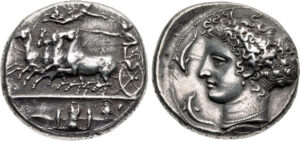 Lot 101: $252,000 for a spectacular Silver dekadrachm of Syracuse, Sicily, signed thrice by Kimon: This was one of a trio of Syracuse dekadrachms that cleared $100,000, including lots 102 ($132,000) and 105 ($115,200).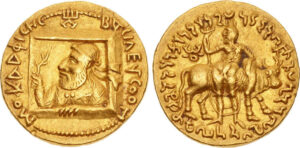 Lot 585: $252,000 for an amazing "window" gold double-dinar of the Kushan king Vima Kadphises.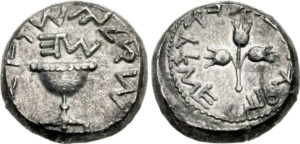 Lot 403: $198,000 for a rare Year 5 silver shekel of the Jewish War against Rome.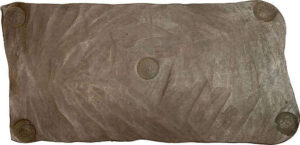 Lot 1278: $192,000 for the catalog cover piece, an enormous copper 8 Daler plate struck.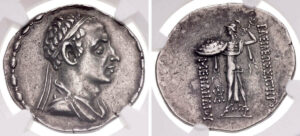 Lot 565: $168,000 for a stunning silver tetradrachm of the Greco-Baktrian King Menander.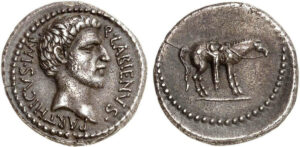 Lot 764, $150,000 for an extremely rare silver denarius of the rebel Roman commander Labienus.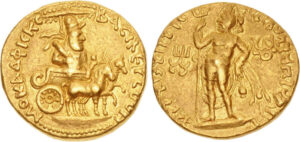 Lot 583: $168,000 for an impressive chariot-type Kushan double dinar of Vima Kadphises: Other Kushan gold pieces from the Archytus collection excelled, including lot 584, a rare dinar of King Kanishka, which reached $132,000.
"We were fortunate to be anchored by several amazing collections," Gasovda said, "Picking highlights is difficult because the results were, across the board, sensational. It all goes to demonstrate the strength of the market and CNG's global reach."
Triton XXV featured Judean rarities from the collection of Dr. Jay Galst, an array of superb Kushan pieces from the Archytus Collection, a stellar set of rare Greco-Baktrian rulers from the Melinda Collection, exceptional Greek and Roman coins from the Menlo Park Collection, the Thomas Palmer Collection of Roman silver denarii, and an array of rare and important world coins from the DMS Collection.
All results of the auction can be found in the online catalog.
Consignments are still being collected for CNG's next Feature auction, CNG 120, to be held 15th-16th May 2022 in Lancaster, Gasvoda added. "If you have great coins and want to take advantage of this roaring market, please contact us soon!"
CNG can be contacted via phone at (717) 390-9194, or via email.
For further information about the auction house, visit the website of CNG.