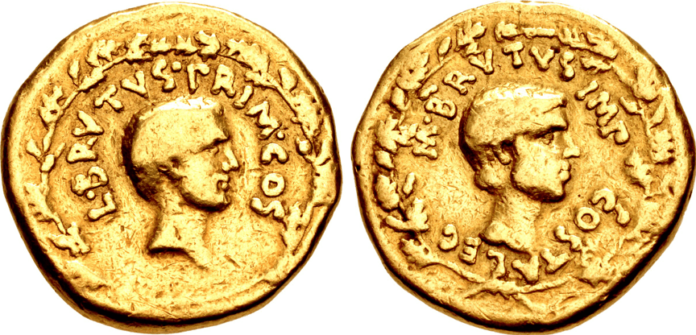 [bsa_pro_ad_space id=4]
Triton XXIV: Rarities From First-Class Private Collections
Classical Numismatic Group, LLC presents Triton XXIV, a Live Online Sale closing Tuesday & Wednesday, 19-20 January 2021, from NGC's Lancaster, Pennsylvania office. This sale offers over 1,400 lots with a presale estimate of $6.16 million.
Triton XXIV, CNG's flagship auction, features Greek, Celtic, Oriental Greek, Central Asian, Roman Provincial, Roman Republican and Imperatorial, and Roman Imperial coinage. Additionally, there are featured selections of Byzantine, Early Medieval and Islamic, World coinage and medals, and British coinage and medals.
Triton XXIV is highlighted by a number of collections and individual rarities, which make up the majority of coins on offer:
A Diverse Offering of Coins from the Peter J. Merani Collection, Part I, with a focus on Roman Imperatorial, first century Roman Imperial, and Papal medals. (The Merani Collection is offered in a separate catalog and features many important rarities in affordable condition.)
Ancient Coins from the Beatty, Birkenshaw, Grand Haven, Lampasas, Northern California Gentleman, Jonathan P. Rosen, and Weise Collections
Further Selections of Electrum of Kyzikos from the Siren Collection
British Coins from the Arthur M. Fitts III Collection, featuring Charles I and the English Civil War Coinage
Catalogs for Triton XXIV will have been mailed to CNG's active mailing list by December 5th, 2020, and bidding has opened on their website by December 15th.
Some of the individual highlights from Triton XXIV are:
Exceedingly Rare Aureus of Brutus
Lot 54 – The Republicans. Brutus. Late summer-autumn 42 BC. AV Aureus (19mm, 8.01 g, 12h). Military mint traveling with Brutus and Cassius in western Asia Minor or northern Greece. Bare head of L. Junius Brutus right; L • BRVTVS • PRIM • COS around; all within corona civica (oak-wreath) / Bare head of M. Junius Brutus right; M • BRVTVS IMP around above; COSTA LEG around below; all within corona civica (oak-wreath). Crawford 506/1; CRI 208; Calicó 60 = Biaggi 41 (same dies); Sydenham 1295; BMCRR East 57-8; Woytek Arma et Nummi, 202; Bahrfeldt 64.6 = Cohen 16 = RBW 1777 (this coin). Some light marks and scratches. Fine. Exceedingly rare, one of nine known, and perhaps one of only three in private hands. The other possible private examples being the Biaggi and the Ponton d'Amécourt specimens. Also, it should be noted that all published examples of this rarity are struck from a single obverse and reverse die. Only this coin in CoinArchives–the only specimen to sell in public auction over the last twenty-plus years.
Estimated at $150,000.
From the Peter J. Merani Collection. Ex Property of an European Nobleman (Numismatica Ars Classica 24, 5 December 2002), lot 6 (hammer 65,000 CHF); RBW Collection (Triton III, 30 November 1999), lot 844; Münzen und Medaillen AG 77 (18 September 1992), lot 141; Duplicate from the Bibliothèque Nationale, purchased in 1844 from the Paris dealers Charles-Louis Rollin (1777-1853) and his son Claude-Camille Rollin (1813-1883).
In his The History and Coinage of the Roman Imperators 49-27 BC, David R. Sear writes in reference to this coin: "We now reach the final and unquestionably the most remarkable phase of Brutus' coinage." Sear continues, "On this beautiful aureus his portrait is accompanied by that of his renowned ancestor Lucius Junius Brutus, first consul of the Republic. Both heads are encircled by the corona civica of oak traditionally awarded to those who had displayed their patriotism by saving the lives of comrades in the heat of battle or by rescuing the Republic itself at times of great peril."
Superb Gold Stater of Tarentum
Lot 336 – Calabria, Tarentum. Circa 281-276 BC. AV Stater (18.5mm, 8.53 g, 12h). Youthful head of Herakles right, wearing lion skin / Taras(?), holding reins in right hand, trident in left, driving fast biga right; star above; below horses, KΛH above dolphin downward. Fischer-Bossert G20 (V17/R20); Vlasto, Or Type O 1 [a]; Vlasto 18 (same dies); HN Italy 955; Hirsch 85 (same dies); McClean 600 (same dies). Lustrous. Superb EF. Well centered and struck.
Estimated at $50,000.
There is a divergence of opinion concerning the dating of this attractive gold issue of Tarentum, which displays a youthful head of Herakles resembling the Macedonian issues of Alexander III the Great and a reverse depicting a nude male youth holding a trident, probably Taras / Phalanthos, driving a biga. The lack of a civic ethnic and the control letters KΛH on the reverse led N. K. Rutter, in Historia Nummorum Italy, and Oliver Hoover in Handbook of Greek Coins Vol. I, to place their minting during the expedition of the Spartan commander Kleonymos, who crossed to Italy at Tarentum's invitation circa 302 BC, to pay his large mercenary army. Wolfgang Fischer-Bossert, citing the support of S. Garraffo and G.K. Jenkins, places the issue during the more famous Italian expedition of Pyrrhos of Epiros, circa 281-276 BC. The type's great rarity means there is little in the way of hoard evidence to support either side. However, their similarity to Pyrrhic bronze issues in Sicily and Pyrrhos's strong desire to emulate Alexander the Great argue for the latter dating, in which case the KΛH refers to a magistrate rather than to Kleonymos.
Ex Thyssen-Bornemisza & Kaplan, Gillet/Kunstfreund, and Naples Royal Collections.
A Selinos Tetradrachm from the Kunstfreund Collection
Lot 386 – Sicily, Selinos. Circa 455-409 BC. AR Tetradrachm (27.5mm, 17.48 g, 9h). Artemis, holding reins in both hands, driving quadriga left; beside her, Apollo standing left, drawing bow; retrograde ΣEΛINO-N-TI-OΣ around / River-god Selinos, nude, standing left, holding in right hand a phiale over altar to left, cradling in left arm a palm branch; before altar, cock standing left; to right, selinon leaf above bull standing left on basis; Σ-EΛI-N-O-Σ around above. Schwabacher 3b (Q1/S3) = Rizzo pls. XXXI, 9 and XXXII, 2-3 = Gillet 494 = Kunstfreund 101 (this coin); HGC 2, 1220; SNG Lloyd 1221 = AGC 377 (same dies); Hirsch 467 = Kraay & Hirmer 186 (same obv. die). Attractive light toning. EF. A masterpiece of classical style.
Estimated at $50,000.
Ex Baron Lorne Thyssen-Bornemisza & Dr. Thomas S. Kaplan Joint Collection (Numismatica Genevensis SA IX, 14 December 2015), lot 14; Star Collection (Numismatica Ars Classica 48, 21 October 2008), lot 39; Leu 76 [Exceptional Private Collection] (27 October 1999), lot 49; Charles Gillet [as Kunstfreund] Collection (Leu & Münzen und Medaillen AG, 28 May 1974), lot 101; Royal Collection in Naples, acquired in the 19th century or earlier, deaccessioned during the 1930s.
Situated on the southwest coast of Sicily at the mouth of the Selinunte River, Selinos was founded by colonists from Megara Hyblaia, a town on the eastern coast of the island. The coinage of Selinos regularly featured a wild parsley leaf, since the ancient Greek name for this, selinos, provided an allusive pun on the town's name. The reverse design of the fifth-century BC tetradrachms struck by Selinos, however, are more challenging to interpret. Head argued that the design represented the cure of a local plague by the philosopher Empedokles, an event related by the third-century AD philosopher Diogenes Laertius (8.2.70). The iconography does appear to confirm this interpretation: the the local river-god, now no longer in his traditional form as a man-headed bull (necessitating perhaps the inclusion of a bull into the scene), is seen holding a lustral branch and sacrificing at an altar (of Apollo?), which is attended by a cock, a bird sacred to Asklepios, the god of healing (cf. Plato, Phaedo 117a-118). The association of Apollo with Asklepios is more than coincidental: Apollo was the father of Asklepios, and in his role as ἀλεξίκακος, Apollo was able to relieve the destruction which he (as well as his sister Artemis, seen together with him on the obverse) could also create in his role as σμίνθευς, the bringer of plague.
Late Classical Masterpiece
Lot 717 – Satraps of Caria. Pixodaros. Circa 341/0-336/5 BC. AR Tetradrachm (24mm, 15.25 g, 12h). Halikarnassos mint. Struck circa 341/0 BC. Head of Apollo facing slightly right, wearing laurel wreath, drapery at neck / Zeus Labraundos standing right; ΠIΞOΔAPOY to right. Pixodarus 7–8 (unlisted dies); Konuk, Identities 29; Babelon, Perses –; HN Online 1.1 (this coin, illustrated); SNG Keckman –; SNG von Aulock 8047; SNG Copenhagen –; BMC –; Traité –. Beautiful deep iridescent tone. Superb EF. A masterpiece of late Classical engraving. Very rare denomination, and the finest known.
Estimated at $50,000.
Ex Baron Lorne Thyssen-Bornemisza & Dr. Thomas S. Kaplan Joint Collection (Numismatica Genevensis SA IX, 14 December 2015), lot 61; Triton XII (6 January 2009), lot 325 and front cover coin.
As part of the Achaemenid Empire, Caria in the fourth century BC was under the rule of a family of semi-independent satraps known as the Hekatomnids after the dynasty's founder, Hekatomnos. Born in Mylasa, Hekatomnos was appointed satrap of Caria by Artaxerxes II after the fall of Tissaphernes in 392/1 BC and was later given control of Miletos in 386 BC. Interested in Hellenic culture (and possibly hedging his diplomatic bets), Hekatomnos sent his youngest son, Pixodaros, to Athens as part of a deputation; his older son, Maussolos, was bound by xenia, or guest friendship, with Agesilaus, king of Sparta. Hekatomnos died in 377/6 BC and was succeeded by Maussolos. When Maussolus died in 353/2 BC, his sister-wife, Artemisia, succeeded him. Her rule, however, was short-lived, and in 351/0 BC power passed to Hidrieus, Artemisia's brother and the second son of Hekatomnos. Hidrieus' reign was also relatively short-lived, as he contracted a disease and died in 344/3 BC. Rule then passed to another sister, Ada.
In 341/0 BC, Pixodarus, the youngest son of Hekatomnos, overthrew his sister, Ada, possibly aided by the external support of the Persian commander of Asia Minor, Mentor of Rhodes. This usurpation did little to endear the new satrap to Artaxerxes III, who had recently approved Ada's appointment following the death of her husband, Hidrieus. Ada, nevertheless, continued to receive support from the countryside, and still held the city of Alinda. As a result, Caria was thrown into turmoil and hesitated to support Persia following the invasion of the Macedonians under Parmenion in 336 BC. This non-support of their nominal overlord was also compounded by the secret negotiations of alliance that Pixodaros had been conducting with the Macedonian king. In 337 BC, Pixodaros attempted a marriage between one of his daughters and the future Philip III Arridaios. Believing himself overlooked, Philip's elder son, Alexander III, sent a private embassy to Halikarnassos, asking for the hand of the same princess. When word of this reached Philip II, he cancelled the Macedonian-Carian alliance. Pixodaros died of natural causes in 336/5 BC, and was succeeded by Orontobates, an otherwise unknown Persian, who apparently married the princess Pixodarus had attempted to betroth to Philip III. The fate of Orontobates is uncertain, but after Caria was conquered by Alexander III in 332 BC, the Macedonian king made diplomatic overtures to Ada, and reappointed her as satrap.
While the didrachms of Pixodaros are fairly common, his tetradrachms are rare, with only a handful known, even following the discovery of the Pixodarus Hoard, which added a mere 18 tetradrachms to the corpus. While many of these coins exhibit the same insipid style that became prevalent in the coins of Hidrieus, the present example displays a style of rare exuberance and vitality, both in the countenance of the facing head of Apollo on the obverse and in the stoic figure of Zeus Labraundos on the reverse. As this coin does not have the small E on the reverse, between the leg of Zeus and his scepter, which was apparently a carry-over from the coins of Hidreius, this suggests that these dies were engraved at a latter period during Pixodaros' reign, and evidently by a new, highly talented artist. This later date is also suggested by the fact that no examples from these dies were present in the Pixodarus hoard, which is believed to have been deposited near the middle of his reign. The rarity of the tetradrachms also suggests that they were produced at a much smaller scale than the didrachms, and probably were struck for special occasions.
Exceedingly Rare and Important Antony & Octavia Aureus
Lot 979 – The Triumvirs. Mark Antony and Octavia. Summer 38 BC. AV Aureus (20mm, 8.04 g, 12h). Athens mint. Bare head of Mark Antony right; M • ANTONIVS • M • F • M • N • [AVGVR •] IMP • TER around / Head of Octavia right, her hair tied in a knot behind with one long plait arranged as a loop on top of her head; COS • DESIGN • ITER • ET • TER • III • VIR • R • P • C around. Crawford 533/3a; CRI 268; Bahrfeldt 90 (Pl. IX, no. 6 – same dies); Calicó 111 = Biaggi 67; Sydenham 1200; BMCRR East 144; Cohen 1; RBW –. Some light marks and scratches. VF. Exceedingly rare, Bahrfeldt listed five specimens (Berlin, Paris, and 2 specimens in London), with one in private hands in 1923 (the Trau specimen, which share the same dies with the present coin), and the NAC cataloguer in their auction 46 stated "only seven specimens known, of which only three are in private hands." In NAC 70 (May 2013), another specimen was sold (lot 194), which increased the count to eight specimens known, four in private hands. Three specimens appear in CoinArchives, including the two previous appearances for this coin, the NAC 70 specimen (realized 100,000 CHF), and another example that appeared in NAC 111 (September 2018, lot 153, realized 27,000 CHF but double struck on the reverse and also off center).
Estimated at $75,000.
From the collection of Professor David R. Beatty, C.M., O.B.E. Ex William H. Williams Collection (Numismatica Ars Classica 46, 2 April 2008), lot 456 (hammer 75,000 CHF); Numismatica Ars Classica 33 (5 April 2006), lot 392 (hammer 120,000 CHF).
Shortly after the Battle of Philippi in 42 BC, cracks began to appear in the Second Triumvirate. Antony's affair with Cleopatra, queen of Egypt, and his designs on Rome's eastern holdings, prompted Octavian to formulate a binding agreement that would buy him time. At Brundisium a pact was signed, bringing about a reconciliation and some semblance of peace. As a condition of this reconciliation, Antony was married to Octavian's widowed sister, Octavia. She stayed with him in Athens while he continued to prepare for a war against Parthia, and where, in 39 BC, he was associated with the "New Dionysus". In 37 BC, she helped negotiate the Pact of Tarentum, which renewed the triumvirate until 33 BC. Antony, by this time, however, had renewed his affair with Cleopatra. He remained in the East, where he married the queen, and subsequently fathered several children. In 32 BC, as a renewal of civil war became imminent, Antony divorced Octavia. In the aftermath of Antony's death, Octavia, known for her loyalty and nobilty, brought Antony's surviving children to Rome to live with her.
Superb Vitellius Aureus
Lot 1063 – Vitellius. AD 69. AV Aureus (20mm, 7.28 g, 6h). Rome mint. Struck circa late April-20 December. A VITELLIVS GERM IMP AVG TR P, laureate head right / PONT MΛXIM, Vesta, veiled and draped, seated right on throne, holding patera in extended right hand, left hand holding short scepter propped on leg. RIC I 106; Calicó 571; BMCRE 33; BN 70; Biaggi 282. A small scratch skillfully repaired in the obverse field. Superb EF. Wonderful portrait.
Estimated at $30,000.
Ex Künker 270 (2 October 2015), lot 8642 (hammer €105,000); Lanz 145 (with Numismatica Bernardi, 5 January 2009), lot 69; Lanz 135 (21 May 2007), lot 569 (before scratch removed).
Exceptional Regalianus Antoninianus
1140 – Regalianus. Usurper, AD 260. AR Antoninianus (19.5mm, 2.16 g, 3h). Carnuntum mint. IMP C P C REGΛLIΛNVS ΛVG, radiate and draped bust right / ORIENS ΛVGG, Sol standing left, raising right hand and holding whip in left. RIC V 7; MIR 43, 1713f (same dies as illustration); RSC 4a. Toned. VF for type. Reverse overstruck on a Denarius with Victory advancing left, holding wreath and palm frond. Very rare and with the complete name of the usurper.
Estimated at $7,500.
Ex Roma XVII (28 March 2019), lot 787.
Following the capture of Valerian I by the Persians, a number of usurpations occurred throughout the empire. In Illyricum, one of Valerian's generals, Cornelius Publius Caius Regalianus, seized power, but was killed by his own troops after a very short reign. All of Regalianus' coinage has been attributed to a mint in Carnuntum (on the Danube between modern Hainburg in Austria and Bratislava in Slovakia). It was obviously struck in great haste as evidenced by the relatively crude style and the fact that his known coins are all overstruck on other coins.
Published Tetricus Aureus
1141 – Tetricus I. Romano-Gallic Emperor, AD 271-274. AV Aureus (19mm, 4.45 g, 6h). "Victoria Germanica" issue. Mint City II (Cologne). 1st emission, December AD 271. IMP C G P ESV TETRICVS AVG, laureate and cuirassed bust left / VICTORIA • GER M, Tetricus standing left, holding globe in right hand and scepter in left, being crowned by Victory, holding wreath in right hand and palm frond in left; to left at feet of Tetricus, bound captive seated left, head right. RIC V 38 var. (bust type); Schulte 2 (dies 3/- [unlisted rev.die]); Sondermann 1.2 = D. Hollard, "Un aureus inédit de Tétricus Ier découvert en Afghanistan," BSFN 58.10 (December 2003), pp. 225-9 = L. Dussubieux and B. Gratuze, "Nature et origine des objets en verre retrouvés à Begram et à Bara," De l'Indus à l'Oxus: Archéologie de l'Asie centrale (2003), 285 (this coin); Calicó –; Biaggi –; Jameson –; Mazzini –. Pleasant river patina. EF. Rare.
Estimated at $30,000.
Ex collection of a Retired Banker (Numismatica Ars Classica 117, 1 October 2019), lot 336 (hammer CHF 50,000); Numismatica Ars Classica 111 (24 September 2018), lot 204; Classical Numismatic Group 87 (18 May 2011), lot 1122.
Impressive 10 Dukaty – Danzig City View
1318 – Poland, Monarchy. Jan II Kazimierz. 1648-1668. AV 10 Dukaty (47.5mm, 34.81 g, 12h). Gdańsk (Danzig) mint; Gerard Rogge, mintmaster. Dated 1650 G R. IOAN CASIM : D : G : REX POL  ET SUEC : M : DUX : L : RUS : PRUS :, crowned, armored, and collared bust right, wearing ruff / REGIA CIVITAS GEDANENSIS FIERI FECIT., view of city of Gdansk (Danzig) with scenes of immediate countryside; above, radiate tetragrammaton with four arms emerging from clouds: arm to left holding olive branch; arm to right holding sword and scales; below, two arms with hands clasped together in prayer; in exergue, royal coat-of-arms with leonine supporters; date and G R (mintmaster's initials) flanking. D&S, Gedanensis, 353; MD D50a; Czapski 1925; Kopicki –; Gumowski –; KM 52; cf. Friedberg 26 (unlisted date). EF, minor scratches and edge marks. Extremely Rare.
Estimated at $100,000.
Magnificent Briot Pattern
1404 – Stuart. Charles I. 1625-1649. Pattern AR Shilling (29mm, 9.15 g, 6h). By Nicholas Briot. MI 375/271; Brooker 1261 (this coin); North 2664. A chef d'ouvre by Briot. Richly toned with underlying luster. Superb EF. Of the highest rarity and with an exceptional provenance.
Estimated at $20,000.
Ex Martin Hughes Collection (Spink 139, 16 November 1999), lot 153; H. Selig Collection (Spink 70, 31 May 1989), lot 223; R.S. James Collection (Spink 31, 12 May 1983), lot 235; John G. Brooker Collection, 1115; Helen l. Farquhar Collection (Glendining's, 25 April 1955), lot 150; T. Bliss Collection (Sotheby, Wilkinson, & Hodge, 22 March 1916), lot 401; H. Montagu Collection (Sotheby, Wilkinson, & Hodge, 11 November 1896), lot 399; W. Brice Collection (purchased by H. Montagu, 1887); J.B. Bergne Collection (Sotheby, Wilkinson, & Hodge, 20 May 1873), lot 851; Lt.-Col. W. Durrant Collection (Sotheby & Co., 19 April 1847), lot 682; Duke of Devonshire (Christie & Manson, 26 March 1844), lot 135.
To order the printed catalog, please call CNG's U.S. office at +1 (717) 390-9194. Catalogs have been mailed to customers on CNG's active mailing list. The sale can be viewed online at CNG, Sixbid, and NumisBids.
In addition to Triton XXIV, CNG will also feature over 1000 lots from many of the same collections listed above in their Electronic Auction 484, closing one week later on Wednesday, 27th January 2021, from 10AM ET (U.S.). Bidding for CNG Electronic Auction 484 will begin on 6 January 2021.
CNG is currently accepting consignments for future auctions sales. Please contact the firm for further details and consignment deadlines.
For further details and any additional information, please contact CNG, LLC via Telephone: (717) 390-9194 or Email.