[bsa_pro_ad_space id=4]
Triton XXIII Features Multiple Collections and Individual Rarities
Classical Numismatic Group, LLC of Lancaster, Pennsylvania and London, England presents Triton XXIII, a Public, Internet, and Mail Bid Sale to be held in conjunction with the 48th Annual New York International Numismatic Convention (NYINC) on January 14-15, 2020. The 2020 NYINC will be held at the Grand Hyatt Hotel, located at 109 East 42nd Street, New York, NY 10022, between Park and Lexington Avenues.
Triton XXIII features 1453 lots of Greek, Celtic, Oriental Greek, Central Asian, Roman Republican & Imperatorial, and Roman Imperial coinage. Additionally, there are featured selections of Byzantine, Islamic, Indian and Related Coinage, Early Medieval, World, and British coinage and medals, as well as a nice selection of large lots. The pre-sale estimate total for Triton XXII is just over $7.5 million.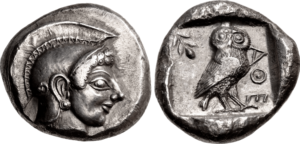 Triton XXIII is highlighted by a number of collections and individual rarities, which make up the majority of coins on offer:
Selections from the Jack A. Fraser Collection of Ancient, World, and British Coinage
Further Selections of Ancient Coins from the Matthew J. Curtis Collection
Greek and Roman Coins from the Jonathan P. Rosen Collection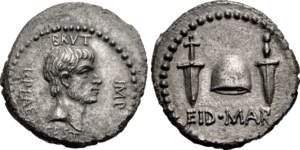 An Eid Mar Denarius
Roman Imperial Gold from the Provence Collection
Unique Aurelian & Vabalathus Gold Aureus
Exceptional Licinia Eudoxia Solidus
The Richard A. Jourdan Collection of Medieval European Coinage, Part I
Charlemagne Portrait in Gold
The Dr. William J. Conte Collection of Bracteates
Coins of Richard III from the Arthur M. Fitts III Collection
Anglo-Saxon & Tudor Gold Coins from the G.W. Trow Collection
British Gold from the G.W.K. Roberts Collection, including a William IV Pattern Five Pounds from the Murdoch and Copp Collection
Selections from the James & Martha Robertson Collection of British & Scottish Coinage
Just a few of the individual highlights from Triton XXIII are: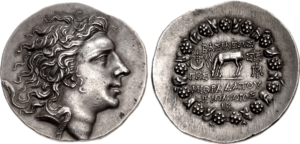 Masterpiece of Hellenistic Art – Ex Sheikh Saud Al-Thani and JDL Collections
Mithradates is the Hellenistic monarch par excellence, his career driven by megalomaniacal ambitions leading to murderous assaults upon family and followers and disastrous foreign adventures against superior forces. His idealized portraiture attempts to mimic the gods with its bold staring gaze and unruly, free-flowing hair, but at its most extreme is a personification of hysteria in its Dionysiac sense. The wreath of ivy on the reverse reinforces Mithradates' link with the god as well as making a connection with the cistaphoric coinage that circulated in the area. The stag probably represents the civic center of Ephesos and the mintmark is of Pergamon, all part of the new Pontic kingdom, symbolized by the star and crescent. His empire collapsed before the armies of Sulla and Lucullus, and Mithradates ended his own life in exile in the far region of the Crimea, pursued to the end by vengeful Romans and family.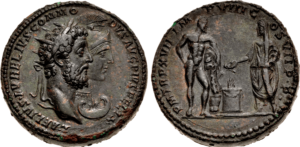 Impressive Commodus Medallion
This remarkable obverse has been the cause of debate. The pelta, a distinctively Amazonian shield, has long led some to identify the female figure as Marcia, Commodus' concubine and trusted companion whom, we are told, the emperor loved to see dressed as an Amazon (SHA, Com. 12.1). The idea that Marcia – who was involved in the assassination of Commodus – should appear on a medallion of the emperor struck the year of his death has incredible historical and emotional appeal, and prominent 20th century scholars like Harold Mattingly and Jocelyn Toynbee accepted the identification. Others have discounted this fantastic claim, questioning the likelihood of a mistress with no official role or titles making an appearance on medallions.
Dressel has argued that the pelta could be an attribute of Commodus rather than the female figure. "Amazonius" was one of the many titles the crazed emperor bestowed on himself late in his reign (when Commodus renamed the months of the year, March became "Amazonius"). A similar obverse type also from AD 192 has jugate busts of Commodus and a female figure wearing a helmet and cuirass, normally identified as Minerva. It is possible that the current obverse depicts Roma, as there is some evidence that Roma and Minerva were favored deities of the emperor.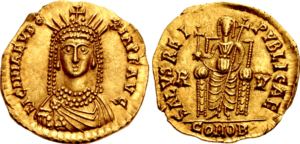 Exceptional Licinia Eudoxia
Licinia Eudoxia was the only surviving child of the Eastern Roman Emperor Theodosius II, and in 424 AD, at the age of two, was betrothed to her four-year-old cousin, the future Emperor of the Western Roman Empire Valentinian III, in order to reunify the two halves of the Roman world. Their marriage produced two daughters, but was abruptly terminated when Valentinian was killed by two Scythians, Optelas and Thraustelas, at the behest of the usurper Petronius Maximus. After buying off the military and palace officials, Maximus cemented his claim to the throne by forcibly marrying Eudoxia only a few days after her husband's murder. At least one historian theorized that Maximus' marriage to Eudoxia was motivated by revenge against the late Valentinian in return for the Emperor's rape of Maximus' first wife. Maximus also married his son Palladius to Eudoxia and Valentinian's daughter Eudocia, thereby severing her engagement to Huneric, the son of the Vandal king Gaiseric.
Deeply unhappy, Eudoxia somehow managed to contact Gaiseric to beseech him to depose Maximus. The Vandals successfully besieged Rome and carried Eudoxia off to Carthage, along with her daughters; Maximus was assassinated by members of the Imperial household during the siege and his body thrown into the Tiber. In 462 AD, after seven years in Carthage, Eudoxia and her daughter Placidia were ransomed by Leo I and moved to Constantinople, while Eudocia remained in Carthage and married Huneric as her parents had originally intended. The rest of Eudoxia's life passed unrecorded; even her exact date of death is unknown.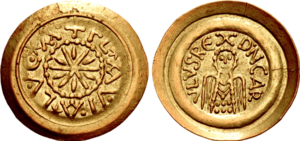 Charlemagne Portrait in Gold –  Struck at Lucca After the Defeat of Desiderius in 774
The only gold coin to bear a portrait of Charlemagne, one of the most important figures in world history. His deeds shape Europe to this day.
Following Charlemagne's conquest of the Lombardic kingdom in 774 AD, a short-lived issue of gold tremisses was struck at a range of mints across northern Italy in his name. These rare coins are all of the same star/cross potent type of the defeated Desiderius, except for an extremely rare issue at Lucca that remarkably depicts the King of the Franks on the reverse. Rossini records only six specimens of the portrait issue, four of which are damaged and incomplete. Only one other example has previously appeared at auction. That coin, from the Adams collection (Triton XIX, lot 2207), realized $180,000 in 2016.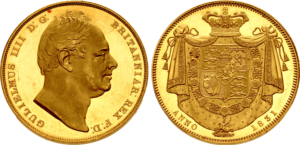 William IV Pattern Five Pounds – From the Murdoch and Copp Collections
Struck to the exact weight of five Sovereigns from the dies used for the proof Crown of 1831, this pattern Five Pounds of William IV is one of the great rarities of the British series. For any collector attempting to form a complete collection of Five Guinea and Five Pound pieces by monarch, from Charles II to Elizabeth II, the Five Pounds of William IV is by far the most challenging coin to obtain.
The specimen offered here is in superb condition and has not been on the market for over 40 years. It once graced the celebrated cabinet of John Gloag Murdoch, one of the finest collections of British coins ever assembled. Murdoch acquired the coin in 1887 from Alfred Evelyn Copp, the Treasurer of the Numismatic Society of London and distinguished collector of rarities.
All lots are available on the CNG website. The digital catalogue is also available online:
Lot viewing for Triton XXIII will begin on Sunday, January 12th, from 1PM until 7PM in the Broadway Room, located on the Conference Level (CC floor) of the Grand Hyatt Hotel. The complete lot-viewing schedule for Triton XXIII is:
Sunday, January 12, 2020 – 1PM until 7PM;
Monday, January 13, 2020 – 9AM until 7PM;
Tuesday, January 14, 2020 – 8AM until 6PM; and
Wednesday, January 15, 2020 – 8AM until Noon.
Auction lots will also be available for viewing at the Pennsylvania offices of CNG from Monday, December 2nd, 2019 until Friday, December 27th, 2019 by appointment only. Please note that CNG's office hours will be limited during the holiday season.
The auction sessions for Triton XXIII will be held in the Empire State Ballroom I, located on the Ballroom Level (B floor) of the Grand Hyatt Hotel. Triton XXIII will be conducted over four sessions with the morning sessions beginning promptly at 9:00 AM on Tuesday, January 14th, and Wednesday, January 15th, 2020, and the afternoon sessions will start at 2 PM on the same days.
In addition, there will be an online, Internet-only, Session 5 for Triton XXIII, which CNG will be conducting as our Electronic Auction 460, and will open for bidding on January 8th, 2020. E-Sale 460 will feature over 1,000 lots, with a closing date of Wednesday, January 29th, 2020, and will include coins from some of the same collections listed above.
Printed catalogs for Triton XXIII are now available. To order a catalog, please visit the CNG website. The catalog is $75 to North American addresses, and $100 to the rest of the world. Payment may be made by U.S. $ check or Visa/MasterCard. Catalogues have already been mailed to customers on CNG's active mailing list.
CNG is currently accepting consignments for its next Feature Auction, CNG 114, scheduled for May 13th, 2020. The consignment deadline is Friday, January 31st, 2020.
For further details and any additional information, please contact CNG.