[bsa_pro_ad_space id=4]
CNG's Auction 111 with individual rarities and intriguing collections
Classical Numismatic Group' Internet and Mail Bid Sale 111 will close electronically on Wednesday, 29 May 2019, from 10 AM ET (U.S.). This sale offers 1168 lots with a presale estimate of $2.75 million.
This annual spring sale features Greek, Celtic, Oriental Greek, Central Asian, Roman Provincial, Roman Republican, and Roman Imperial coinage. Additionally, there are featured selections of Byzantine, Early Medieval, Islamic, World, United States, and British.
CNG 111 is highlighted by a number of collections and individual rarities, which make up the majority of coins on offer:
Greek, Roman, Early Medieval, and British Coins from the Ealing Collection
Further Selections from the Gasvoda Collection
Pedigreed Carthage Dekadrachm
The Siren Collection of Early Electrum Coinage
Continued Offerings from the MNL Collection of Seleukid Coins
Jewish War Year 4 Shekel
Further Selections from the Michel Prieur Collection of Syro-Phoenician Silver Coinage
The Brexit Collection of Roman Gold Coins, including an Aureus of Pertinax and the First Portrait of Commodus in Gold
Very Rare Procopius Solidus
Impressive Wu Zhu Mold from the Arthur B. Coole Collection
Selections from the RAJ Collection of World Medals
Stunning 1907 Wire Rim Indian Eagle
Important Early Anglo-Saxon and Norman Coins
The G.W.K. Roberts Collection of British Milled Coinage
Catalogs for CNG 111 have been mailed to the company's active mailing list and bidding is open on the site. Some of the individual highlights from CNG 111 are:
Attractive Kamarina Tetradrachm
Lot 60: Sicily. Kamarina. Tetradrachm, circa 425-405 BC. Ex Hess-Divo 307 (8 June 2007), lot 1055; Münzen und Medaillen AG 66 (23 October 1984), lot 25. Good VF, toned, a little off center. Estimated at $7,500.
Ex Platt Hall, Weber, and Bompois Collections Nearly 140-year-old Pedigree
Lot 64: Sicily. Leontini. Tetradrachm, circa 440-430 BC. Ex Henry Platt Hall Collection (Part I, Glendining & Co., 19 July 1950), lot 44; Sir Hermann Weber Collection, 1382; Ferdinand Bompois Collection (Hoffman, 16 January 1882), lot 426 (possibly 425: Weber lists 426, but that coin is listed at 16.70 grams, while 425, of the same type, is at a closer weight of 17.20 grams). Good VF, old cabinet tone. Estimated at $5,000.
Extremely Rare Scarab Trite
Lot 265: Ionia. Uncertain. Electrum Trite – Third Stater, circa 600-550 BC. VF. Extremely rare denomination for type. Estimated at $2,000.
Year Four Shekel
Lot 382: Judaea, Jewish War. Shekel, 66-70 CE, Jerusalem. Dated year 4 (69/70 CE). Near EF, die flaws on obverse. Estimated at $15,000.
Year 4 shekels are decidedly rarer than those of Years 1-3, reflecting the deteriorating military and political situation of the Judean rebels. While surviving shekels of each of the first three years number in the hundreds, fewer than 50 survive for Year 4. The Jewish forces, increasingly confined to the environs of Jerusalem, were suffering severe shortages of everything from precious metals to foodstuffs, meaning there was far less silver available to strike coins, and very little in the way of goods for them to be spent buying. The dies used for striking coins also show signs of haste in preparation. This specimen appears to have a noticeable metal defect, or "delamination," in the obverse field left of the chalice; however, this same "metal flaw" appears on the only other known specimen struck from this obverse die (sold in Heritage 3005, May 2009, lot 20062), indicating it is a raised area in the die itself. Normally such a die flaw would have been abraded and polished away before striking, but here it was apparently overlooked or not viewed as important enough to correct, all indications of mounting difficulties at the mint.
First Portrait of Commodus in Gold
Lot 734: Commodus as Caesar, AD 166-177 (struck under Marcus Aurelius and Lucius Verus). Aureus, 175, Rome. From the Brexit Collection. Ex Palombo 16 (21 October 2017), lot 50 (realized 30,000 CHF); Vinchon (30 November 1993), lot 40; Vinchon (23 April 1976), lot 250. Near EF, underlying luster. Well struck on a broad flan. Rare. Estimated at $10,000.
Pertinax: Galba Redux
Lot 738: Pertinax. Aureus, struck 1 January-28 March AD 193, Rome. EF, a few faint scratches and edge imperfections. From the Brexit Collection. Rare. Estimated at $30,000.
The 89-day reign of Pertinax was, in many ways, a rerun of Galba's transient principate 125 years before. Like Galba, Pertinax was considered a distinguished elder statesman who could manage affairs after the collapse of a long-established dynasty. Like Galba, Pertinax tried to impose strict economy after a period of extravagance. And, when he tried to discipline the mutinous Praetorians, he met Galba's fate.
Pertinax's gold aurei are struck from an extraordinary number of dies, given the brevity of his reign. Thirteen obverse dies and 41 reverse dies have been recorded, indicating an almost frenzied output at the Rome mint during this period, perhaps attempting to keep up with his promised payments to the Praetorians. Though uniformly of high quality, the portraits vary greatly in detail and are clearly produced by many engravers. The obverse die seen here shows a distinctive three-pointed beard that was later adopted by his eventual successor, Septimius Severus.
Defender of Martin Luther
Lot 935: Germany, Sachsen-Ernestinische Linie. Friedrich III der Weise (the Wise), 1485-1525. Breiter Guldengroschen, undated, but struck circa 1508-1519. Superb EF, toned, traces of underlying luster. Estimated at $10,000.
Friedrich the Wise was the first ruler of modern Saxony. He founded the University of Wittenberg in 1502, and in 1508 he appointed Martin Luther to a professorship in Philosophy. Later on, Friedrich was instrumental in protecting Luther from the wrath of the Church by refusing to enforce the Papal bull, which required Luther's writings be burned and the reformer be sent to Rome. When, in 1521, Luther was placed under the imperial ban by the diet at Worms, Friedrich had him brought to his castle for protection.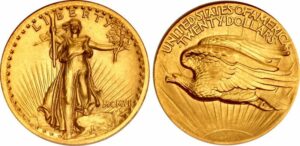 Iconic 1907 St. Gaudens High Relief Wire Rim Double Eagle
Lot 1006: 1907 St. Gaudens High Relief Wire Rim Double Eagle – $20. NGC MS 62. (642344-001). Estimated at $10,000.
Key Rarity in the Northumbrian Series
Lot 1054: Anglo-Saxon, Kings of Northumbria. Aethelwald Moll, with Archbishop Ecgberht. Sceatt, 759-765, York. Good VF, dusky find patina, some hard green deposits. Extremely rare, the finest of only four known specimens. Found Yapham, East Riding, Yorkshire 2018. Estimated at $7,500.
For over 150 years, only a single, chipped specimen of this extremely rare coinage was known. Found in Richmond, Yorkshire in 1832, the legend was initially read as EDIIHALD, and correctly given to Æthelwald Moll. Grantley ("On a unique Styca of Alchred of Northumbria and Archbishop Ecgberht," in NC [1893]) interpreted it as an issue of Alchred, assuming that the final two letters were retrograde AL, a view which predominated until Stewart ("A Northumbrian Coin of King Ethelwald and Archbishop Ecgberht," NC [1991]) returned again to the original reading, arguing that the whole legend should be read retrograde and outward. Since then, three further specimens have been discovered, confirming the reading by Stewart. The attribution to Æthelwald Moll is no longer in doubt (See James Booth, "Notes on the Keith Chapman Collection of Northumbrian Silver Sceattas: c. 700-c. 788," in: T. Abramson, ed., Studies in Early Medieval Coinage 2 [London, 2011], p. 193).
Henry IV Noble – Ex Magnus, Dupree, Lockett, & Roth
Lot 1098: Lancaster. Henry IV, 1399-1413. Noble, second (light) coinage, primary series Pb(ii) (type V),  Tower (London) mint. Good VF, slight weakness on king's face, otherwise unusually well struck on a broad flan. Very rare and with an excellent pedigree. Ex Magnus Collection (Spink 212, 28 March 2012), lot 842; Duprée Collection (acquired by Spink in 1989); R. C. Lockett Collection (English Part V, Glendining, 17 October 1961), lot 4288; Bernard Roth Collection (Sotheby, Wilkinson & Hodge, 19 July 1917), lot 192. Found at Shoreham-by-Sea, West Sussex, 6 July 1901. Estimated at $7,500.
Printed catalogs for CNG 111 are now available. To order the catalog, please call our U.S. office at (717) 390-9194. Catalogs have been mailed to customers on CNG's active mailing list. Prospective bidders may also view the virtual catalogs.
The sale can be viewed online at the CNG website, on Sixbid, and Numisbids.
In addition to CNG'S Internet & Mail Bid Sale 111, CNG will also feature over 800 lots from many of the same collections listed above in their Electronic Auction 445, closing one week later on Wednesday, 5 June 2019, from 10AM ET (U.S.). Bidding for CNG Electronic Auction 445 will begin on 15 May 2019.
CNG is currently accepting consignments for future auctions sales. Please contact the firm for further details and consignment deadlines at:
Classical Numismatic Group, LLC
P.O. Box 479
Lancaster, PA 17608-0479
Telephone: (717) 390-9194
Fax: (717) 390-9978
or via e-mail.