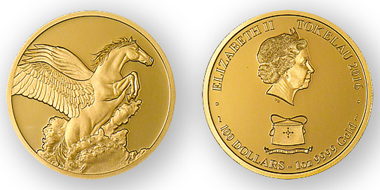 [bsa_pro_ad_space id=4]
October 13, 2016 – The newest entry into the distinguished numismatic stable of coins featuring flying Pegasus is the first 1oz gold coin issued in the new "Creatures of Myth and Legend" series of Tokelau, a territory of New Zealand located in the South Pacific Ocean, halfway between Hawaii and New Zealand.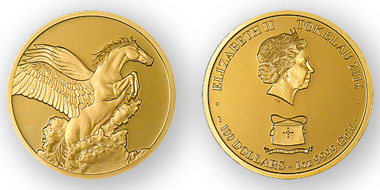 Tokelau / 100 Dollars / Gold .9999 / 1oz / 33mm / Mintage: 50.
Struck by the B.H. Mayer Mint, the reverse of the Pegasus coin has a picture of Queen Elizabeth II and the national seal of Tokelau, depicting a 'tuluma', which is a traditional Tokelauan carved wooden 'tackle box' used by local fishermen. A white cross in the center of the 'tuluma' and the inscription below "Tokelau mo te Atua" (Tokelauan, "Tokelau for God") reflect the strong influence of Christianity in Tokelau.
One reviewer has called the Pegasus design a "masterpiece," adding "Since the coin is quite large, the image of Pegasus emerging from the clouds stands out. Pegasus is crafted beautifully and the wings especially, have outstanding detail. The light, when reflected on the clouds, appears to be rays of sunshine. It's picturesque and makes Pegasus appear majestic."
Stater issued by Mysia, Lampsakos, c. 500-450 BC. Photo: Jeff Kahn, courtesy of Solon Numismatics.
Gold coins featuring Pegasus have been issued intermittingly over the past 2,500 years. Possibly the earliest was a stater issued by Mysia, Lampsakos c. 500-450 BC, and the most recent are 2016-dated 100 Dollar legal tender coins issued by Tokelau.
Pegasus constellation from Johannes Hevelius' Prodromus astronomiae, Firmamentum Sobiescianum, sive Uranographia, 1687.
Pegasus, a winged horse sired by Poseidon, has maintained its appeal from the time it inspired the ancient world when it ascended to the heavens and Zeus transformed it into the constellation Pegasus, to its becoming a symbol of wisdom and fame during the Renaissance through the current day.
Learn more about Pegasus by visiting the American Museum of Natural History's website.
And the essential facts about Tokelau are gathered in the relevant Wikipedia entry.