[bsa_pro_ad_space id=4]
May 2, 2013 – It's thirty years since The Royal Mint commenced production of the £1 coin, during which that reassuringly chunky piece of our British currency has witnessed many changes to the country, the environment and the lifestyle.
Popular for use in anything from pocket money to parking meters, shopping trolleys to slot machines, the £1 coin was introduced on The Queen's birthday on 21 April 1983, during the year that Prime Minister Margaret Thatcher entered her third term of office. The new £1 coins were estimated to last for forty years, far exceeding the nine-month lifespan of a £1 note.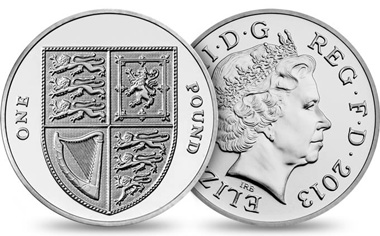 The year 1983 also saw the first heart and lung transplant in Britain, the beginning of breakfast TV and the advent of compulsory seatbelts for front seat passengers. Meanwhile, the airwaves rang with the sounds of the first mobile phone, the first compact discs and Culture Club's chant-like 'Karma Chameleon' which topped the music charts for six weeks running.
Just like a chameleon, the £1 has undergone many changes during its reign, featuring three portraits of The Queen, and twenty one different reverse designs reflecting themes relating to the emblems, iconic landmarks and cities that contribute to the 'greatness' of Great Britain.
As well as three designs based on Royal coats of arms in 1983 (Sewell), 1988 (Gorringe) and 2008-2012 (Dent), the four parts of the United Kingdom are represented variously by their botanic symbols (oak, thistle, leek and flax), their emblems (the dragon of Wales, the lions of Scotland and England and Northern Ireland's Celtic cross), their bridges (Forth, Gateshead, Menai and Northern Ireland's Egyptian Arch bridge), and the badges of their capital cities.
Dr Kevin Clancy, Head of Historical Services at The Royal Mint said "The £1 coin is a very popular coin – it's the one we tend to aim for when we're picking through our pot of change on the mantelpiece in the mornings, partly I think because people just like the feel and size of it.
When you look at coins across the world and throughout history, the coin that tends to have been the work-horse of the currency has very often been about the size of a £1 coin. It's a classic coin that has been blessed with excellent designs."
More information about the Royal Mint is available on their website.
You can find all designs and specifications of the one pound coin here.