[bsa_pro_ad_space id=4]
by Ursula Kampmann
translated by Christina Schlögl
January 25, 2018 – On 9 January 2018, the numismatist Theodore (Ted) V. Buttrey died, only 11 days after his 88th birthday. We have thus lost a committed coin enthusiast, who never retreated to an ivory tower. He was most likely the only numismatist whose research made it to all major American newspapers and whose TV shows were broadcast at over 75 TV stations. And since he was also a kind person who dedicated a lot of time to young researchers, he had a lasting impact on many of today's numismatists.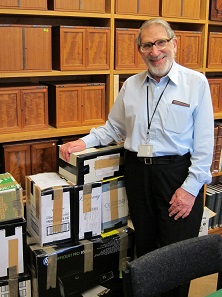 Ted Buttrey at his last domain: The coin cabinet of the Fitzwilliam Museum in Cambridge. Photo: UK.
Ted Buttrey and the first Summer Seminar of the ANS
Theodore V. Buttrey was born on 29 December 1929 in Havre, Montana with a silver spoon in his mouth. His grandfather Frank A. Buttrey had created a little family empire with his department store chain "Buttrey Food and Drug". But Ted Buttrey decided to study something he was passionate about from very early on: In 1946 he completed his Classical Studies degree with magna cum laude at Phillips Exeter Academy. Afterwards he went to Princeton. In 1952, he took part in the first numismatic Summer Seminar the ANS ever organized. This event has sparked young people's passion for numismatics for more than half a century. Ted Buttrey was one of them. He earned his PhD in 1953 with his dissertation "Studies in the Coinage of Mark Anthony", which was published in the ANS Museum Notes of 1954 in an abridged version.
Academic career
After his graduation, Ted went to Yale, and did not just climb the academic ladder but also curated the numismatic collection between 1962 and 1964. He switched to the University of Michigan in Ann Arbor in 1964, where he was promoted to tenured professor in 1967 and served as director of the Kelsey Museum of Archaeology from 1969-1971.
Academic interests
Ted Buttrey published more than 100 books and articles, with the ancient world as his main focus. His first comprehensive monograph was dedicated to the "Triumviral Portrait Gold of the Quattuorviri Monetales of 42 B. C.". He might be best known for the second volume of the RIC, newly edited in 2007, in which he and Ian Carradice created a catalogue of the coinage of the Flavian dynasty.
Buttrey also worked on numerous excavations and, among other things, published the coin finds of Sardes and Morgantina.
In addition, Buttrey was also a great expert on Mexican coinage. He published the "Guidebook of Mexican Coins" at Krause Publications in 1969.
The scholar and his greatest debate
Ted Buttrey got in the public eye when he declared that the Mexican gold ingots, which had been given to the Smithonian Institution as part of the Josiah K. Lilly Jr. collection in exchange for tax incentives in 1966, were in fact fakes. In 2000, their value would have amounted to roughly $ 75 Mio, if they had been real. Buttrey was able to provide academic proof that the counter marks on the dated ingots – a fact that itself was quite unusual for gold ingots from this period – did not match the denoted date.
Unfortunately this debate was not limited to an academic struggle for the truth. Buttrey publically accused the dealers who had been involved in the sale of knowingly deceiving their customers. Their answer to his accusations was a libel suit with $ 6 Mio as amount in dispute. The names of the involved parties did not just appear in the numismatic specialised press; many American media picked up on this spectacular dispute.
Buttrey was acquitted of all charges and the ingots were removed from the exhibition of the Smithonian, but the harsh tone o the debate split the American numismatic world for al long time.
Theodore Buttrey also read CoinsWeekly. We last met him in 2015 on occasion of the International Numismatic Congress in Taormina. He posed for the photo wall of CoinsWeekly, together with Lucia Travaini. Photo: Björn Schöpe.
Buttrey as a TV star
Theodore Buttrey knew how to spark the public's interest in an academic subject. He used this talent in cooperation with the Television Center of the University of Michigan to shoot a number of TV series, mostly about the ancient world. This included 10 half-hour episodes about the Iliad, just to name one example. Part of the material was broadcast in over 75 TV stations.
Buttrey in Cambridge
After his retirement in 1985, Ted Buttrey moved his main place of residence to Cambridge. From 1988 until 1991 he worked there as curator of the Fitzwilliam Museum. Starting in 2008, he filled the position on a voluntary basis. In this capacity, among other things, he created the probably largest collection of auction catalogues world-wide.
The author of this obituary was able to meet him in person at this domain. He did not just proudly show her the enormous library of auction catalogues, but also the mailing list of the huge network he had built in order to give any occurring duplicates to other academic institutions. The renowned scholar personally packed all the parcels with catalogues, which were sent as part of this exchange and most of the time he himself also paid for postal charges.
Both his modesty and his unbroken interest in the academic work of others deeply impressed me. In conversation, he would always seem like a dearly beloved grandfather, eagerly listening to his grandchild, but only until he would find an error in reasoning. There was no alternative then: He had to explicitly reveal the error.
Ted Buttrey is survived by four children from his first marriage and by his third wife, whom he married in October 2017. We are in mourning for a man who did not just love numismatics but who also loved people.
I was fortunate enough to meet Ted Buttrey for the first time in 2011 during my visit at the Fitzwilliam Museum. If you would like to have a look at his last domain, please click here.
In 2012, CoinsWeekly reported on Ted Buttrey receiving the Wolfgang Hahn-Medal of the Vienna Institute of Numismatics and Monetary History. You can read the article here, though only in German.
You can find the extensive article on the gold ingots debate of the New York Times here.
Theodore Buttrey was always a keen thinker, who reviewed and disproved centuries-old prejudices, just like in his article about the Spintria that were wrongly claimed to be brothel tokens, which was the base of this article.