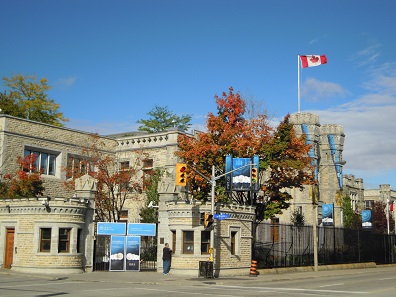 [bsa_pro_ad_space id=4]
by Björn Schöpe
translated by Christina Schlögl
September 29, 2016 – The Royal Canadian Mint (RCM) is not only deemed manufacturer of extremely forgery-proof coins, but also enjoys a great reputation for its extraordinary security measures. This reputation is now suffering due to a theft-related lawsuit.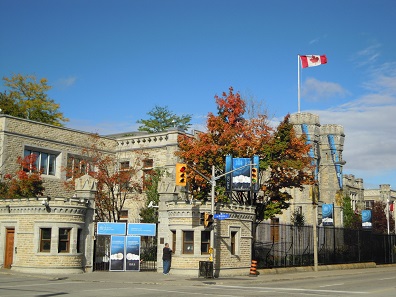 The entrance portal of the Royal Canadian Mint on Sussex Drive in Ottawa, Ontario, resembles a medieval fortress. However its security measures are now being questioned. Photo: Skeezix1000 / http://creativecommons.org/licenses/by-sa/3.0
A vigilant bank teller.
35-year old Leston Lawrence is accused of stealing CAD 179,000 worth of gold from his employer, the RCM. In the spring of 2015, he caught the attention of a bank teller of the Royal Bank in Ottawa. The lady noticed that Lawrence was regularly depositing cheques from a local gold buying centre roughly worth 6,800 CAD and transferring the money offshore. Checking his customer file, they found out where he worked… and alarmed the Royal Canadian Mint.
They ascertained that Lawrence, who was working in the refinery section, had sold dozens of gold coins and 18 gold "pucks", 210 grams each, between 27 November 2014 and 12 March 2015. During locker-search, the investigators found an additional four gold blanks. The court estimates that, depending on the current price of gold, Lawrence has cashed at least CAD 179,000, which would be about 121,000 Euro.
Not guilty
The defence pleaded not guilty until the last day of hearing, saying Lawrence had obtained the gold legally and that theft could not be proven. As a matter of fact, no one at the RCM noticed the theft. And even though the "pucks" match with those used at the RCM, they cannot be linked to the mint by any minting features. Moreover the question arises, how Lawrence could possibly manage to smuggle gold from the maximum security unit of the RCM.
The oldest trick in the book
Lawrence could have hidden the stolen object in his rectum. The investigators got the idea when they found a container of vaseline in his locker. A practical experiment revealed that this method actually works – even though the security officials should have been alarmed by the fact that the metal detectors went off during the examination of Lawrence's body more often than those of his colleagues.
Protection of privacy vs upgrading control measures?
The press department of the RCM referred to their employees' right to privacy, which they would also respect at the daily inspection – of which the defendant took advantage. They said that safety precautions had been improved after the incident anyway. Video cameras had been installed in the refinery section and modern metal detectors had been bought. The verdict of the Lawrence case is expected on 9 November 2016. Among other things, he is being accused of theft, laundering the proceeds of crime, possession of stolen property and breach of trust.
This spectacular theft is reported on by the Ottawa Citizen.
The Star has also written about the case.