[bsa_pro_ad_space id=4]
April 4, 2013 – Friends of golf know the PGA Tour as the organizer of the world's premier and highest-remunerated tournament for professional golfers. And now, the Cook Islands are issuing the second official coin of the PGA Tour, designed by Coin Invest Trust. The coin itself features a three-dimensional miniature golf club inset and comes packaged in an elegant golf ball box.
Cook Islands / 5 Ci$ / Silver .925 / 20 g / 38.61 mm / Mintage: 2,500.
Depicted on the front of the coin is a portrait of Queen Elizabeth II, the Cook Islands' official head of state. In addition to featuring the lettering of both the queen's name and the name of the issuing country, the nominal value of 5 dollars is also indicated.
The back of the coin features a colourful golf course scene. In the foreground, a player has just struck the ball and is watching it. The club features prominently in the foreground and consists of a three-dimensional element whose surface design is based on a real golf club. To the upper left, the ball is shown in flight and underneath it, the official PGA Tour logo is printed. To the right, the year of minting, 2013. The inscription 'Heritage – Sportsmanship – Respect' runs along the coin's top edge.
Every year, 715 million households around the globe follow the PGA Tour tournaments held in the USA. Stringent selection criteria ensure that only the best of the best take part, engaging in exciting competition for the highest prize amounts in professional golf. The organizer of the tournament uses the PGA Tour's commercial success for philanthropic purposes – in 2011, over 121 million US dollars were donated to local charities.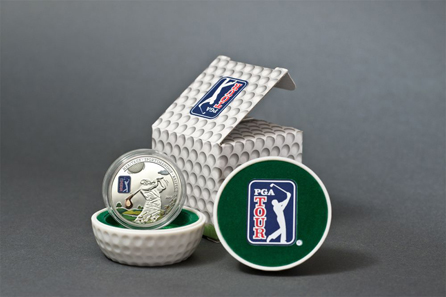 Last year the Cook Islands minted the first official PGA Tour silver coin featuring an inlaid miniature golf ball. That coin, designed by Coin Invest Trust, is now sold out. We are curious to see just how long the new 2013 issue will remain available for purchase.
The coin is minted by B.H. Mayer's Kunstprägeanstalt GmbH. Collectors can purchase the issue through specialty dealers.
More information on this coin is available from the Coin Invest Trust website.
And this is the official PGA Tour website.