[bsa_pro_ad_space id=4]
The Sale That Sold the Most Valuable US Mint Gold Coin Ever
Nearly $28 million in United States coins and paper money was sold in the Stack's Bowers Galleries March 2021 Auction, held 24th-26th March 2021 at the Bellagio Resort and Casino in Las Vegas, Nevada, with Internet-only sessions 29th March -1st April 2021. The primary highlight of the auction was the D. Brent Pogue 1822 Capped Head Left half eagle that earned $8.4 million and is now the most valuable US Mint gold coin ever sold. Accompanying this piece was the finest known 1797 Draped Bust half dollar that also set a record as the most valuable US Mint half dollar at nearly $1.7 million. These two pieces were sold in the firm's Rarities Night session held on Thursday, 25th March 2021, which is sure to be remembered as an historic event in American numismatics. By the end of the evening, seven lots had attained six or seven-figure prices, contributing to a total of $14.6 million for the session. Other outstanding results from Rarities Night included $288,000 for a 1796 Liberty Cap half cent and $117,000 for the finest known 1845-O quarter eagle, a new all-time record for the issue.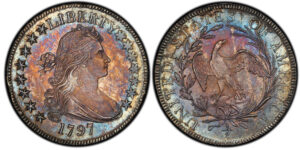 In addition to these treasures, the Stack's Bowers Galleries March 2021 Las Vegas Auction offered significant collections spanning every category in the Guidebook. Registry Set participants were thrilled with the Washington Rainbows Collection, the #1 All-Time Finest PCGS Registry Set of Washington Quarters, built with a focus on exceptional toning. Notable results from the Washington Rainbows set included a MS-66 (PCGS) 1932-S that earned $75,000 and a vibrantly toned MS-68+ (PCGS) CAC 1948 that sold for $43,200.
An impressive offering of silver dollars and gold coins were sold from the Collection of Silas Stanley Roberts (1888-1966), assembled chiefly in the first half of the 20th century and fresh to the market. Results included a Top Pop AU-58 (PCGS) 1867-S $5 that brought $18,000. The Bimyway Collection presented small cents, silver dollars, and other popular denominations in Choice or Gem Mint State grades, and featured a Proof-63 (PCGS) 1856 Flying Eagle cent that sold for $15,600.
Peace dollars and Franklin half dollars from the Pittstown Collection included a PF-67+ CAM (NGC) CAC 1950 half dollar that brought $15,600 and a MS-66 (PCGS) 1934-S dollar that sold for $24,000. Liberty Head gold coins from the Steve Studer and Fairmont collections generated spectacular results including $12,000 for an 1873-S half eagle and $15,600 for an 1858-O double eagle. Magnificent early half dollars in this sale included selections from the E. Horatio Morgan, Richard Jewell and Iron Eagle collections, with notable results of $78,000 for a 1796 Small Eagle half dollar and $38,400 for the sole finest 1825 O-104 half dollar.
Collectors of Numismatic Americana bid strongly in the Larry Baber Collection of the Medallic Works of William and Charles Barber, as shown by a Gem 1876 Diplomatic Medal that sold for $6,600. Indian Peace medals from the Larry Ness Collection claimed the top prices among the Americana, including $63,000 for a Benjamin Harrison Indian Peace Medal in silver.
The selection of US currency was highlighted by the magnificent Karelian Collection, which included a PCGS Banknote CU 63 Fr.167a $100 Legal Tender Note that earned $264,000, a PMG EF 40 EPQ. Fr. 376. 1891 $50 Treasury Note that sold for $156,000, and a PCGS Banknote Ch EF 45 Fr. 377. 1890 $100 Treasury Note that achieved $168,000. Overall prices realized for US currency surpassed $4.3 million in the Stack's Bowers Galleries sale.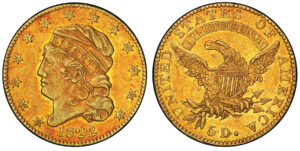 A New Auction Record: 1822 Half Eagle Sold for $8.4 Million
The finest known 1822 half eagle sold for $8.4 million in the Stack's Bowers Galleries March 2021 Las Vegas Auction, setting a new world record in the process. Graded AU-50 by PCGS, this historic $5 coin from the D. Brent Pogue Collection was offered 25th March 2021 in the firm's Rarities Night session. It is now the most valuable US Mint gold coin that has ever sold at auction and has surpassed even the highest prices paid for a 1913 Liberty nickel, 1804 silver dollar, or 1933 double eagle.
The 1822 half eagle is a legendary American treasure and represents the lynchpin to a complete set of US coinage. There are only three known specimens, two of which are permanently impounded in the National Numismatic Collection in the Smithsonian Institution. The Pogue-Eliasberg specimen sold by Stack's Bowers Galleries is the only example in private hands and represents a unique opportunity to own this issue. Most of the great figures in American numismatics never possessed one, and many have been born and died without ever having had the chance to compete for one at auction.
Prior to the Stack's Bowers Galleries sale, there had been only two occasions in American numismatic history in which an 1822 half eagle has sold at auction: the 1906 Harlan P. Smith Collection Sale and Stack's Bowers Galleries' 1982 sale of the Louis E. Eliasberg Gold Coin Collection. The Smith specimen was later donated with the Lilly Collection of gold coins to the Smithsonian Institution. The other Smithsonian example is traced to the Mint Cabinet Collection, where it had been since the 1830s.
The About Uncirculated Pogue Specimen was first acquired by Virgil Brand in 1899 and held in his vast collection until sold by his heirs in 1945. At that time it entered the unparalleled cabinet of Louis E. Eliasberg, Sr., and became part of the only complete collection of US coins ever formed. When the gold coins from the Eliasberg Collection were auctioned in 1982, the successful buyer was the young D. Brent Pogue in the early stages of building what would become the most valuable numismatic collection in history, a cabinet which has realized over $140 million in a series of sales by Stack's Bowers Galleries from 2015 through 2021.
With a price realized of $8.4 million, the Pogue 1822 half eagle now takes pride of place in a new cabinet. It had been in only three collections over more than 115 years, and now a fourth collector has added their name to this exclusive roster. Generations may pass before even the most well-financed collectors, dealers, and museums have another opportunity to own this issue.
Nine Notes Cross the Six-Figure Mark
Stack's Bowers Galleries' first live United States currency auction event of 2021 was a tremendous success that saw nine lots cross the six-figure mark on Thursday night, 25th March 2021. In all 525 lots of US realized a total of $4,062,654 during the live session of the auction. (All prices include the buyer's fee.)
The leading lot of the night was the Fr.167a 1863 $100 "Spread Eagle" Legal Tender Note graded Choice Uncirculated 63 by PCGS Banknote. It realized $264,000.
A pair of ultra-high denomination notes each sold for $180,000. They were a Fr.2221-K 1934 $5000 from Dallas graded Choice Uncirculated 64 EPQ by PMG and a Fr.2231-B 1934 $10,000 "Binion" note from New York graded Gem New 65 by PCGS Currency.
Two Treasury Notes rounded out the top five, with a Fr.377 1890 $100 "Baby Watermelon" note graded Choice Extremely Fine 45 by PCGS Banknote realizing $168,000 and a Fr.376 1891 $50 Treasury Note PMG graded Extremely Fine 40 EPQ selling for $156,000. Three of the top five grossing lots were selections from the Karelian Collection.
The firm's currency auction concluded Tuesday 30th March 2021with 641 Internet-only lots which combined to realize $326,493 bringing the total prices realize for the sale to $4,389,147. Overall the Stack's Bowers Galleries March 2021 auction of US coins and currency realized an impressive $27,880,404.
Results for the entire Stack's Bowers Galleries March 2021 Las Vegas Auction are now available at Stack's Bowers website. For more information about any of these spectacular auction results or to consign your items to an upcoming Stack's Bowers Galleries auction, contact the firm today by telephone at 800-566-2580 or by email.