[bsa_pro_ad_space id=4]
November 23, 2017 – A member of The Royal Mint Coin Graphic Design Team has taken inspiration from the renowned poem "In Flanders Fields" as the foundation of this year's Remembrance Day coin. The poppy is a symbol synonymous with remembrance and the traditions that surround it, making it the main focal point of the 2017 Remembrance Day coin.
United Kingdom / 5 Pounds / Silver .925 / 28.28g / 38.61mm / Design: Jody Clark (obverse) and Stephan Taylor (reverse) / Mintage: 5000.
The coin was designed by Royal Mint Graphic Designer, Stephen Taylor, and is the second design of Stephen's to appear on a United Kingdom coin – he also created the reverse design to celebrate Her Majesty The Queen becoming Britain's longest reigning monarch in 2015.
Stephen said of his Remembrance Day design: "I started my research by looking at words and symbols that are connected with Armistice Day, but realising that the poppy is by far the most synonymous with remembrance and the traditions that surround it, that became my focus.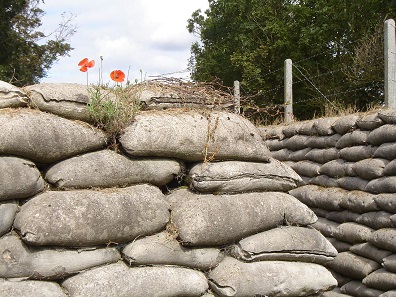 Communication trench with poppies in East Flanders. Photo: LimoWreck / Wikimedia Commons / CC BY-SA 3.0.
"I chose natural poppies with a realistic, wildflower quality, echoing the flowers John McCrae would have seen growing when he wrote the poem, 'In Flanders Fields'. It's a poignant reminder of the brave men and women who have lost their lives or been injured in conflicts past and present, enabling new life to grow from their sacrifice."
"Silence speaks when words can not"
Royal Mint coin designer Kerry Davies suggested the words 'Silence speaks when words can not' and it was selected as the inscription for this design.
The inscription ties in the notion of silence, which many if not all participate in on Remembrance Day, and which communicates more about Remembrance Day than words ever could.
The coin, which is available in Silver Proof, Silver Proof Piedfort and Brilliant Uncirculated finishes.
Additional information on these releases and on Remembrance Day can be obtained from the website of The Royal Mint.
To read the poem 'In Flanders Fields', click here.
This is the 'In Flanders Field Museum' website.