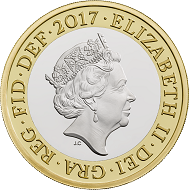 [bsa_pro_ad_space id=4]
July 27, 2017 – For 200 years, Jane Austen has delighted readers across the world with her Regency-era romances. Now, The Royal Mint is celebrating her life by featuring her portrait on a new commemorative UK £2 coin for 2017.
The 1,000 year old organisation also plans to release a limited number of the Jane Austen coins into circulation on 18 July, the anniversary of her death, at key locations around Winchester and Basingstoke that have connections with the Hampshire author. The circulating coins will be issued more widely across the UK later this year.
Director of the Royal Mint Museum, Dr Kevin Clancy, said: "Jane Austen's novels were well known for their treatment of subjects such as money, with stories often focused on wealth and social status, so it is apt that this well-loved British author will now be featured on UK coinage."
Great Britain / 2 Pounds / Silver .925 and Silver .925 plated with fine gold / 12g / 28,4mm / Design: Jody Clark (obverse) and Dominique Evans (reverse).
The Coin
The coin was designed by Royal Mint Graphic Designer, Dominique Evans, and features the silhouette of Jane Austen, set in a period frame against a backdrop of Regency wallpaper.
Dominique Evans said: "From the first brief, through to the final design, it was a delight to research Jane Austen's life in detail. I imagined her framed silhouette as if it were in one of the houses featured in Jane Austen's books, on the wall of a corridor as guests passed by to attend a dance, perhaps in 'Pride and Prejudice', or on the wall in the home of 'Emma'."
The coin is available in a range of finishes, from a collectable Brilliant Uncirculated edition to precious metal commemorative coins in silver and gold.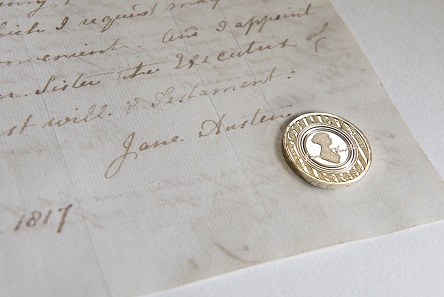 Jane Austen coin against Jane Austen's signature on her will. Photo: Courtesy of The National Archives, Kew.
Jane Austen had her first novel, 'Sense and Sensibility', published anonymously in 1811 at the age of 35, and went on to become one of the best-loved authors in the world.
The Designer
Dominique Evans is a Royal Mint Graphic Designer, and for 12 years has been bringing to life the rich and interesting stories behind the coins and medals the organisation produces. After studying Graphic Design at the University of Brighton, she worked across a variety of fields in her design career, in roles reflecting her love for fashion, interior design and product design. Dominique's first design for The Royal Mint was for a Bullion coin commemorating the Gold Standard. This is her first circulating coin design.
More information on these coins can be obtained from The Royal Mint website.
You can read the works by Jane Austen on Project Gutenberg.
This is the webpage of Jane Austen's House Museum.
And on the debate about Jane Austen to feature on the future £10 note, you can find a contribution in CoinsWeekly.
In the meantime the banknote has been unveiled and especially the choice of quotation has arisen criticism as you can learn from this Guardian article.