[bsa_pro_ad_space id=4]
December 14, 2017 – The Royal Mint has announced that it is expanding its Signature™ bullion range to a broader precious metals portfolio, including platinum and silver as well as gold. This comes as research from The Royal Mint has found that sixty per cent of Britons regret not saving from an early age, and seventy-one per cent feel that investment is riskier than saving. Many admit the main reasons they don't invest are not having enough money (60%), fear of losing money (43%), and not knowing enough about investing (40%).
With options for first-time investors, as well as experts in the precious metals market, and those looking to diversify their portfolio, Signature™ offers a range of investment opportunities starting at just £20.
The Royal Mint Signature (TM) bars made of gold, platinum and silver.
Customers who invest in Signature™ will be purchasing a fraction of a physical gold, platinum or silver bar, stored securely at The Royal Mint. The Royal Mint bullion platform is extremely easy to use, offering a flexible, accessible and cost-effective way to access the precious metals market that allows customers to choose how much they invest, and how long for.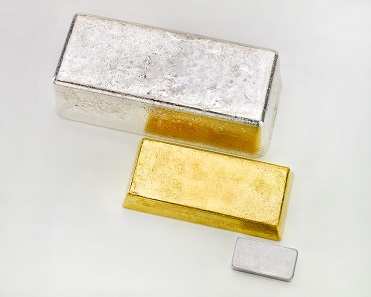 The Royal Mint Signature (TM) bars.
Chris Howard, Director of Bullion for The Royal Mint, said: "The expansion of The Royal Mint Signature™ range to include silver and platinum alongside gold offers even more choice for the public. With Signature™ available to anyone over the age of 16 and from as little as £20 people can start their investment plan early."
David Crawford from the World Platinum Investment Council commented "We are thrilled to see that The Royal Mint has diversified its Signature™ range to include platinum, particularly as the offering is VAT free when purchased in this way through the Signature platform. Platinum is a precious metal that benefits from healthy demand and constrained supply and the Signature™ platform provides a great opportunity to open up platinum's potential as a physical investment, providing the public a new and convenient way to purchase this rare and valuable metal."
Opening an account with The Royal Mint bullion platform takes a matter of minutes, and investors will not be tied down to depositing thousands at once. With 24/7 access, users can trade their precious metals at the right time for them.
With each purchase, investors have full legal ownership of the precious metal, which is fully insured and held in The Royal Mint's precious metal storage facility – one of the UK's most secure sites, guarded 24/7 by trained security staff.
The new products will be available via The Royal Mint's bullion trading platform.
Further information on the Signature™ range can be obtained by clicking here.