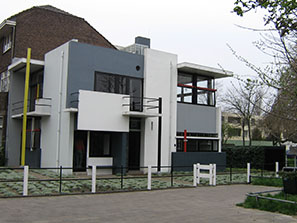 [bsa_pro_ad_space id=4]
June 27, 2013 – On 17 June, the Dutch Ministry of Finance has issued a new 5 and 10 euro commemorative coin: 'The Rietveld Five Euro'. The 'Rietveld Five Euro' is the second issue in a new series of nine commemorative coins on the topic of Dutch Heritage (2012-2020). The first three themes are the Amsterdam Ring of Canals, Rietveld Schroderhuis and the Kinderdijkse Mills. The first three coins in this series have all been designed by Tine Melzer.
This commemorative coin is particularly special because it is the first regular 5 euro commemorative coin bearing the portrait of King Willem-Alexander.
The Schröderhuis in Utrecht, designed by Gerrit Rietveld.
Gerrit Rietveld (1888-1964) designed the Rietveld Schröderhuis on behalf of Truus Schröder-Schräder. Not only was it his first residence, it was also an exuberant experiment in form. As inspiration, Rietveld used his own furniture designs and the ideas of De Stijl, a Dutch art movement named after the journal set up in Leiden in 1917 with the same name. The result is a three-dimensional, asymmetric composition which encompasses flowing passageways between outdoors and indoors and the use of primary colours alongside black, white and grey. The design is also characterised by a light-hearted, well thought through division of space. Both inside and out, everything bears the same, celebrated Rietveld signature.
The theme of the coin falls within the annual theme of 'European writers' from the Europe-star programme and the coin therefore bears the European star.
The design for the Rietveld Five Euro is by Tine Melzer. The front shows a clear halftone portrait of King Willem-Alexander and a matte world map, formed by fingerprints from Melzer family members. The map is a symbol of the collective ownership of Dutch Heritage and a worldwide symbol of Dutch culture. On the back, encircled by the on-going world map, there is a hand drawn iconic image of the Rietveld Schröderhuis – recognisable and functional. The value, indicated in letters, reinforces the Dutch signature of this national commemorative coin. The Rietveld Five Euro bears the official UNESCO-logo and a European star.
In addition to the Rietveld Five Euro in circulation special packages for collectors will be available too, among them a 10 euro gold version in proof quality.
To learn more about these coins and the specifications visit the website of the Royal Dutch Mint.
Here you can see more details of the famous Schröderhuis including a 3D model.
On YouTube you can watch a short documentary on Rietveld.
There is also a Gerrit Rietveld Academie, university of applied sciences for Fine Arts and Design.
And the MoMa shows online some objects designed by Rietveld from their collection and gives information on the designer.