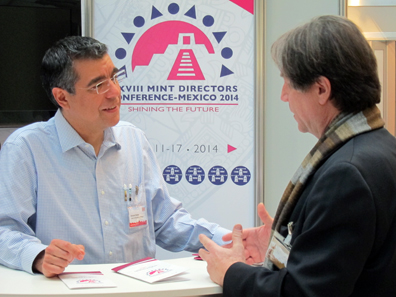 [bsa_pro_ad_space id=4]
February 25, 2014 – From May 11 to May 17 the next Mint Directors Conference will take place in Mexico City. Eduardo Padrón came to the World Money Fair in Berlin to invite all participants in the coin market to come.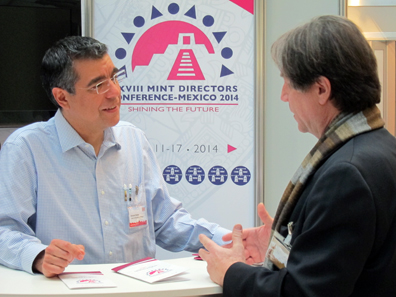 Eduardo Padrón explaining to an interested journalist the advantages of the MDC. Photo: UK.
At his booth he answered the many questions about the upcoming program. Many an interesting lecture have been scheduled. As usual there will be many presentations about new technical developments and marketing issues. There will be a strong focus on the optimal banknote and coin denomination structure connected with the presentation of further security features. There will be also a global session on "Corporate Culture".
The complete program is available only for those disposing of a pass word.
If you want to participate in the MDC and you have not contacted the Mexican Mint yet, send an email immediately to receive all information.