[bsa_pro_ad_space id=4]
The Paramount Collection: Seven-Figure U.S. Rarities at Heritage Auctions
On the heels of the successful FUN auctions, Heritage Auctions presents a diversified selection of more than 24 American gold and silver coins, all from The Paramount Collection, which also contains the best selection of European numismatic rarities ever offered by Heritage.
Bidding is now open for these 24 coins in U.S. Coin portion of the collection in Heritage's U.S. Coins Signature Auction, as part of the Long Beach Expo US Coins Signature Auction, which is scheduled for February 18-21.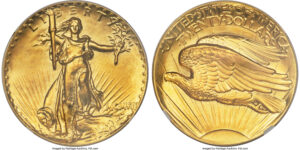 Authenticated and Graded by Numismatic Guarantee Corp.
The collection offers a stunning array of U.S. gold, all of which is encapsulated in NGC holders with special labels as having provenance from The Paramount Collection.
Two vintage gold ultra-rarities will each sell for over $1 million. At center stage is a 1907 Extremely High Relief, Lettered Edge $20, NGC PF 68. More than two weeks before the auction, bidding has already exceeded $1.3 million for this exquisite example of the Double Eagle, which is famous for being at the forefront of the venerated Saint-Gaudens series.
Sharing the spotlight in the sale is another extremely rare gold coin, an 1880 Coiled Hair Stella, NGC, PF 67 Cameo. These $4 gold coins were meant to compete in international trade with European coins of similar worth, but only a few hundred patterns were struck before the experiment was canceled.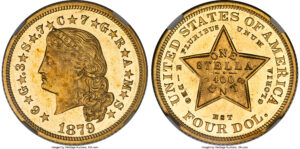 The U.S. Coins selection also includes an 1879 Flowing Hair Stella, NGC, PF 65 Cameo that should sell for well into the six figures. Several hundred of these were struck, making them the most easily attainable, but competition is still fierce whenever they come to auction, especially for an above-average example such as this. Another rare coin in the sale is a 1796 No Stars $2.50, NGC, MS 62. This is one of the finest of about 100 certified examples of the nation's inaugural quarter eagle.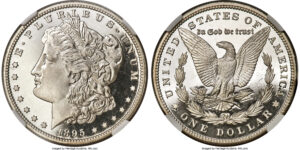 Collections Offers Fine U.S. Silver
Among the great silver rarities of The Paramount Collection: an 1895 Morgan Dollar, NGC, PF 67 Ultra Cameo. None of the 12,000 business strike Morgan Dollars struck in Philadelphia that year has even been located, leaving only the 880 Proof coins to satisfy collector demand for this key date. The grade of this particular example places it near the top of the certified population.
The U.S. Coins group from The Paramount Collection will be offered February 18-21, 2021 in Heritage Auctions' U.S. Coins Auction.
UPDATE
Due to the severe weather conditions in the Dallas-Fort Worth region this week and across the country, Heritage Auctions' U.S. Coins Signature Auction scheduled to begin tomorrow through Sunday is postponed one week to Feb. 23-26.
Heritage will be hosting lot viewing by appointment in its Dallas office 9 a.m. to 5 p.m., Monday and Tuesday, Feb. 22-23. Revised auction start times and days are as follows:
Session 1 – BOB R. SIMPSON COLLECTION, PART IV
Tuesday, February 23 • 6:00 PM CT • Lots 3001–3312
Session 2
Wednesday, February 24 • 2:00 PM CT • Lots 3313–3641
Session 3 – PREMIER
Wednesday, February 24 • 6:00 PM CT • Lots 3642–3834
Session 4
Thursday, February 25 • 2:00 PM CT • Lots 7001–7587
Here you can find the complete online catalog.
For further information go to the Heritage Auctions website.