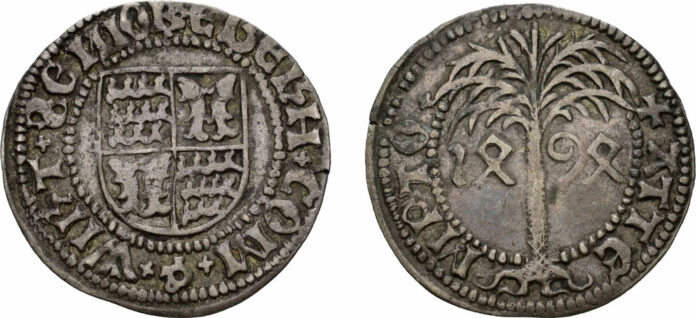 [bsa_pro_ad_space id=4]
In 1374, Emperor Charles IV granted Eberhard II, Count of Württemberg, the right to issue coins. For twelve decades, the coins from the County of Württemberg did not feature a date. At first, only hellers were issued, later higher denominations were struck as well. In 1494, Count Eberhard V (also known as Eberhard the Bearded) then had the first dated coin of Württemberg minted: the palmbaumschilling. It is owned by the Landesmuseum Württemberg in Stuttgart.
The obverse of this coin features a quartered shield with the antlers of Württemberg and the barbels of Mömpelgard (Montbéliard). The inscription tells us the name of the minting authority: EBERH(ardus) COM(es) & (c) WIRT(embergensis) SENIOR. The reverse depicts a palm tree which gave the coin its name, surrounded by Eberhard's motto: ATTEMPTO – "I dare to". The year of issue is depicted on both sides of the palm tree: 1494. Both of the fours are written in Gothic form as half eights.
As experts, Albert Raff and Stefan Sonntag were asked to verify this record on March 14, 2019.
And next week we will present the first coin dated according to the Christian era.
Up-to-date information on current exhibitions at the Landesmuseum Württemberg is available online.
The "palmbaumschilling" is stored at the Landesmuseum Württemberg's coin cabinet.
Coins and medals are always a part of the exhibitions at the Landesmuseum. We showed you some fascinating pieces after a visit of the museum in 2013.
A brief numismatic dendrology of palm trees depicted on German coins is available on CoinsWeekly.
If you also want to submit a CoinsWeekly Coin Record, this article will tell you what information we need from you.