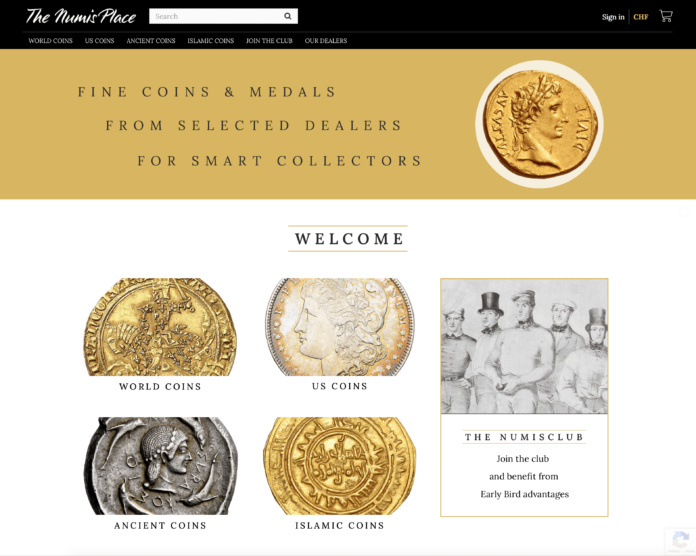 [bsa_pro_ad_space id=4]
At www.thenumisplace.com you can find a new marketplace for high-quality coins available for direct purchase. Those who search this website will find coins of outstanding quality, pieces of a kind that is usually only offered at auctions. Beauty, grade, excellent provenance – these are the characteristics that qualify a coin for being offered at The NumisPlace.
Selected Dealers
"Our standards are high", that's what Jonas Emmanuel Flueck says. He founded the new platform. "For all those who love and purchase beautiful things, we wanted to create a website with an attractive, modern design and great coins. And we were delighted about all the renowned colleagues that were immediately willing to join our marketplace The NumisPlace."
Indeed, there are many well-known names among those who offer coins at The NumisPlace, for example the auction houses Künker, NAC and Numismatica Genevensis, and also renowned small companies like ArtAncient, Lugdunum, Shanna Schmidt and Vilmar. Further dealers will follow their example.
The NumisClub and Early Birds
All those who want to be the first to take a look at new coin offers can join The NumisClub. Following the tradition of Early Bird systems at coin shows, Platinum, Gold and Silver Members enjoy early access to make their choice between the newly published coins.
To cultivate friendship and exchange between coin enthusiasts, Platinum and Gold Members will be invited to exclusive The NumisClub meetings, which will take place on the occasion of the most important coin fairs of the year.
Why don't you take a look at the offer by yourself? You will be impressed by the quality.
Here you can directly access The NumisPlace.
And here you will find out everything about The NumisClub.
Here you can see which dealers offer coins at The NumisPlace.