[bsa_pro_ad_space id=4]
The period covered by this new volume of the Roman Provincial Coinage (RPC) series represents a pivotal period in Roman history. It opens with the political crisis of AD 238, the year of the six emperors (Maximinus, Gordian I, Gordian II, Pupienus, Balbinus, and Gordian III). Gordian III, barely 13 years old when he became emperor, married Tranquillina in AD 241. His reign saw hostilities increase in the Balkans, but also in the east, with a far greater offensive strategy being pursued by the Sasanians. Their capture of Hatra in eastern Mesopotamia, at the latest in spring AD 241, is seen as the casus belli of Gordian's expeditio Orientalis (AD 242-4) during which he died in early 244.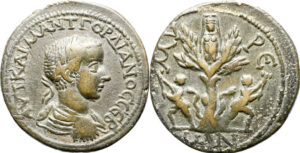 Though the period studied is short, coin production was at its peak, especially in Thrace, Moesia Inferior, but also Lycia, where 20 cities minted coins for the first and only time since the early 1st century AD. These coinages provide a unique insight into local politics, culture and religion at a time when written historical sources are scarce.
Coin iconography certainly offers an impressive testimony for the deeds of the emperor, emphasizing his ardor at combat, especially in Thrace and Moesia, where the emperor defeated tribes in the Lower Danube region. To some degree, local coinages also testify to the emperor's journey across Asia Minor, on his way to the eastern front, see for example the ample coinages issued in Antioch in Pisidia or Tarsus.
In the east itself, production of provincial silver was resumed in Caesarea in Cappadocia, as well as in Antioch in Syria, which also saw two issues of imperial "radiates". At the same time, bronze coinage bears witness to the brief reign of King Abgar X of Edessa in neighboring Osroene.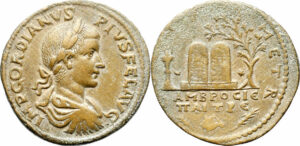 The present catalogue includes 3,895 types and 27,994 coins, minted by 128 cities in a geographical area extending from the Balkans to Egypt. It provides detailed introductions to each coinage, as well as five general chapters (Historical Background; The Emperor and the Imperial Family; Designs and Inscriptions; Production and Circulation; Denominations) providing a wider historical and numismatic context.
With this new volume, the entire provincial coinage of the period AD 238 to 244 is now covered.
See also M. Spoerri Butcher, Roman Provincial Coinage VII.1: De Gordien Ier à Gordien III (238-244). Province d'Asie (Paris – London, 2006) for the coinage of this period minted in the province of Asia.
The online version of the catalogue can be consulted on RPC Online.
Read how to purchase a copy of the printed volume.
The RPC VIII coins – Philip I – are already available online.